This is a recipe for the best Wedge Salad. With just 6 simple ingredients, this Classic Wedge Salad comes together perfectly and in a cinch. You can make this salad in ten minutes or less.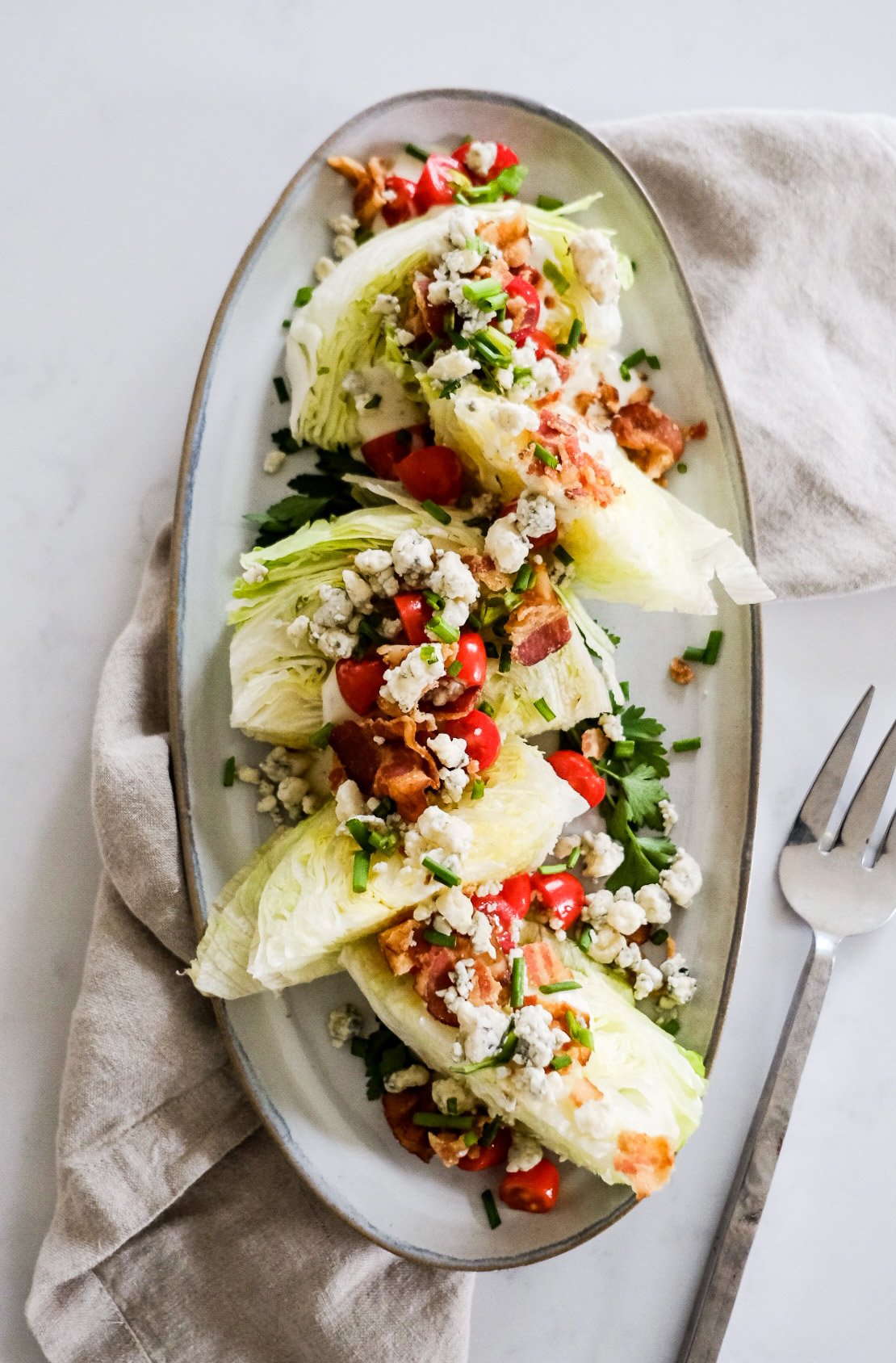 Wedge Salad Ingredients

Iceburg Lettuce

Cherry Tomatoes

Blue Cheese Crumbles 

Bacon, chopped

Fresh Chives or Green Onion, chopped

Parsley, chopped

Ranch Dressing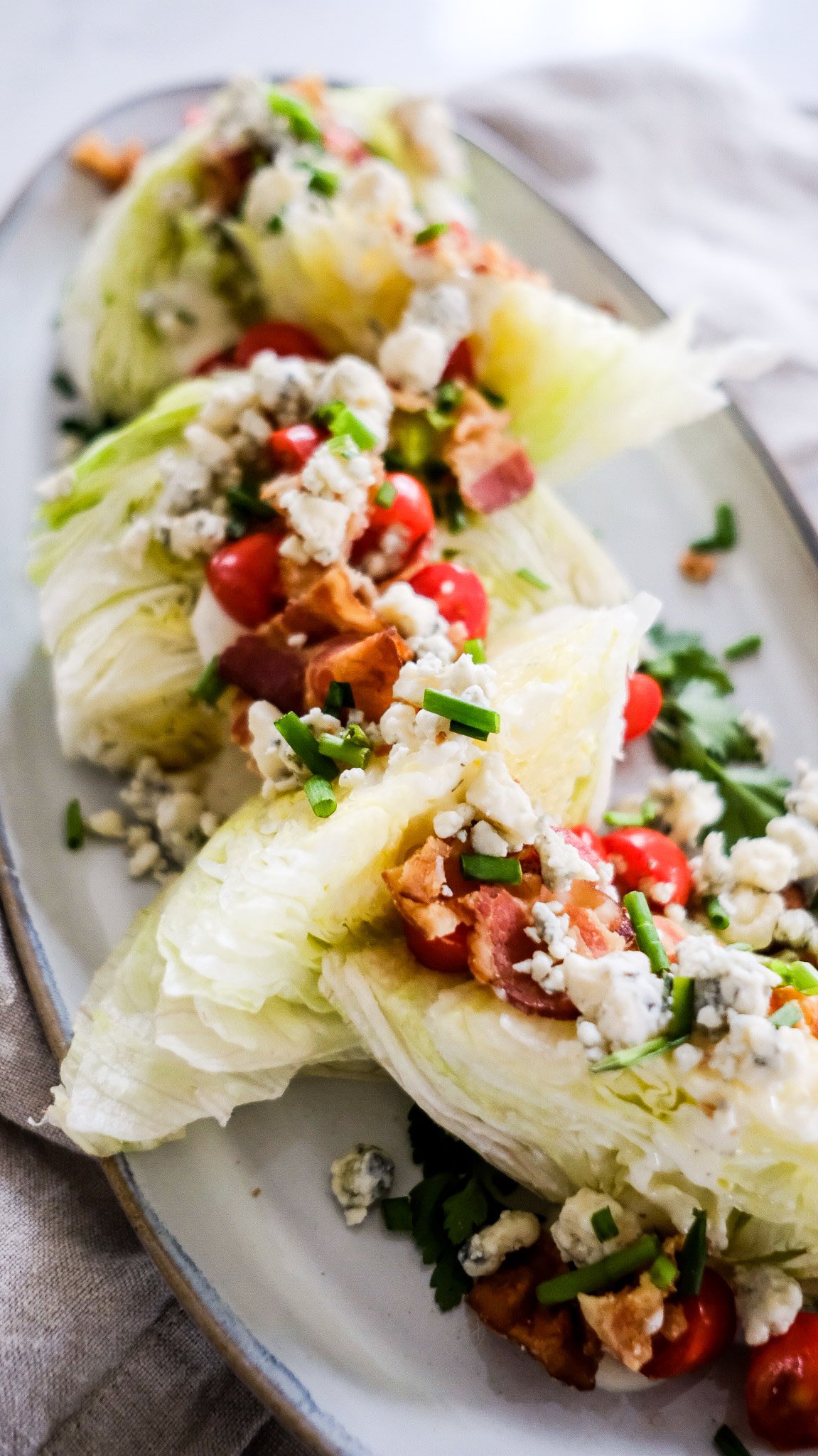 How to make a wedge salad
The iceburg lettuce base of the salad serves as the foundation for the Classic Wedge Salad. After you've got the foundation down, you can layer on the good stuff!
Slice your iceburg lettuce into wedges. To cut into wedges begin by slicing in half, and then that half again and so on until you have wedge like slices. This is where the wedge comes from! If you want larger salads only slice into 4's. Here is shown petite sized wedges with each portion of salad being 1-3 wedges.
After you've arranged your wedges you'll want to pour on a bit of dressing so the toppings and crumbles stick to the salad. I love using creamy Ranch Dressing on my salad (shown here) but you can also use Blue Cheese Dressing, Creamy Peppercorn or even Caesar. Be sure to serve with dressing on the side as well for those who like a little extra.

What to Serve along side a Wedge Salad?
The classic Wedge Salad is perfect as an appetizer or alongside some meal ideals listed below. I happen to think a classic Wedge Salad is delicious on its own!
Roasted Tomatoes, Olives and Bread
The best Homemade Mac and Cheese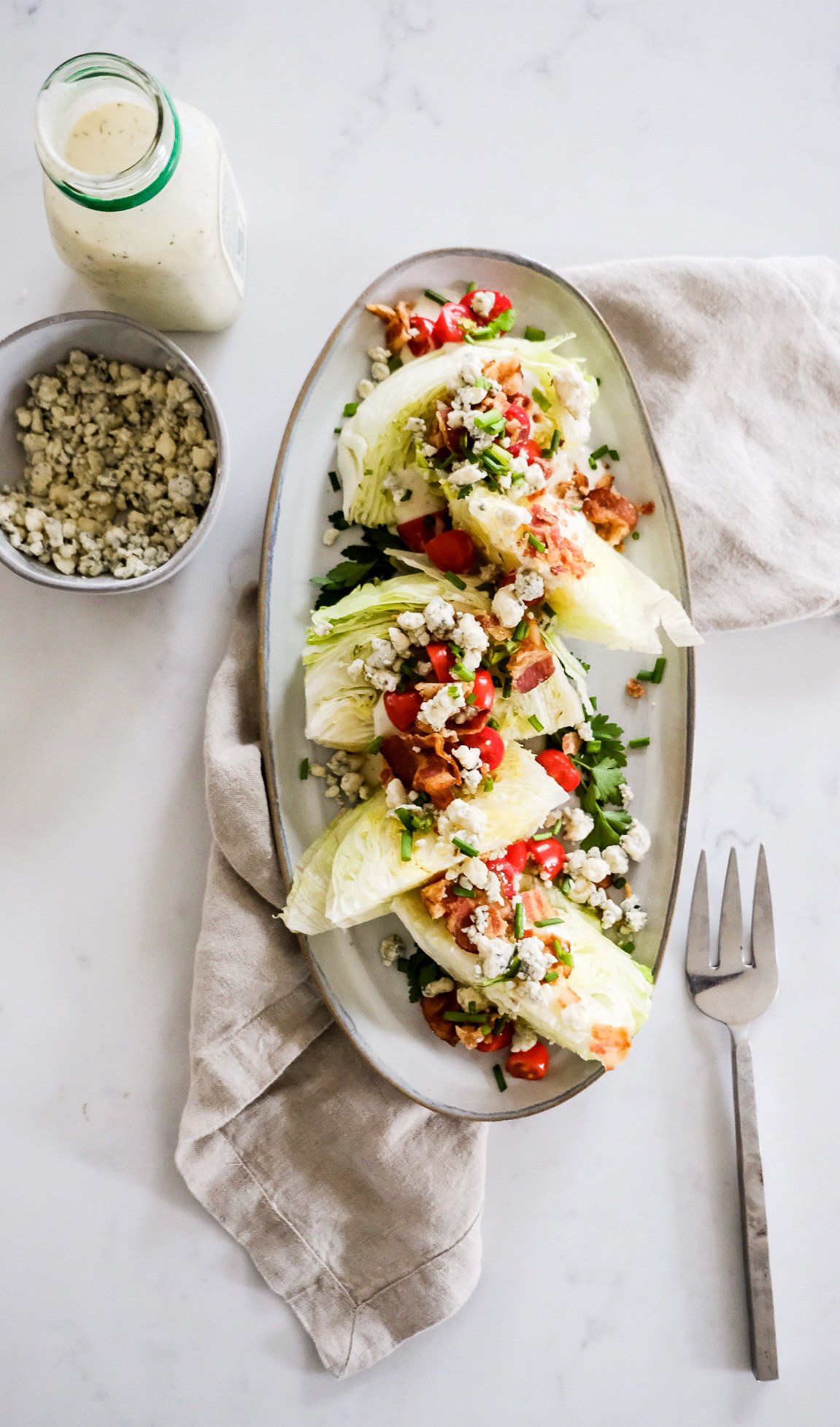 How do I eat a Wedge Salad?
Unlike other salads, the Wedge Salad is thicker and heartier. The best way to eat a classic Wedge Salad is with a knife and fork!
What are the ingredients in a Wedge Salad?
Classic Wedge Salad Ingredients include iceberg lettuce, blue cheese crumbles, tomatoes, chopped bacon, and a creamy dressing. Check out this recipe to make a Wedge Salad in under 10 minutes.
Can I substitute Blue Cheese in a Wedge Salad?
Absolutely! The beauty of salads is that any ingredient can be substituted to taste. You will still want a cheese crumble so if Blue Cheese Crumbles isn't your flavor, I'd recommend using crumbled Goat Cheese for a more mild salad or Feta Crumbles for a delicious salty pairing.
How to cut a Wedge Salad?
Begin but slicing the Iceberg Lettuce Head in half. Then cut again in half and so on until you have the size wedges you desire.
Is Iceberg Lettuce good for you?
While Iceburg Lettuce may not be as loaded in vitamins as their other leafy friends, say, Kale, Iceburg Lettuce does contain Vitamin A, Vitamin K, and folate.
Try these other Salad Recipes!
Honey Dijon and Avocado Pasta Salad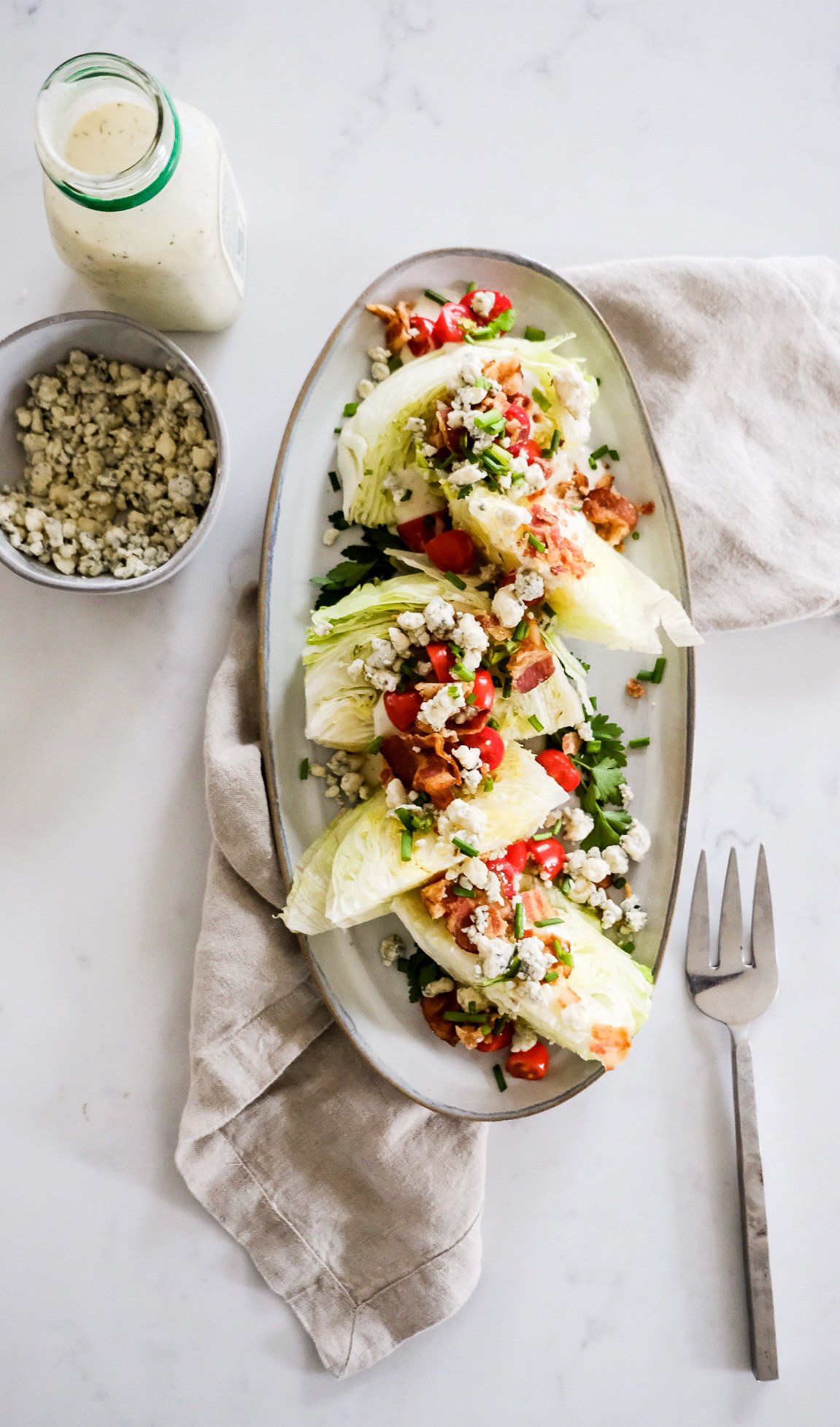 Yield:

4
Classic Wedge Salad
This classic Wedge Salad can be made in under 10 minutes with just 6 delicious ingredients.
Ingredients
1 Head Iceburg Lettuce
1/2 cup Bacon, cooked and chopped
1/2 cup chopped cherry tomatoes
1/2 cup Blue Cheese Crumbles
1 Tablespoon Chives, chopped
Creamy Ranch or Blue Cheese Dressing
Instructions
Begin by slicing the iceburg lettuce in half length wise and so on until you have 4-6 wedges sized per your liking.
Arrange the iceburg lettuce wedges on a plate.
Drizzle with your dressing. Drizzle enough that your toppings will stick to the base of the salad but not too much that the salad becomes mushy.
Place tomatoes, blue cheese crumbles, bacon, and chives all over the salad.
Grind fresh ground pepper on top.
Serve with extra dressing on the side and enjoy!