Spriiiiing! (that's my singing voice) It's finally here. I suddenly want to eat better and exercise more but I'm not ready 100% yet to move from hearty carbs all the way to kale. Baby steps people, baby steps. This is not the blog you come to when you're in search of a bikini bod, duh. #mombod
Insert this light and colorful pasta salad that will fill you up at lunch or make you a hit at your next picnic. When you're making pasta salads, always use a pasta shape with ridges that can soak up a little dressing or sauce. 
Ingredients
Penne or other small shaped pasta
Snow peas
Chicken
Honey
Mustard
Bell Peppers
Scallions
Avocado
Thyme
Chicken
An easy way to add chicken to your salads is to make pulled chicken in the slow cooker.
Just place chicken breast in your crock pot with salt, pepper and any marinade you may use and on high 1-2 hours and it will be ready to pull. For this recipe I used Italian herbs and garlic for my chicken with a few dashes of EVOO. You can use chicken cooked in any way. 
Vegetables
For veggies toss in what you have in the fridge and go heavy on the avocado – it pairs perfectly with the Honey Lemon Dijon Dressing. Cube it up or slice and fan it out. Avocado Pasta > Avocado Toast. Trust me. Keep it colorful and texturized by splitting open snow peas and adding multi-colored bell peppers.
Salad Dressing
This Honey Lemon Dijon Dressing can actually pair well with many things and the dressing recipe can be found here.
You can also check out Lemon and Oregano Dressing for a greek inspired flavors with a kick!
Love Salads? Here are other Salad Ideas:
Sweetgreen Copycat Harvest Bowl
Avocado + Honey Dijon Pasta Salad
Ingredients
1 lb penne pasta, cooked
1 avocado, cubed
1 red pepper, diced
1 yellow pepper, diced
⅛ green onions, sliced
½ cup snow peas
1 cooked chicken breast, sliced or pulled
fresh italian herbs (basil, parsley, oregano, thyme)
honey lemon dijon dressing
Instructions
Cook pasta al dente and drain.
Whisk together ingredients for the dressing.
Toss together all ingredients gently with the dressing until the pasta is evenly coated.
Chill in the refrigerator for about 15 minutes and serve.
Enjoy!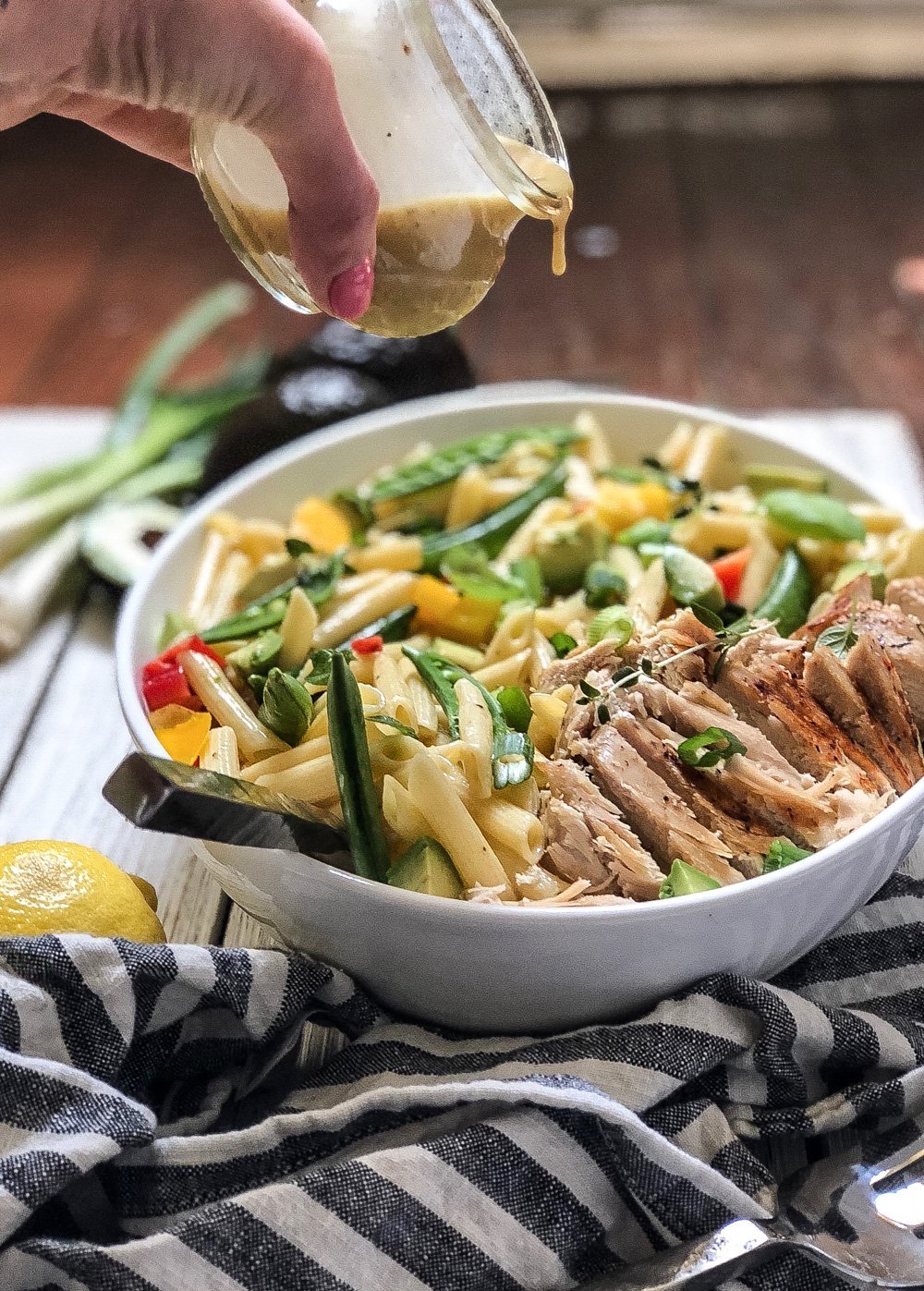 This recipe has been adapted from The Foodness Gracious who has the most drool worthy Pinterest. Be sure to check him out. It was so good I had to share with all of you!
Grill season is finally here! For one of my favorite and easy Chicken recipes be sure to check out my Lemon + Garlic Grilled Chicken Cutlets with Corn + Cherry Tomato Sauce.