Dog Birthday Cake Recipe
This recipe is for a dog birthday cake.
Theo Leo Cappuccino is 1! I can't believe it. Although we got him in the height of quarantine in April of this past year, it's hard to believe our little puppy is one. Of course we needed to celebrate with cake!
We decorated the night before with these adorable dog decorations and balloons. You may be asking, why are your decorating for a dog? We are decorating for a dog because we are still living that quarantine life so will use any excuse to have a little fun. My girls are 3 and 8 so I can't think of anything more fun than our dog's birthday.
Plus, I like to spoil him rotten! Life is about finding joy, #amirite?!
Shop for Doggy Decorations:


Also be sure to spoil your pup with these Peanut Butter Dog Treats.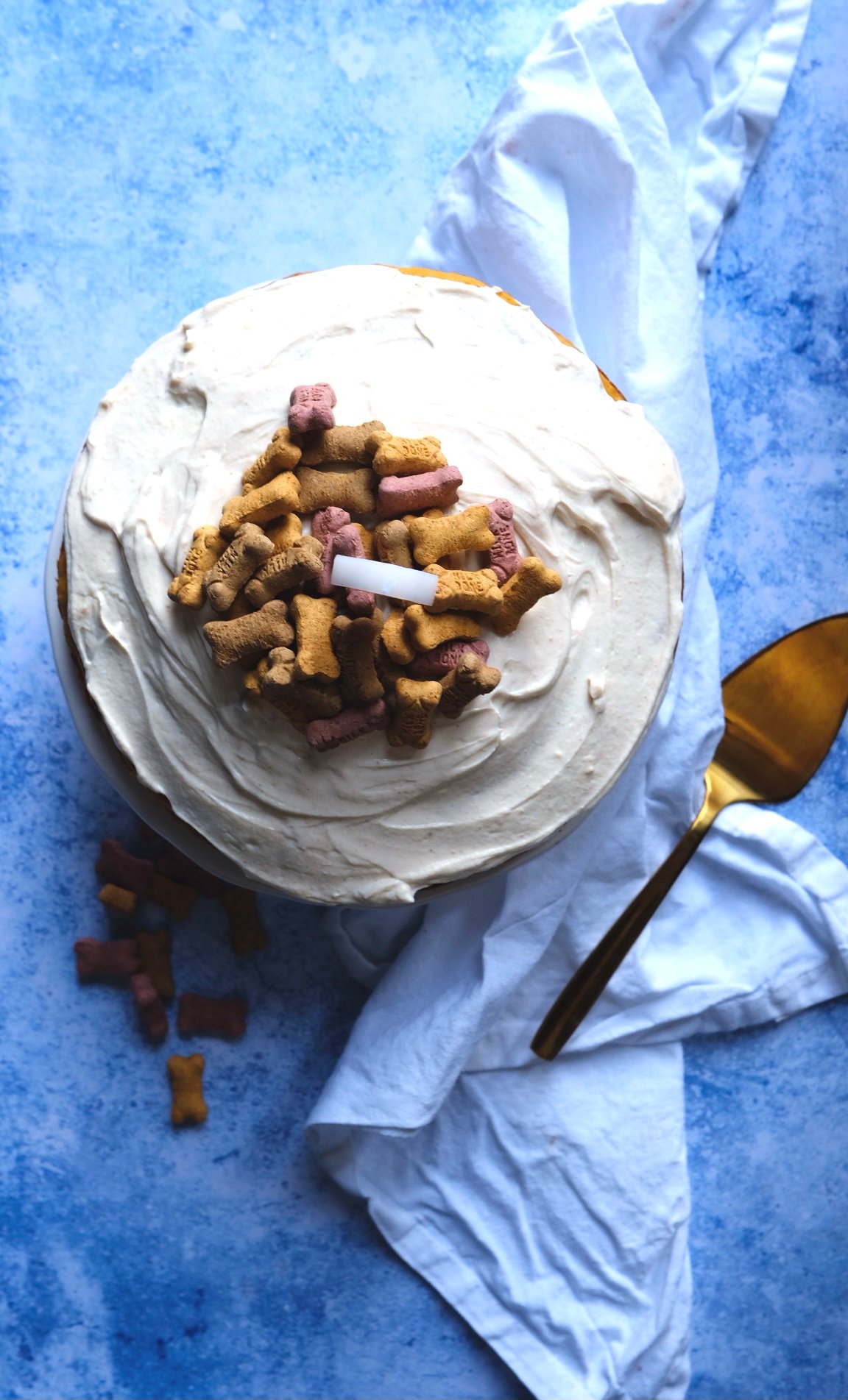 Ingredients
For the dog birthday cake I created for our Goldendoodle I used all his favorite ingredients.
Applesauce
Canned Pumpkim
Peanut Butter
Eggs
Flour and Baking Soda
Greek Yogurt
Dog Treats
View this post on Instagram
For the yogurt we used thick greek yogurt in plain flavor. You could also use vanilla or another mild flavor that goes well with peanut butter. Most dogs love peanut butter! I used creamy peanut butter in this recipe.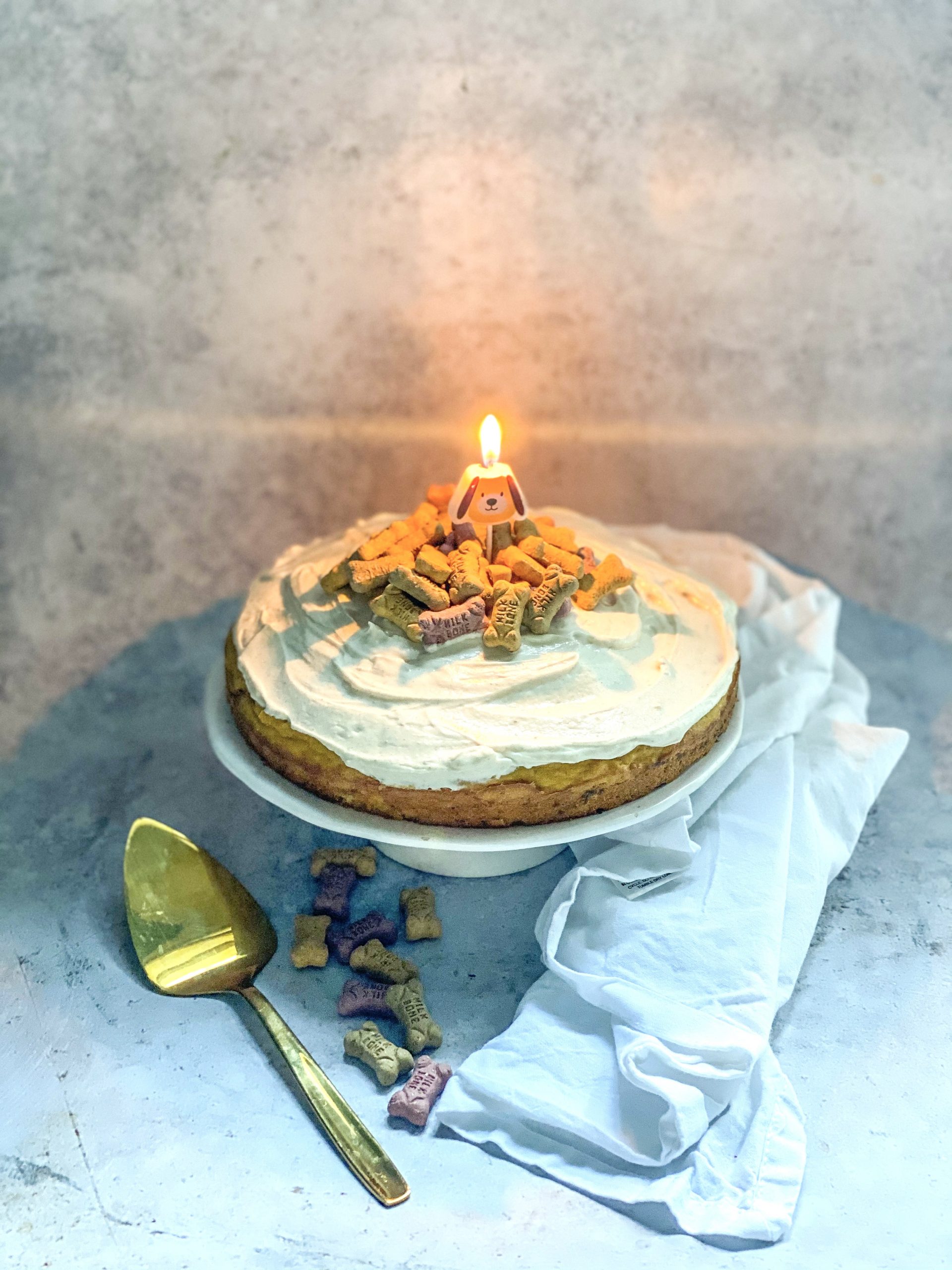 Theo had to wait until after we sang happy birthday of course but he was chomping at the bit to get a bite of his dog birthday cake. He loved the smell of the cake baking and you could tell he was excited although he really didn't know what was going on.
Try out this recipe and I am sure you're dog will love it to kick off their next trip around the sun!
Yield:

6-8
Dog Birthday Cake
Your pup will love this Dog Birthday Cake made with all their favorite things!
Ingredients
1/2 cup applesauce
1/2 cup canned pumpkin
1/4 cup peanut butter
1 teaspoon baking soda
1 cup flour
1 egg
For the Frosting
1 Cup Greek Yogurt
1/4 Cup Peanut Butter
Instructions
Preheat oven to 350 degrees and grease two round 8" pans.
In a large mixing bowl add together the canned pumpkin, applesauce, peabut butter and egg.
Gently fold in the flour and baking sodia. Stir until well combined.
Pour evenly into your two pans and bake at 350 degrees for 25-28 minutes or until a fork comes clean.
All the cake to cool completely. Remove from pans.
Right before you decorate make the "frosting". For the frosting in a medium sized bowl mix together the greek yogurt and the peanut butter.
Use a spatula to place frosting between the layers of the cake and top the cake with frosting.
Top with treats or other things your dog loves. Refrigerate the leftovers.
Happy Birthday to your pup!
Notes
While this is completely edible for humans this cake is only intended for dogs.