This is an easy recipe for Warm Cinnamon Apple Crisp.
Apple orchards are a sensory wonderland. The sound of leaves crunching underfoot, the aroma of ripe apples in the air, and the coolness of an apple's skin as you pluck it from a branch—these are experiences supermarket shopping can't replicate. There's a certain satisfaction in biting into an apple you've picked yourself, knowing it hasn't traveled thousands of miles or sat in storage. It's the epitome of freshness. Plus, turning these apples into homemade ciders, sauces, or desserts amplifies the farm-to-table experience, allowing one to savor the full journey from tree to treat.
Just before the official start of fall, we hit the orchards and came back with 56 apples, 7 different varieties. The baby went crazy again learning that you could pick fruit from a tree and Bailey ran around to find the best apples and have Joey hoist her up to get them. The best ones are always at the top!
The next day we made Apple Pie but when we cough cough…ate…too much of the pie dough for my 9 inch pie plate…I quick transformed it into Warm Cinnamon Apple Crisp. Mixing apple pie filling with quick oats makes for a crisp and easy dessert.
We went a little overboard on apple picking but had plenty to share, go around and bake with. Grab some apples, slice them up and you're in business with Warm Apple Crisp within 30 minutes. Read on for the complete recipe and tips to making Warm Cinnamon Apple Crisp. 
Also see this recipe for Spiced Pear Galettes!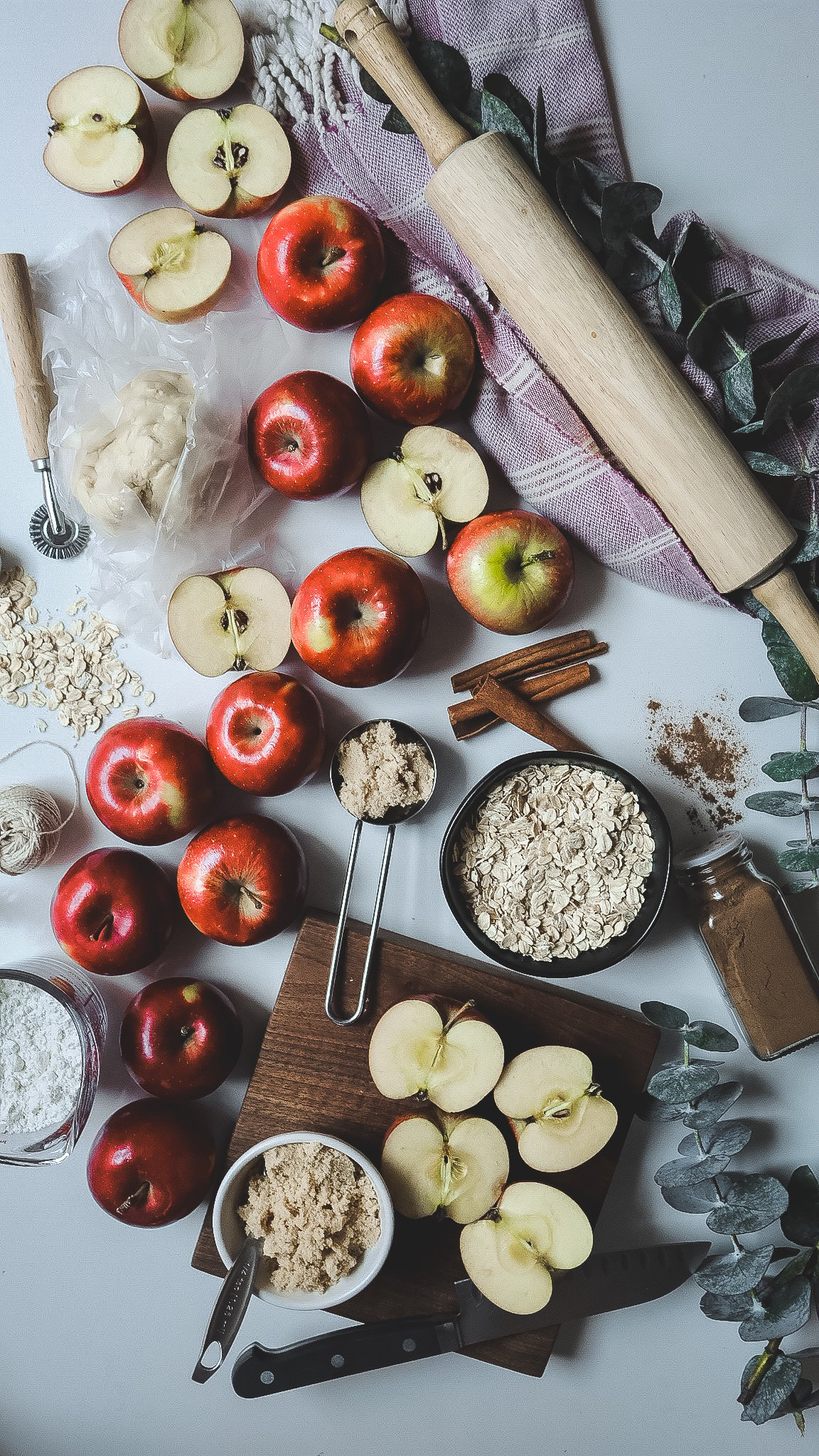 What Ingredients are in Warm Cinnamon Apple Crisp?
Apples, peeled and thinly sliced
Flour
Quick Cooking Oats
Cinnamon 
Butter
Sugar
Baking Powder
Baking Soda
Brown Sugar 
Also try Cream Cheese Frosted Cinnamon Rolls! 
What Types of Apples are Best for Warm Cinnamon Apple Crisp?
The  best apples for baking will hold a crisp to them. I also like mine on the sweet side. Try the following apples for your next baking project or to make Warm Cinnamon Apple Crisp.
Jonagold
Honeycrisp (our family favorite!)
Braeburn
Mutsu
Winesap
Pink Lady (one of my favorites!)
Be sure to check out these other fall baked favorites!
Cinnamon Sugar Apple Cider Donuts
Homemade Cinnamon Rolls with Cream Cheese Frosting
Penne with Honey Roasted Squash, Apple and Bacon

Warm Apple Crisp
Ingredients
6 apples; peeled, cored and thinly sliced
1 cup quick cooking oats
1 cup brown sugar, packed
1 tsp ground cinnamon
¼ tsp baking soda
¼ tsp baking powder
¼ cup flour
½ cup white sugar
½ cup butter
Instructions
Preheat oven to 365 degrees.
Place sliced apples in a baking dish.
Mix all remaining ingredients together in a large bowl.
Pour on top of of the apples covering them all.
Bake for 45 minutes.
Serve warm with Vanilla Ice Cream.
My favorite places to go Apple Picking in Connecticut.