This is a recipe for a Spiced Pear Galette Recipe.
For those that love apple pie, this is a fun deconstructive twist that's a few steps easier than it's fancier version of the pie. This recipe is less about perfection and all about simple delicious and delicate flavors like the flavor of Bartlett Pear.
Served warm out of the oven, this recipe is heaven with a scoop of Vanilla Bean Ice Cream or Whipped Cream.
What is a Galette?
By definition, a galette is a simple round pastry made of pastry cake or bread. It is design to have something inside the center and can be fruit, creme, chocolate or anything you'd like! It sounds fancy, but simple is the name of this dessert game.
Think of a pie crust, deconstructed without a pie plate. Here, this Pear Galette Recipe is forgiving yet delicate for the prettiest pastry. You can make yours rustic looking or a few simple folds will do.
RELATED: Super Moist Carrot Cake
Ingredients
butter
flour
corn meal
pears
white cane sugar
brown sugar
salt
beaten egg
buttermilk
cinnamon
nutmeg
fig or apricot preserves

How to Make the Dough
Like most pastries or biscuits, the dough for this Spiced Pear Galette calls for cold butter! It is most ideal to make this recipe in a food processor so you can use the pulsing method. You'll first pour in the flour, cornmeal, sugar and salt. Then adding the butter and eventually the buttermilk to form the dough.
Cube your cold butter by slicing a stick of butter length-wise and then into 1/2 inch cubes. You'll want the butter to resemble the photo below when placed into the dry ingredients mix.
The butter cubes do not have to be perfect, just small enough to evenly mix well.
Also check out this recipe for Warm Cinnamon Apple Crisp!
Once the dough is formed. you'll chill it for at least 45 minutes in plastic wrap or parchment paper. I like using parchment paper for less waste and then you'll use the parchment paper to directly roll out the dough on after it's chilled.
Shop The Post

How to Make a Pear Galette
Roll our the door on parchment paper. Parchment paper is a life save when baking as it allows you to transfer items quickly.
Make two round shapes. They do not have to be perfect but roll out to about 1/4 inch thick. This recipe will allow you to make one large galette or to split the dough in half and make two smaller galettes.
Next you'll spread fruit preserves on the rolled out dough as shown below. The classic version of the recipe calls for apricot preserves but I used fig preserves and it was delicious! Any sweet and jammy fruit will do. The preserves serves as a way to "stick" your fruit to the dough.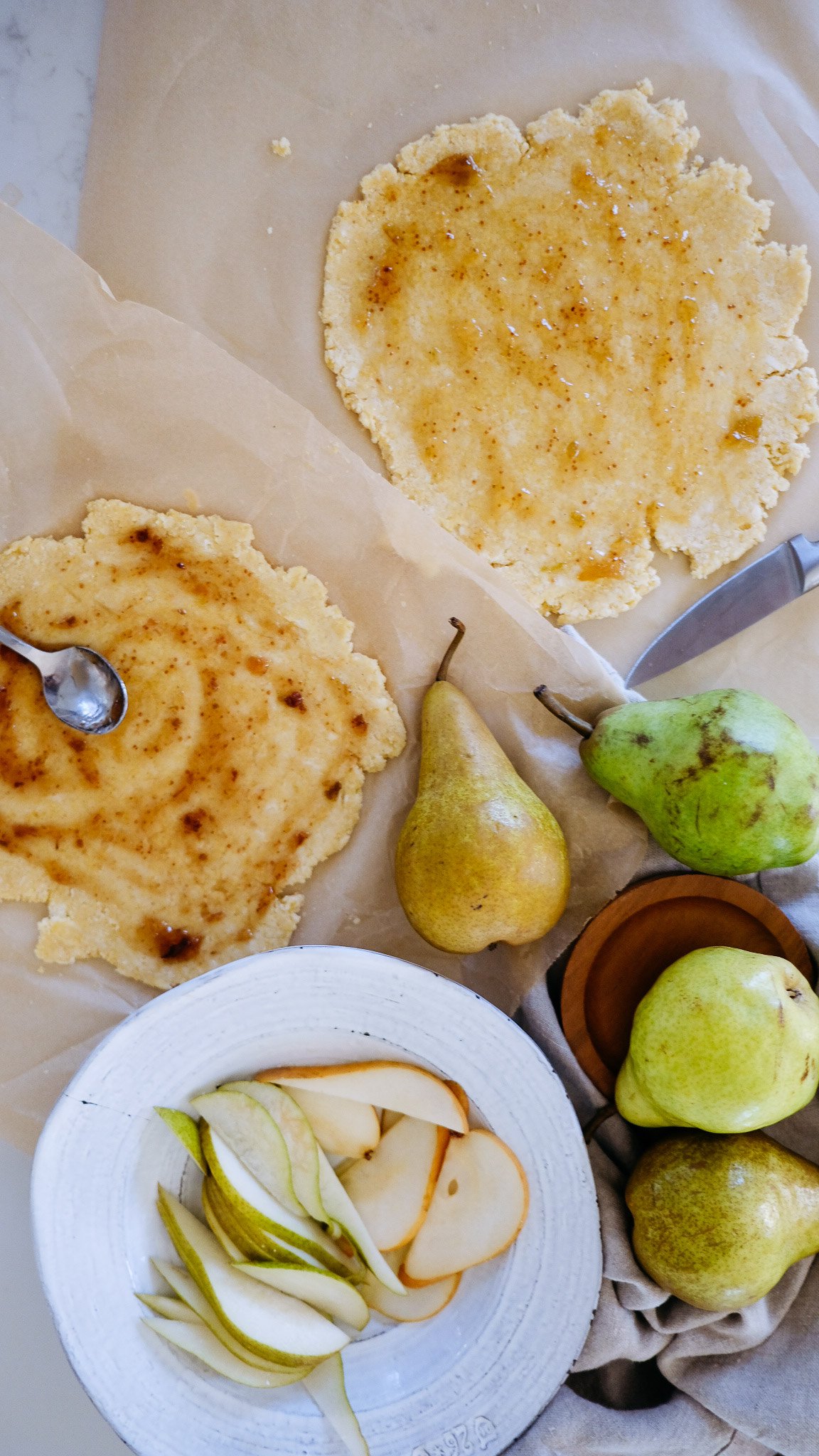 How to Construct the Galette
Next, you'll arrange your fruit in the center of the dough. You can do this in any pattern. I like to take the thin slices of pear for the spiced pear galette recipe and fan them out.
There is no wrong way to arrange your fruit! That's what I love about this spiced pear galette recipe, it's completely full proof.
After you've arranged your fruit, fold over the edges to about 1-2 inches thick. You now have galette! Aren't you fancy?!
Can you substitute apples for pears in a Spiced Pear Galette Recipe?
Absolutely! Apples will work just as well for a bit more of a fruity taste than pear.
What can I substitute for buttermilk?
If you don't have buttermilk on hand don't worry at all! Simply use regular milk and lemon juice!
How to make buttermilk?
Buttermilk is simple to make at home so you can skip buying it separately at the store. You'll need regular milk, lemon juice or white vinegar. For every cup of milk use 1 tablespoon of lemon juice. You can also use white vinegar.
What do you top or serve with the Pear Galette?
Vanilla Bean Ice Cream or Whipped Cream!
RELATED: Check out these other tasty desserts
Yield:

2
Spiced Pear Galette Recipe
Total Time:
1 hour
45 minutes
The Galette is the easy version of the pie you're craving. Let's make this Spiced Pear Galette Recipe! With warm cinnamon and Bartlett Pear you'll impress with this galette every time.
Ingredients
1/3 Cup White Sugar
1/2 teaspoon cinnamon
1/2 teaspoon nutmeg
2 tablespoons white sugar
brown sugar, for sprinkling
1/4 cup corn meal
1/4 teaspoon salt
2 pears, thinly sliced
1 stick or 1/2 cup cold butter, cubed into small pieces
1/3 cup buttermilk
2 tablespoons lemon juice
4 tablespoons fruit preserves, fig or apricot
1 egg, beaten
Instructions
Thinly slice your pears and place them in a bowl. Cover with lemon juice and coat with 2 tablespoons sugar, cinnamon and nutmeg. This extra step makes for deliciously flavored spiced pears. Set aside.
In the food processor, add in dry flour, cornmeal, salt and sugar. Pulse until combined.
Add in the cubed butter. Pulse until mixed. It will be coarse.
With the food processor on, slowly add in the buttermilk.
The dough will start to form a ball. Remove from the food processor and tack on any remaining pieces to continue to form a ball. Place the dough onto parchment paper and wrap tightly. Chill in the refrigerator for 45 minutes.
Once the dough has chilled, remove from the refrigerator and preheat the oven to 350 degrees.
Begin to roll out the dough on parchment paper. You can make one large galette or divide the dough in half for two smaller galettes (shown here). Roll out into a circle shape about 1/4 inch thick.
Using the back of a spoon or brush, brush the fruit preserves all over the center of the dough.
Next, arrange your thinly sliced pears in any shape you'd like. Leave an inch of dough all around.
When you are finished placing your fruit, fold over the dough so you have about an 1 inch to 1.5 inches of crust. You now have your Galette!
Brush the crust and edges of the Pear Galette with the beaten egg. Sprinkle generously with brown and white sugars.
Bake in the oven on a center rack for 45-50 minutes until the crust is golden brown. Around 40 minutes watch so you don't over bake.
Serve warm with a scoop of Vanilla Bean Ice Cream or Whip Cream!
Notes
You can make the dough in advance and store in the refrigerator for up to 3 days.
This recipe allows much room for error. Regardless of how it looks, it will still taste delicious!