This is a recipe for easy plum tarts using puff pastry for a convenient yet beautiful dessert.
With their delightful combination of tartness and sweetness, these tarts are sure to become a favorite in your recipe repertoire. So, let's dive in and discover how to create these effortless delights that are sure to impress.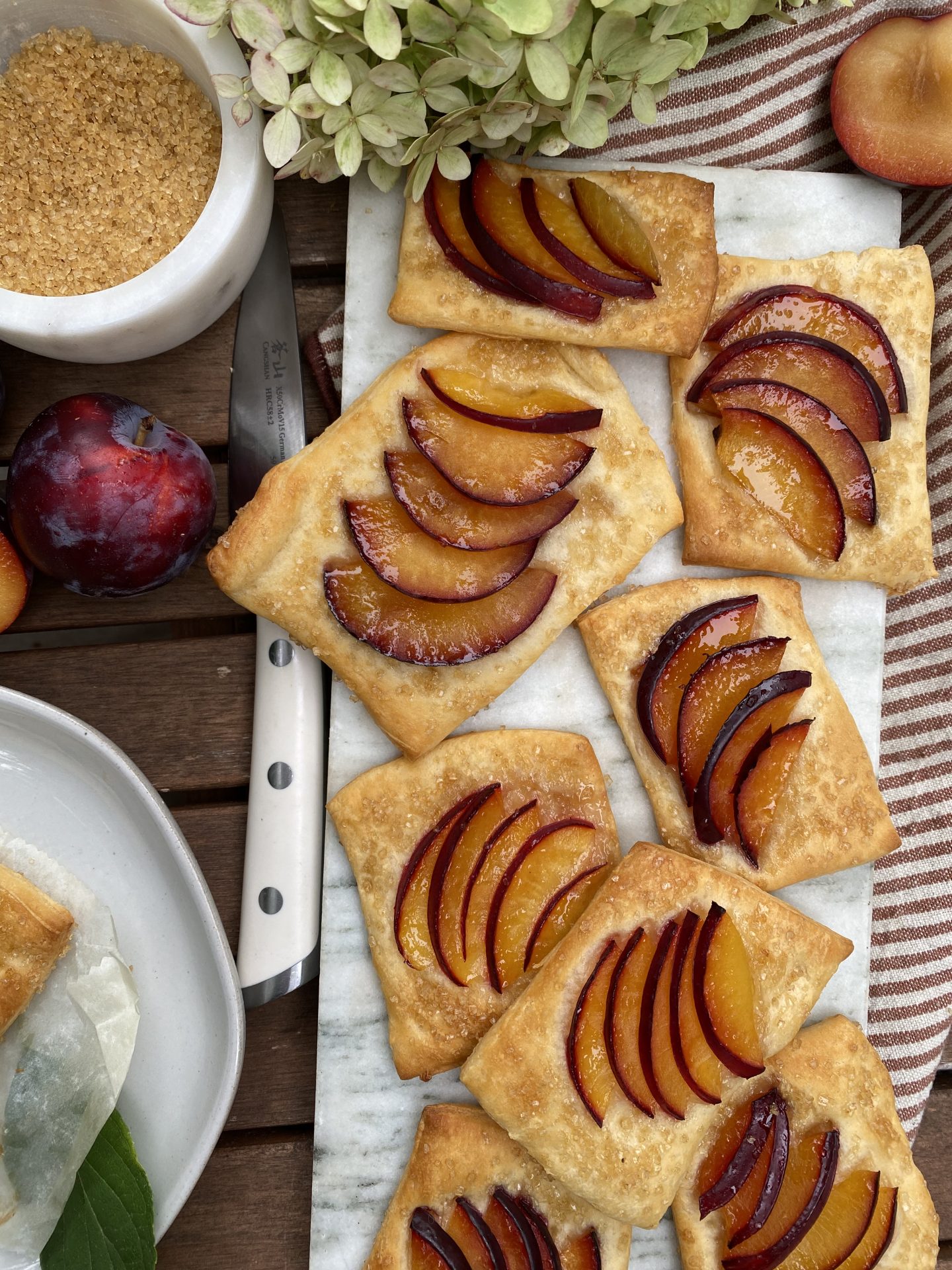 Ingredients
To make these scrumptious plum tarts, you will need the following ingredients:
– Premade puff pastry sheets
– Fresh plums (choose ripe and juicy ones)
– Granulated sugar or Turbinado sugar
– Ground cinnamon
– Lemon zest (optional)
– Egg wash (1 beaten egg)
You'll also need parchment paper for easy baking.
Pre-made Puff Pastry
The secret to super simple and quick desserts and apps for the holiday season? Store bought Puff Pastry. Several brands make them but my go-to so far has been the Pepperidge Farm Pastry Sheets.
Look for a brand of puff pastry that has butter as one of the main ingredients. The better quality the butter, the better the puff pastry.
Another favorite recipe using Puff Pastry of mine is Tomato and Ricotta Tart. You'll want to keep this one handy for tomato season!
Assembling Your Tarts
These easy Plum Tarts are so fun to make. Start by rolling out your premade puff pastry onto parchment paper.
If you've bought precut puff pastry, then you're one step ahead! If not, cut the sheet into rectangles. Poke each a few times with a fork to let air come through while baking.
Then assemble your sliced plums. Sprinkle with cinnamon and granulated turbano sugar. You can also use regular white granulated sugar but I love the way the larger sugar crystal bakes up.
Lastly, beat one egg and brush on the egg on the outside rim of each tart for a golden brown hue. Then you're ready for the oven!
Yield:

12
Easy Plum Tarts
Additional Time:
2 minutes
Impress guests with this super easy dessert! Pre-made puff pastry makes this recipe a cinch which thinly sliced fresh plums are the shining star.
Ingredients
1 Box or Roll of Premade Puff Pastry Sheets
2-3 fresh plums, ripe and thinly sliced
1/4 cup turban sugar or granulated sugar
1 tablespoon of ground cinnamon
1 egg, beaten
lemon zest, optional
Instructions
Prepare the Puff Pastry:
- Thaw your premade puff pastry sheets according to the package instructions.
- Once thawed, gently roll out the pastry sheets on a lightly floured surface to create a thinner layer.

2. Preparing the Plums:
- Wash and slice the plums into thin, even slices.
- If desired, sprinkle the plum slices with a little lemon zest to enhance the flavor.

3. Assembling the Tarts:
- Preheat your oven to the temperature recommended on the puff pastry package. This will be about 350 degrees.
- Cut the rolled-out puff pastry into individual tart-sized rectangles or circles. Most premade puff pastry will come precut.
- Place the pastry pieces onto a baking sheet lined with parchment paper.
- Leaving a small border around the edges, arrange the plum slices on top of the pastry.
- Sprinkle a pinch of ground cinnamon and about a teaspoon of granulated sugar over the plums.

4. Baking and Serving:
- Lightly brush the exposed edges of the puff pastry with egg wash for a golden finish.
- Bake the tarts in the preheated oven until the pastry turns golden brown and the plums are tender, usually around 10-15 minutes per the package instructions.
- Once baked, remove the tarts from the oven and allow them to cool slightly.
- Serve the plum tarts warm or at room temperature, optionally garnished with a dusting of powdered sugar, a dollop of whipped cream or vanilla ice cream

Notes
- Use a premade puff pastry that has butter in it as the ingredients. The higher quality the butter, the better the puff pastry will be.
-Let the puff pastry thaw in the fridge overview.
- You can substitute plum for another stone fruit, apple or pear.
- Use a rolling pin to gently roll the puff pastry out until smooth.
- Store in an airtight container for up to a week.
-Serve warm with whipped cream or a scoop of vanilla bean ice cream.
Nutrition Information
Yield
12
Serving Size
1
Amount Per Serving
Calories

52
Total Fat

2g
Saturated Fat

0g
Trans Fat

0g
Unsaturated Fat

1g
Cholesterol

16mg
Sodium

24mg
Carbohydrates

9g
Fiber

1g
Sugar

6g
Protein

1g
Please note nutrition is automatically calculated and may not be accurate.