This is a recipe for easy Tomato Tart with Ricotta and Pesto. Read on for the ingredients and method or skip right to the recipe using the "jump to recipe" button.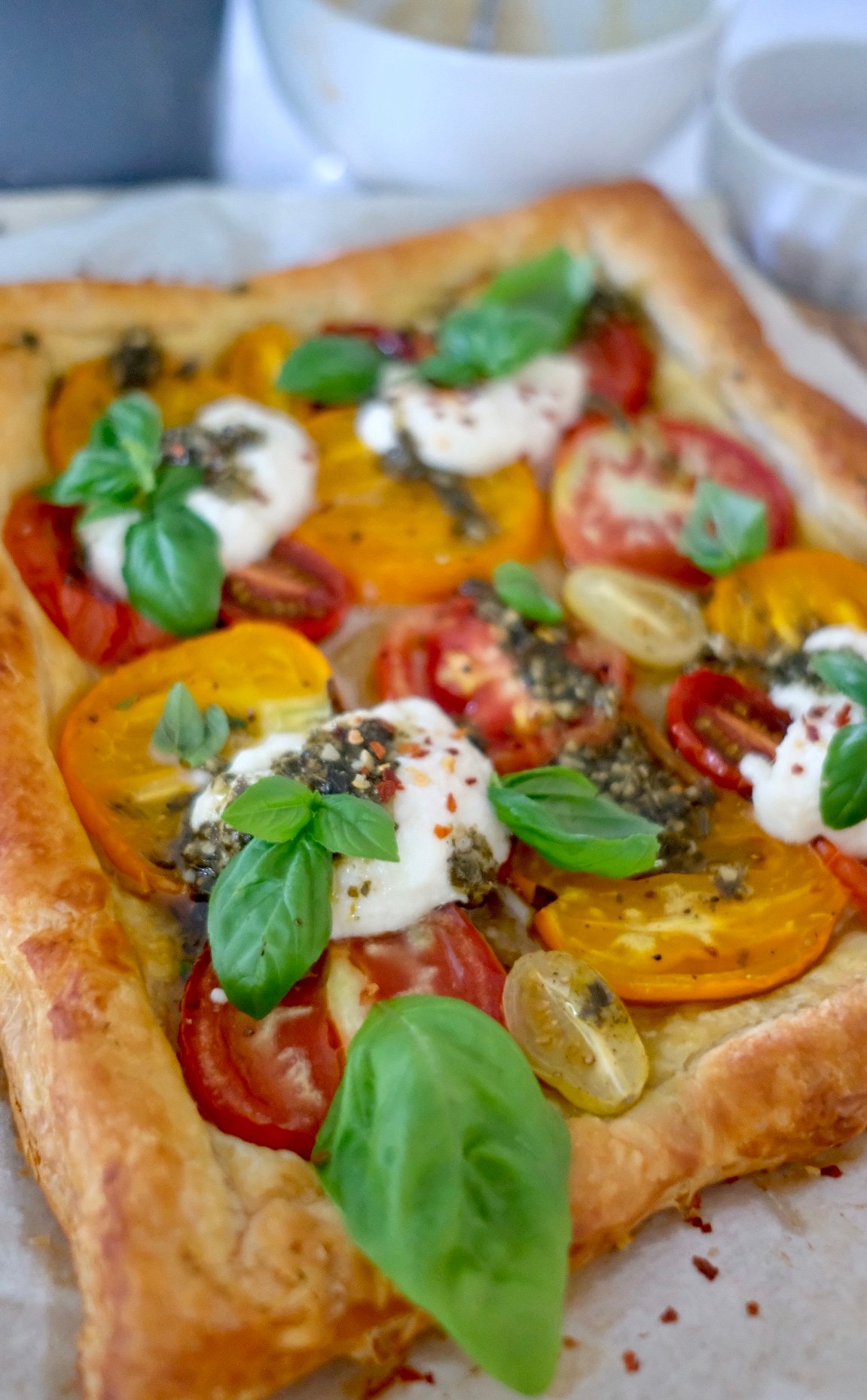 Ingredients for Tomato Tart with Ricotta and Pesto
3 garden tomatoes
puff pastry sheet
basil 
pesto sauce
balsamic glaze
sea salt or kosher salt
ricotta cheese
honey or hot honey 
red pepper chili flakes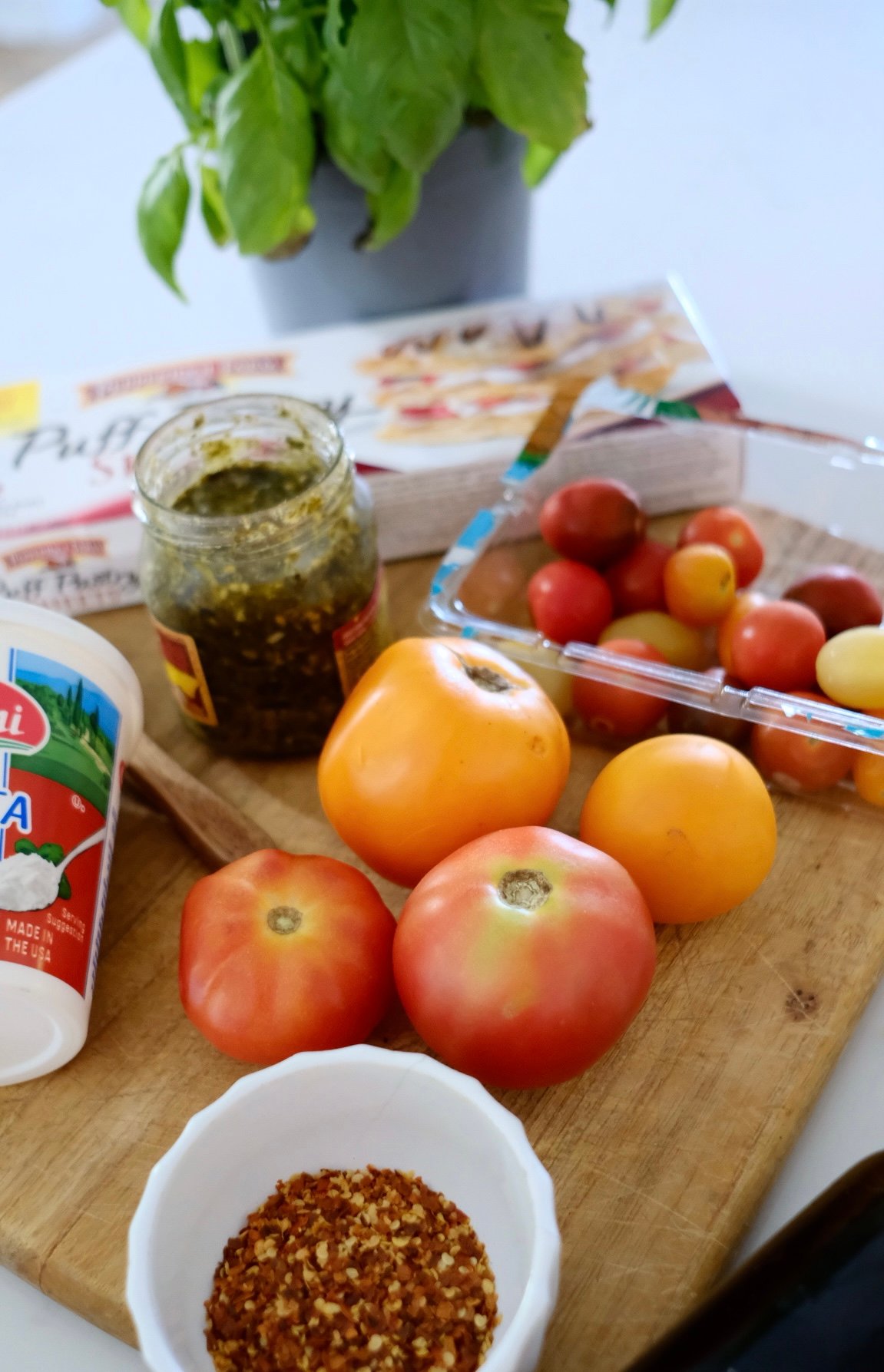 Puff Pastry
Puff pastry is a light and flaky pastry made from a laminated dough, or dough that is made by alternating layers of butter and dough. The ingredients used to make puff pastry are butter, salt, water and flour.
While you can certainly make your own puff pastry, this is one item I would buy pre-made. I typically buy Pepperidge Farm's Puff Pastry Sheets. 
They are found at most local groceries, Target and Walmart. 
Choice of Honey
This Tomato Tart recipe calls for honey to be mixed in with the ricotta. While I think the bit of sweetness adds a nice touch, you can also omit the honey if you choose. 
I like to use hot honey for most savory dishes as it gives it a little kick. Mike's Hot Honey is my favorite brand. You can also absolutely use regular or local honey. 
I love finding local honey! The random "honey stops" along the way across Pennsylvania and New England are my favorite places to buy honey. 
Method for Tomatoes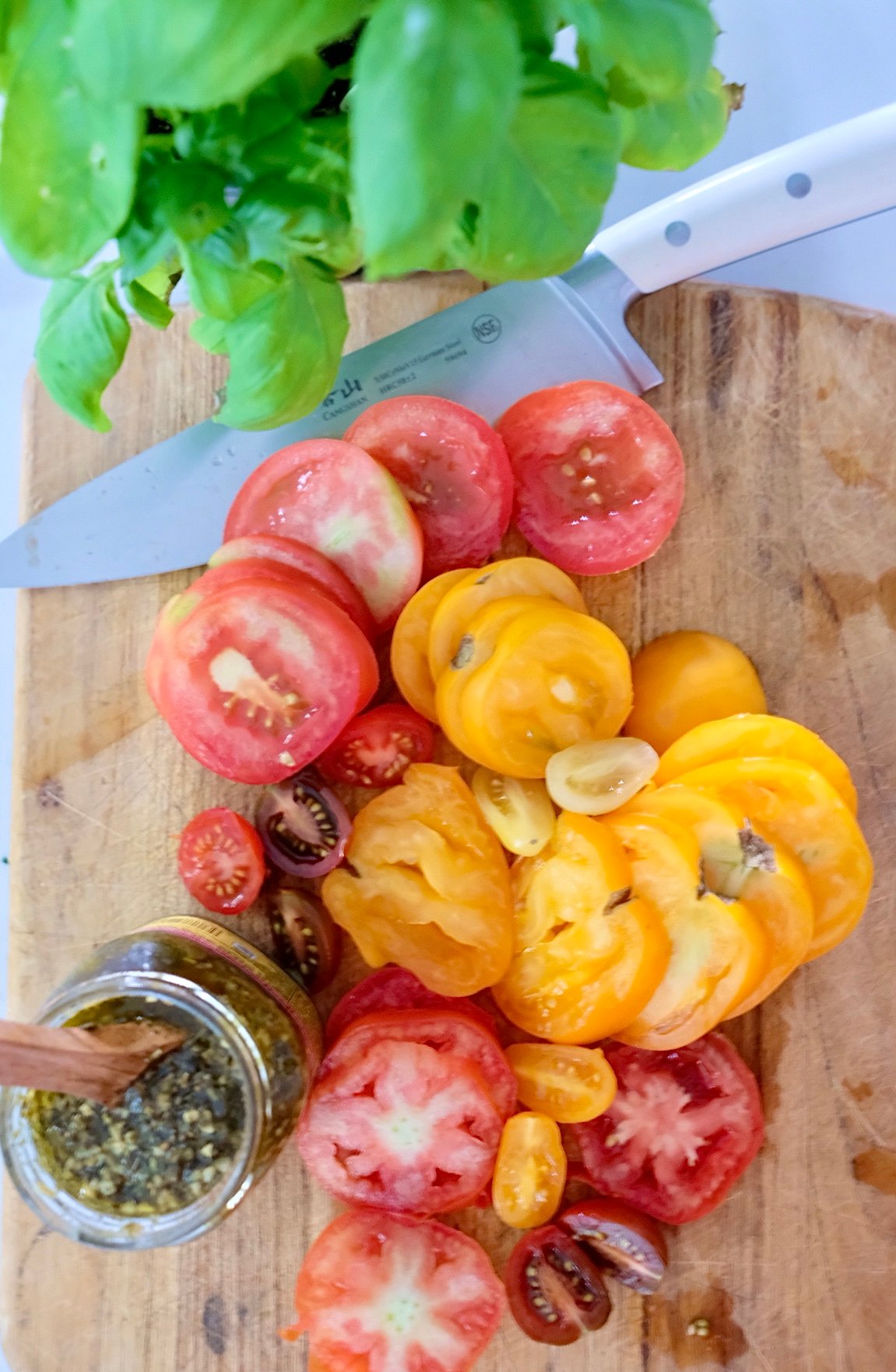 This easy Tomato Tart recipe with ricotta and pesto requires you to reduce the amount of liquid in your tomatoes. If you cook the puff pastry with the tomatoes as is, the top of the pasty will be very watery. 
The best way to do this is after you've sliced your tomatoes, place them on a paper towel. Sprinkle one side with salt. Wait 15 minutes and then flip the tomatoes over to the other side. Sprinkle with salt and wait 15 minutes again. 
This dramatically reduces the amount of liquid in your tomatoes and will make your dish perfect.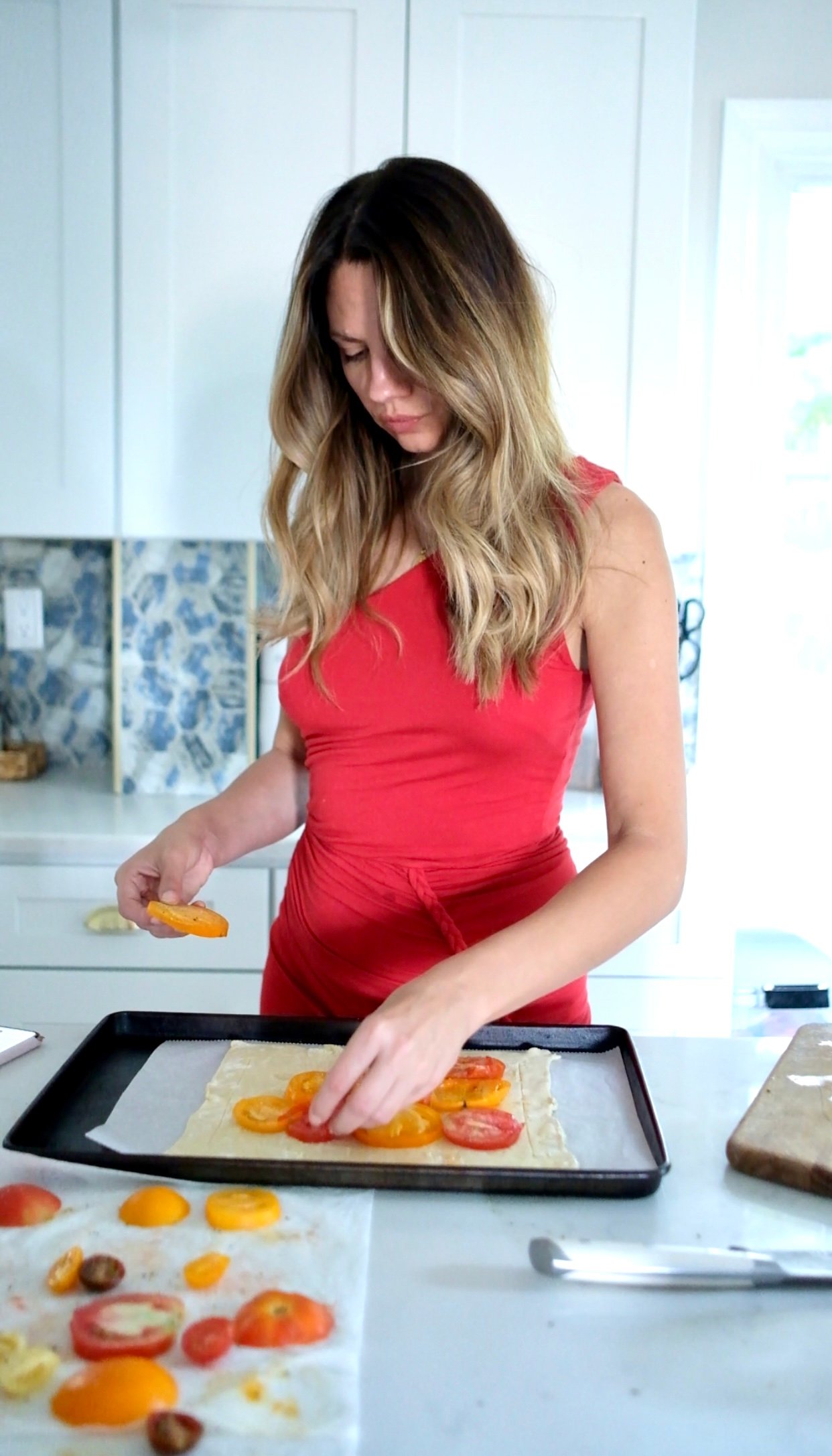 Toppings
Part of the fun of this Tomato Tart Recipe is the toppings! You can add or remove anything you'd like. I like extra drizzle of balsamic glaze and chili flakes. My favorite store bought balsamic glaze is from Trader Joe's. 
Try these other delicious dishes:
Buratta and Tomato Caprese Salad
Super Simple Summer Pasta with Mushrooms and Corn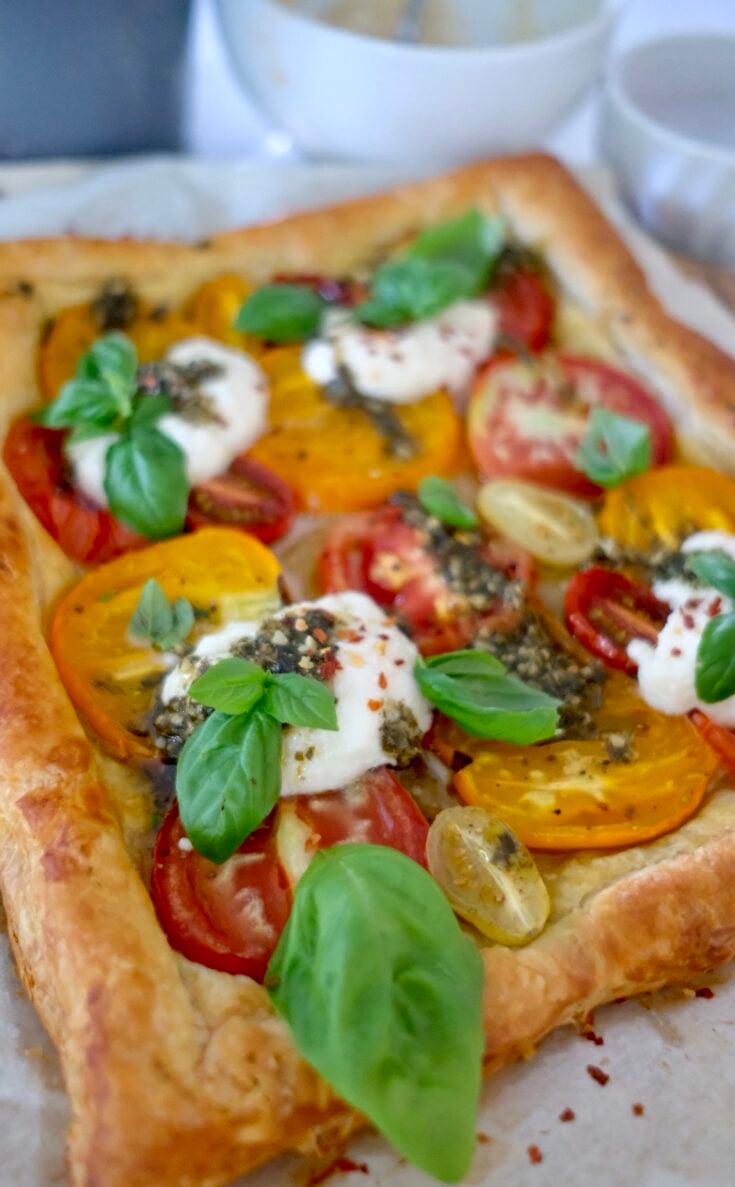 Yield:

4-6
Easy Tomato Tart with Ricotta and Pesto
Puff Pastry sheets make for this easy Tomato Tart with Ricotta and Pesto. This recipe is all about loading up on your favorite toppings!
Ingredients
1 puff pastry sheet
3 tomatoes, sliced
sea salt flakes or kosher salt
1/4 cup basil leaves
extra virgin olive oil for drizzling
1/8 cup pesto sauce
1 tablespoon honey (or hot honey)
1/2 cup ricotta cheese
1 tablespoon red chili pepper flakes
Instructions
Start with your tomatoes by slicing them and laying them out on a large papertowel. Sprinkle one side with salt and wait 15 minutes.
Preheat the oven to 400 degrees and set the rack to the middle.
While you're reducing the moisture in your tomatoes, roll out or place flat the puff pastry sheet on a peice of parchment paper.
Using a fork, poke holes throughout the puff pastry. Gently trace with a knife a one inch border around the perimiter of your puff pastry. This will serve as your crust.
Brush the puff pastry with olive oil.
Flip your tomatoes over at the 15 minute mark and salk the other side. Wait another 10-15 minutes to allow the moisture out of your tomatoes.
Oncey your tomatoes are prepped and ready, place them one by one in the center of your puff pastry in a single layer.
Place in the oven on the middle rack. Bake 27-35 minutes depending on your oven. Watch it close to the end so it does not burn. The crust should be golden and flaky.
While the pastry is cooking, add the honey to the ricotta and stir.
Place your pesto in a small bowl. The pesto should be thin enough to drizzle. Add extra virgin olive oil if needed until it reached a drizzle consistency.
Remove from the oven and place dallops of ricotta, drizzle pesto and sprinkle chili flakes. When the toppings are to your liking, add a final touch of balsamic glaze drizzled across and a few fresh basil leaves.
Serve warm!
How do you store tomato tarts?
Allow the tart to cool to room temperature. Once cooled, place in an airtight container and place in the refrigerator. It can keep up to 3 days.
Can you freeze a tomato tart?
Yes place in an air tight container and freeze up to 4 weeks. Reheat once defrosted.
How do you remove the liquid from tomatoes?
After slicing your tomatoes, line them in a single layer on a piece of paper towel. Sprinkle with salt and let sit for 15 minutes. After 15 minutes, flip the tomatoes and repeat on the other side.