This recipe is for Melon and Prosciutto Salad using 6 ingredients.
Melon and Prosciutto Salad
I love recipes that are super simple and a show stopper all in one. This Melon and Proscuitto Salad does not disapoint! Colorful and enticing, it's a spread that everyone will eat as soon as you put it out.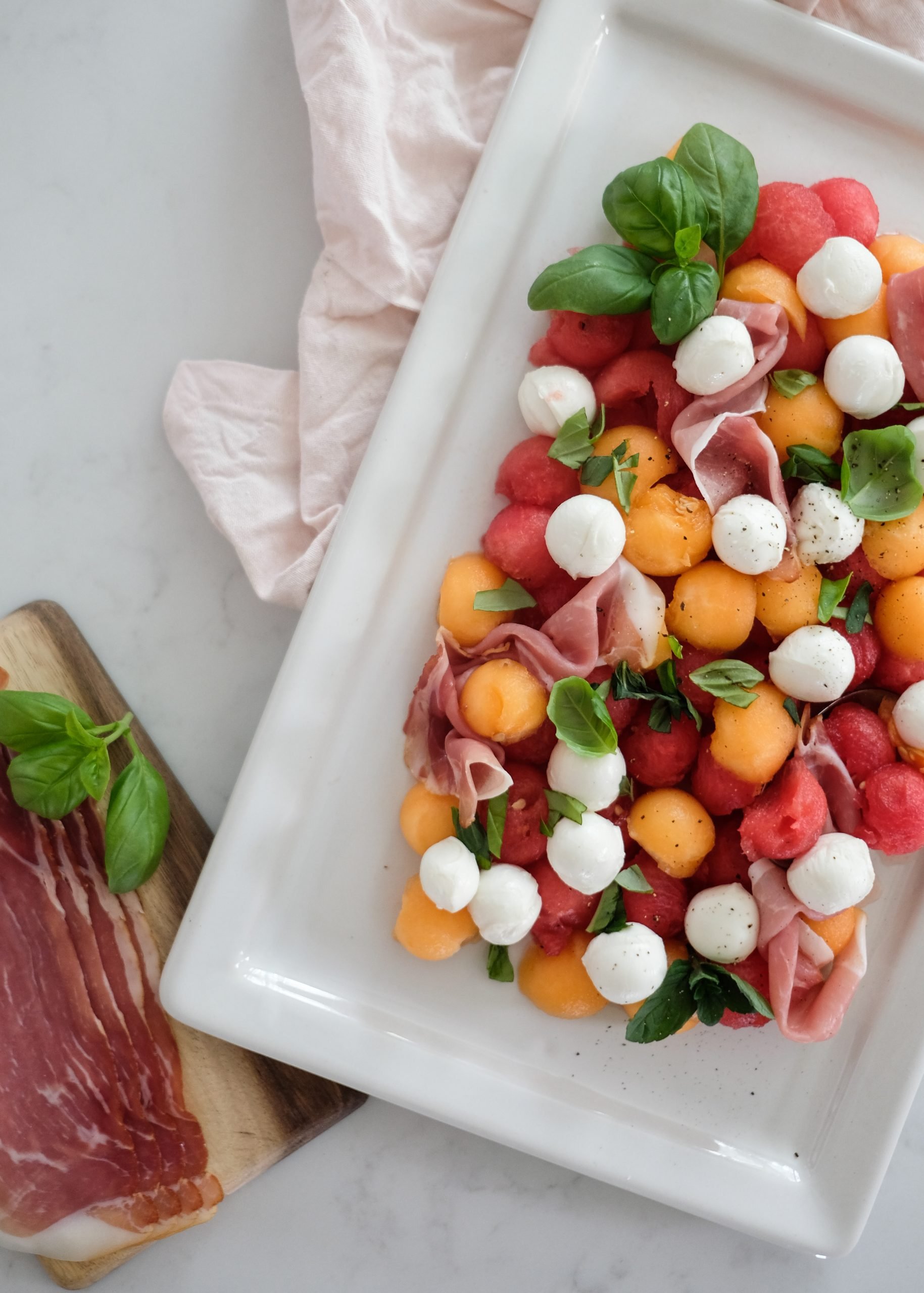 For this recipe I used Watermelon and Cantaloupe because I wanted a brightly colored Melon and Proscuitto Salad. I let the herbs do all the talking to add in green. You can use any type of melon such as honeydew. My vote is always use what's in season and local if possible! It's super fun to ball melons and I use this melon baller here.
What's in the salad?
Melon, balled
Basil leaves
Mint
Prosciutto
Fresh Whole Milk Mozzarella such as Ciliegine
Balsamic Glaze for drizzling! (Make your own or try this one here)
Let's Talk Mozzarella
In this recipe I use the Ciliegine from Trader Joe's. Ciliegine are small mozzarella balls perfect for snack size. The only trouble with these is they are hard not to eat all in one sitting! I use them to make caprese sticks for the kids. The ciliegine comes in lightly salted water and is the perfect texture and taste to go along with the bold flavors of melon and prosciutto in this recipe. One of my favorite things to eat is perhaps whole milk fresh mozzarella with balsamic glaze. And maybe a tomato or two…
If you can find fresh mozzarella locally, even better! If you omit the watermelon for a different type of melon such as honeydew, Buratta cheese would also be delicious. With the watermelon, Burrata would just be messy as the watermelon is well, watery!
Fresh Herbs All the Way
Normally I'm a big proponent to use what you have on hand but this is a recipe that you need to use fresh herbs or omit them in my opinion. Fresh herbs just hit different! It's all about the fresh and light flavors in this recipe so pick up some fresh basil and mint. Better yet pick them from your Kitchen Herb Garden.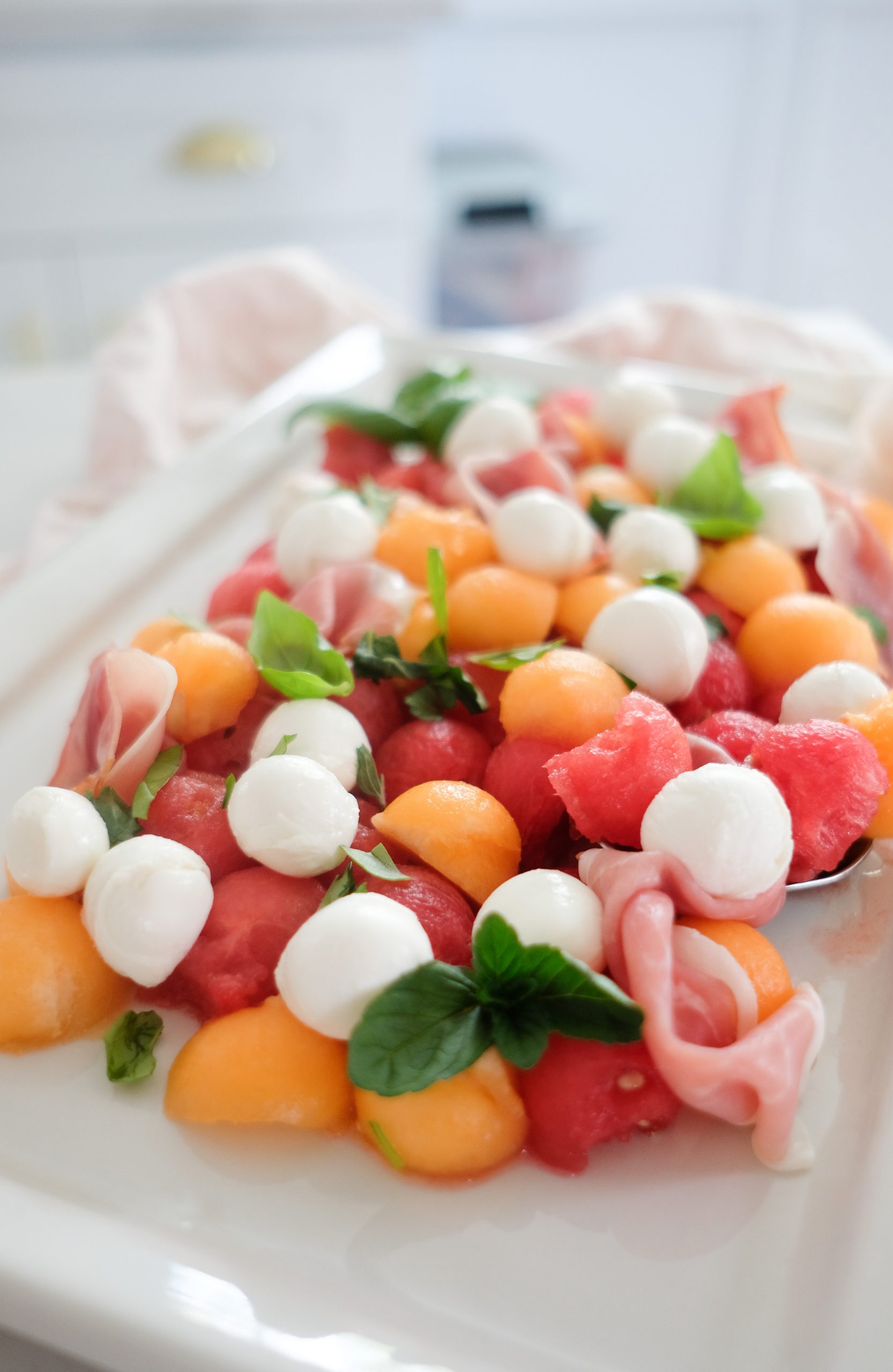 Prosciutto Prosciutto…
Ah the deliciously mild Italian "bacon", Prosciutto. I love using this in recipes as it's so moldable. It's great for Hors d'oeuvors and adding a layer to a panini. Prosciutto pairs well with fruity and light flavors. For this recipe I used Stockmeyer Prosciutto from Trader Joe's. I also found a full review of it here from a TJ's mega fan.
Yield:

4-6
Melon and Prosciutto Salad
Additional Time:
5 minutes
This salad is super refreshing and is the perfect summer treat. It's such a mood with juicy melon, Ciliegine and delicious prosciutto. Topped with a sweet balsamic glaze!
Ingredients
2 types of melon, balled
Mozzarella balls
Prosciutto
Basil leaves, chopped
Mint leaves, chopped
Balsamic glaze
Instructions
1. Using a melon baller, scoop balls out of your melon and carefully place on a serving dish. Using a standard melon size should do. If you're using watermelon you may only use half of the watermelon or a personal watermelon size.
2. Place the cheese balls on top of the melon.
3. Twist and scrunch the prosciutto and place it around the salad evenly.
4. Toss on your favorite herbs. For this basil and mint are great choices.
5. Serve with a drizzle of balsamic glaze!
Recommended Products
As an Amazon Associate and member of other affiliate programs, I may earn a small commission from qualifying purchases.
Nutrition Information
Yield
6
Serving Size
1
Amount Per Serving
Calories

51
Total Fat

2g
Saturated Fat

1g
Trans Fat

0g
Unsaturated Fat

1g
Cholesterol

7mg
Sodium

168mg
Carbohydrates

7g
Fiber

1g
Sugar

6g
Protein

3g
Please note nutrition is automatically calculated and may not be accurate.