Summary
Looking for your quintessential fall activity and pumpkin patch? Your guide to the top farms and orchards to visit this fall in the Philadelphia area.
Step outside of the city and into Philadelphia's countryside for your quintessential fall fun. There are so many different farms and orchards to pick all within an hour of the city. From apple picking to pumpkin picking around Philadelphia, here is your guide of top spots for fall!
The farm-to-table experience, at its core, is about connecting with the source of one's food, appreciating the journey from soil to plate, and indulging in the freshest flavors nature has to offer. Fall is one of my favorite times to visit our local farms and orchards where the farms add on the activities for the whole family.
Pumpkin season has begun! When you walk through a pumpkin patch, you're immediately connected to the earth beneath your feet. The sight of robust pumpkins, still anchored to their vines, evokes a sense of authenticity. It's not just about selecting a pumpkin; it's about the tactile pleasure of feeling its rough skin, estimating its weight in your hands, and observing the myriad shades of orange, white, and green. The farm-to-table experience then continues as these pumpkins transform into savory soups, pumpkin baked goods, or roasted dishes, embodying the very essence of fall in each bite.
Barnard's Orchard: An Autumnal Picture-Perfect Haven
Nestled in Kennett Square, Pennsylvania, Barnard's Orchard is a scenic gem perfect for capturing those quintessential fall apple-picking moments. With four generations of dedication, this family-owned orchard has enriched the community with farm-fresh produce for decades.
While their doors are generally open from 8 AM to 6 PM, Monday through Saturday, it's advisable to glance at their Facebook page for up-to-the-minute updates and to discover the latest offerings. As autumn approaches, anticipate a diverse harvest ranging from succulent blueberries and crisp corn to luscious tomatoes and vibrant green beans.
Fall Favorite Recipe: Warm Cinnamon Apple Crisp
Dive into Autumn at Shadybrook Farm's FallFest 2023
Starting September 8, 2023, Shadybrook Farm in Yardley, Pennsylvania, transforms into a haven of autumnal delights. This annual FallFest is not just another harvest celebration; it's an adventure for all ages.
Children can lose themselves in the intricate corn maze, pick the juiciest apples, or soar high on the giant jumping pillow.
Meanwhile, adults can unwind with a refreshing drink at The Silo — a rustic barn reimagined as a chic bar — or savor delectable bites from the country kitchen. Don't forget to peek at their FallFest calendar, explore the farm map, and secure your tickets. And if you're in the mood for a pint or some fresh produce shopping, the Stone's Throw Pub and their farm market and garden center await your visit.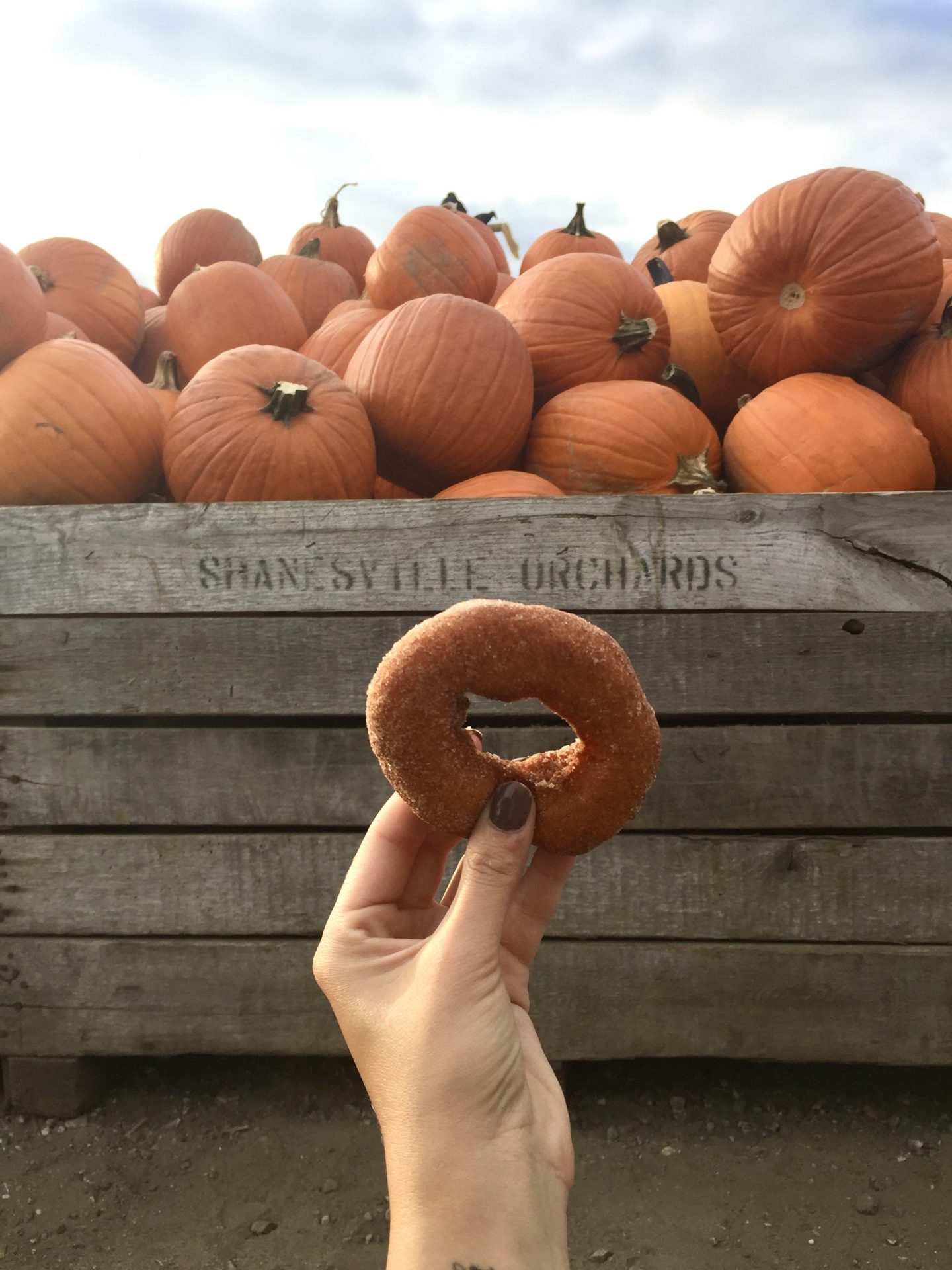 Autumn Adventures Await at Johnson's Locust Hall Farm
Discover the rustic charm of Johnson's Locust Hall Farm nestled in Jobstown, New Jersey. Open from Friday to Sunday, 10 AM to 5 PM, this idyllic location offers a vibrant Farm Market where you can immerse yourself in the freshest of seasonal offerings. Enhance your visit with a sophisticated experience at the Tomasello Winery Tasting Room, available from 11 AM to 5 PM with reservations.
Venture into their Park N Pick adventure for just $4.95 per person, but remember, the real magic starts September 9th. The onset of fall paints the farm with vibrant hues of apples ripe for picking, picturesque sunflower trails perfect for capturing memories, an inviting pumpkin patch, and an expansive 5-acre family corn maze that promises fun and adventure. Don't miss out on this quintessential autumn experience
Linvilla Orchards: Your Go-To Destination for Seasonal Fun in Media, PA!
Situated in the heart of Media, Pennsylvania, Linvilla Orchards is a treasure trove of seasonal delights, opening its gates wide from May 20 to October 30. Hours are from 8 am – 6 pm daily, with extended hours of 8 am to 9 pm on Fridays and Saturdays as the cool embrace of autumn sets in.
Keen to pick your own fresh produce? Their Pick-Your-Own updates are available daily on their website, ensuring you get the cream of the crop. While you're at it, save the date for the Apple Festival on September 30, 2023. These festivals are included in the Pick-Your-Own ticket price, which is available for purchase here.
As the golden hues of autumn emerge, mid-September heralds the opening of Pumpkinland. Be sure to grab your tickets on-site to dive into a world of pumpkin magic. If you're looking for activities for younger children, the Barnyard Playground offers a regal touch with a majestic peacock, while the expansive Playland Playground promises endless fun for the kiddos at just $1 per child.

Highland Orchards
In the enchanting season of fall, a visit to Highland Orchards in West Chester is an absolute must for those seeking the quintessential autumn experience in the Philadelphia area. This picturesque orchard offers an abundance of fall-themed activities that will leave you feeling thoroughly immersed in the spirit of the season.
As you meander through the orchard, surrounded by the vibrant colors of the changing leaves, you can't help but be captivated by the beauty of nature. The crisp air is filled with the irresistible aromas of freshly picked apples, inviting you to embark on a delightful apple-picking adventure. Afterward, you can indulge in the farm's delectable apple cider donuts and warm apple cider, savoring the flavors that define fall. Highland Orchards also offers hayrides, pumpkin patches, and a charming farm market where you can find an array of seasonal treats and local produce. Whether you're picking pumpkins, sipping cider, or simply soaking in the natural beauty of the surroundings, a visit to Highland Orchards in West Chester will leave you with cherished memories of a truly magical autumn experience.
What is the best month to go apple picking?
Mid to end September is the best month to go apple picking.
When is the best time to go to Linvilla Orchards?
Avoid the crowds by visiting on a week day or very first thing in the morning.