Pumpkin season continues as we gear up towards Halloween next week! What are you or your little ones being? I can tell you that I ordered 3 costumes for Bailey and sent them all back. She was set on being Maleficent but now her perfected evil laugh will have to be put to other good uses. I am happy however, this will be the first year she's NOT a princess! We stuck with the spooky theme.
Onto the baked goods! This bread is perfect. I may have already eaten half the loaf. You can add chocolate chips or go without. I did a handful so it wasn't overwhelmingly chocolate plus thats all my family left me with as they found my secret stash. Another great addition would be to layer on icing, vanilla or cream cheese frosting would pair perfectly.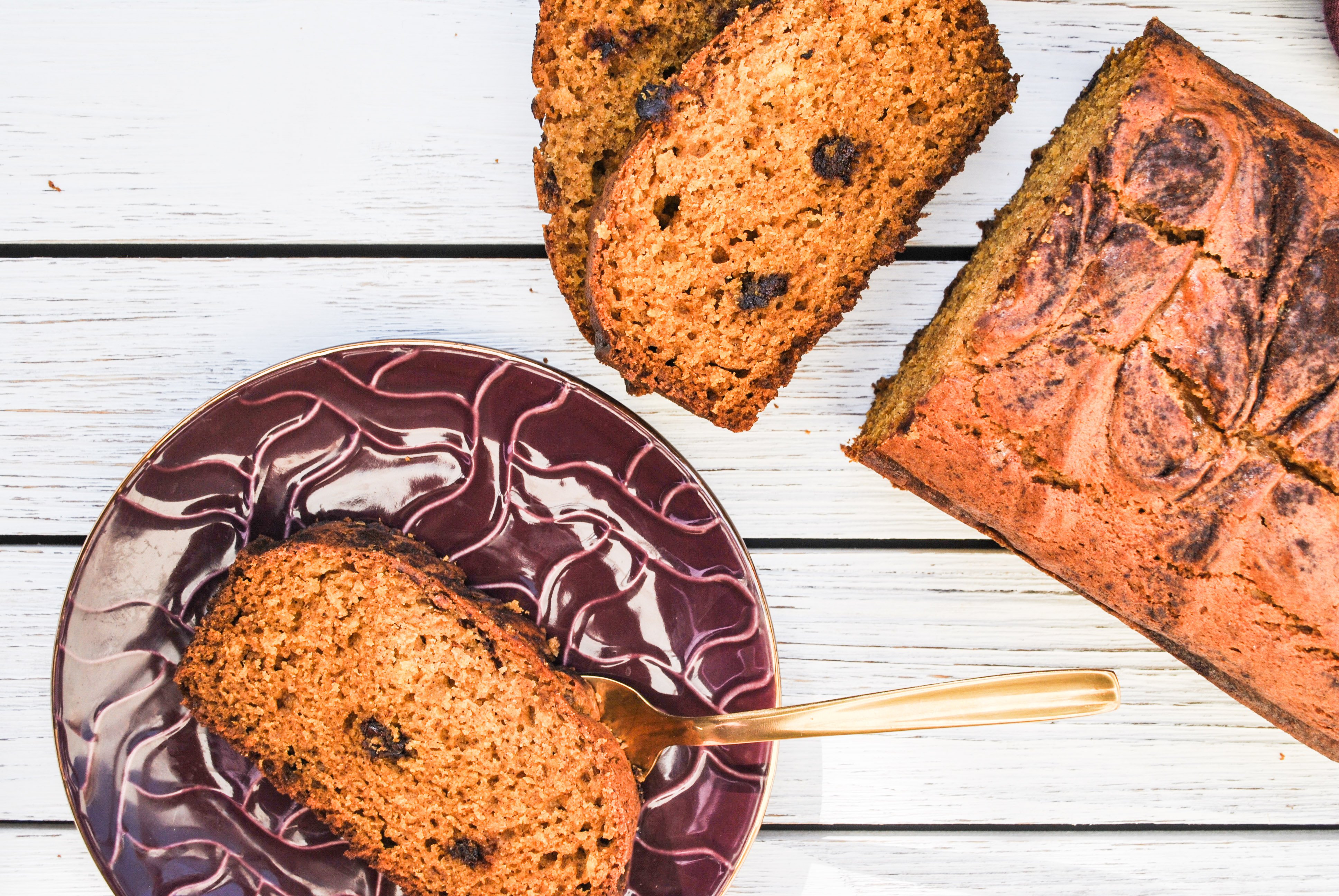 This bread is just the perfect amount of moist and bread-iness that you want. I will be baking it through Thanksgiving, that's for sure. Do yourself a favor and stop paying $3 a slice at starbucks and make your own. If you can't eat the whole loaf in one week, bring in to work to share or use your freezer to store for later. You can store fresh breads in the freezer for up to 3 months. Simply take out and allow to defrost at room temperature.
Here is the tip to get the swirl on top. Once you have placed the batter in the bread pan and evened it out, generously sprinkle cinnamon all over the top. Take a butter knife and insert starting at one end and gently draw an "S" shape down to the other end of the pan. This will give you that gorgeous 'swirl' on the top of your loaf. Also move the baking rack in your oven down to the middle of the oven. This will ensure that the top of your loaf doesn't burn. As you are checking on it, if you grow concerned about this add a piece of tin foil on top halfway through. Every oven has a different temperature. If you bake frequently, add an oven thermometer to your Christmas wish list!

Pumpkin Swirl Bread
This super simple and easy Cinnamon Swirl Pumpkin Bread is super moist and delicious.
Ingredients
1 Cup Canned Pumpkin
2 Eggs
2 teaspoons Ground Cinnamon
1 teaspoon Pumpkin Pie Spice
1¾ Cup Flour
1 teaspoon Baking Soda
½ Cup Brown Sugar, packed
½ Cup White Sugar
½ Vegetable Oil
¼ Milk (I used Almond Milk)
Instructions
Preheat Oven to 350 degrees and grease a bread pan.
In a bowl combine flour, baking soda, cinnamon and pumpkin pie spice.
In another bowl beat the eggs, canned pumpkin, milk, vegetable oil and white sugar and brown sugar until smooth.
Gently pour the wet ingredients into the dry ingredients and stir. Do not over mix.
Pour the batter into the loaf pan.
(See tips above for getting the perfect swirl on top of your loaf)
Bake for 50-55 minutes.
There are tons of ways to get your Pumpkin on this fall! Check out this Recipe for Chewy Pumpkin Chocolate Chip Cookies.