This post shares tips for visiting Linvilla Orchards as well as tips and tricks for washing strawberries. As always, Chocolate & Lace strives to bring you the best in aspirational Family and Lifestyle.
Summer or Fall, Linvilla Orchards is a beautiful place for pick-your-own.
About 30 minutes outside of Philadelphia, Linvilla Orchards is easy to get to with plenty of ample parking. When you need an escape from the city, head to the orchards.
Tips for visiting Linvilla Orchard
Here is my biggest tip for visiting the orchard no matter what season. Go early and go on a weekday if possible.
If you can, head there so you get there right when the orchard opens for pick-your-own. This suggestion is for multiple reasons. First, it gets super hot in the fields if you're picking in the summer. There is little shade out there so going first thing in the morning will be the most enjoyable.
Second and especially in the fall, the orchard gets packed. I mean, you would think you're waiting in a line at Walt Disney World for a haunted hayride. Absolute fun, but I'd rather avoid the lines and big crowds.
Pick Your Own
What is pick your own
Also known as you-pick, pick-your-own refers to the activity of picking seasonal fruits or veggies at an operational farm! You then pay for the produce that you pick.
Be sure to wear a hat, sunscreen and pack a water bottle. When you arrive to pick your own would you'll have to pay a minimum for each person picking but then that gets contributed to the overall total of what you pick.
During our June strawberry picking visit we picked 4 pints and it was enough for each of to enjoy and make several jars of my favorite and easy Strawberry Jam!
In the fall, Linvilla Orchards also offers Apple and Pear Pick Your Own.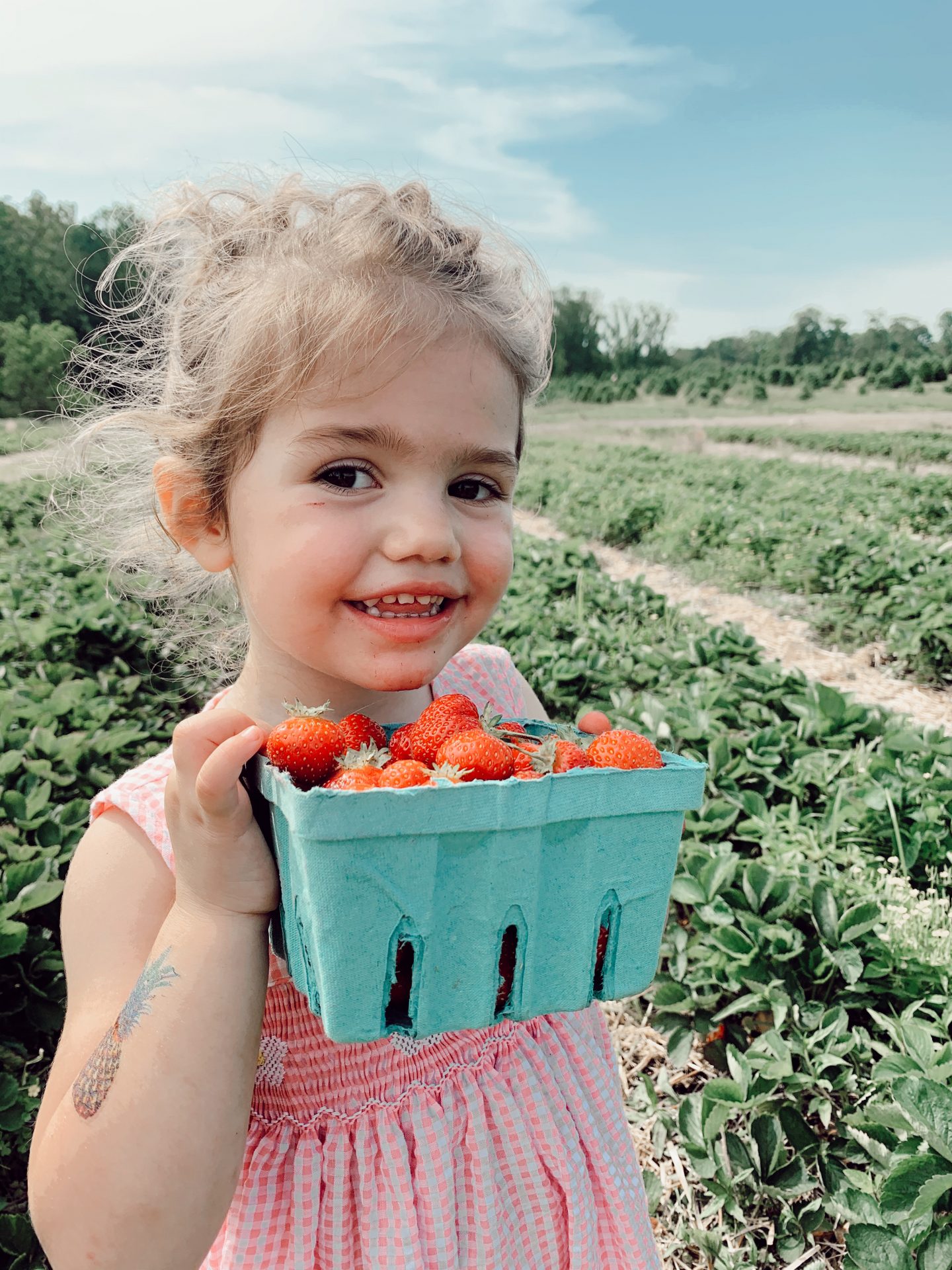 For other enjoyable and fun things to do in and around Philadelphia check out my page Explore Philadelphia!
How to Clean Your Strawberries
A cool trick for cleaning your strawberries is using saltwater. Here is how to clean your strawberries with salt water. Put 5 cups of warm water in a large bowl and 1 tablespoon of salt. Let them sit for about 15 minutes. Then remove the strawberries and gently rinse with cool water. What's left in the bowl will be bugs, leaves and debris. You may want to rise twice to ensure they do not taste like salt.
Linvilla Orchards also usually offers picking of Blueberries, Raspberries and peppers in the early summer. In the fall it's all about the apples! I have never seen pick your own pumpkins (If this is incorrect please let me know!) but they do offer so many different varieties of pumpkins and gourds in the fall.
For another beautiful location to spend quality time with the family check out the Seaview Hotel Review on the Jersey Shore!
The Market at Linvilla
After pick your own we will usually stop in the market for some apple cider and treats. There is also a large playground and petting farm for smaller children. Linvilla Orchards calendar is jam packed with events, (jam, get it!?) and overall we usually spend 2-3 hours there each season we visit.
Let me know your tips for visiting!
Does Linvilla Orchards make their own pies?
YES! Linvilla makes their own pies as well as breads, cakes and other delicious items.
Can you pick apples at Linvilla?
Yes! Linvilla is great for apple picking. They offer so many varieties of apples.
Can you pick pumpkins at Linvilla?
While you can buy pumpkins of all shapes and sizes I have not seen a pick your own pumpkin patch at Linvilla.
How far away is Linvilla Orchards from Philadelphia?
Linvilla is about a 35 minute drive from Center City Philadelphia.
Does Linvilla Orchards sell Apple Cider?
They do and it is delicious!
More Getaways Near Philadelphia