Summary
Read on for details on a gorgeous fall stay in Vermont at Fat Sheep Farm. A truly unique experience and best place to stay in Vermont.
This post includes a review of our stay at the lovely Fat Sheep Farm and Cabins in Hartland, Vermont as well as other recommendations of things to do, where to stay and places to eat around Woodstock, Vermont. 
Planning Our Stay 
Last August last year, at the end of a very very long quarantine, I was looking to book a trip into the great outdoors. I've always wanted to visit Vermont in the fall. Woodstock, Vermont in the fall has always been on my bucket list.
When I tried to book anywhere in town within a three month time window however, booking a stay fell short. As I was looking for Airbnb's, I found Fat Sheep Farm. And it was pet friendly! I booked it for the following year in October. 
You should book as far in advance as possible. There are only 5 cabins and depending on the dates you plan to travel, book up very quickly. Fall in Vermont is peak season!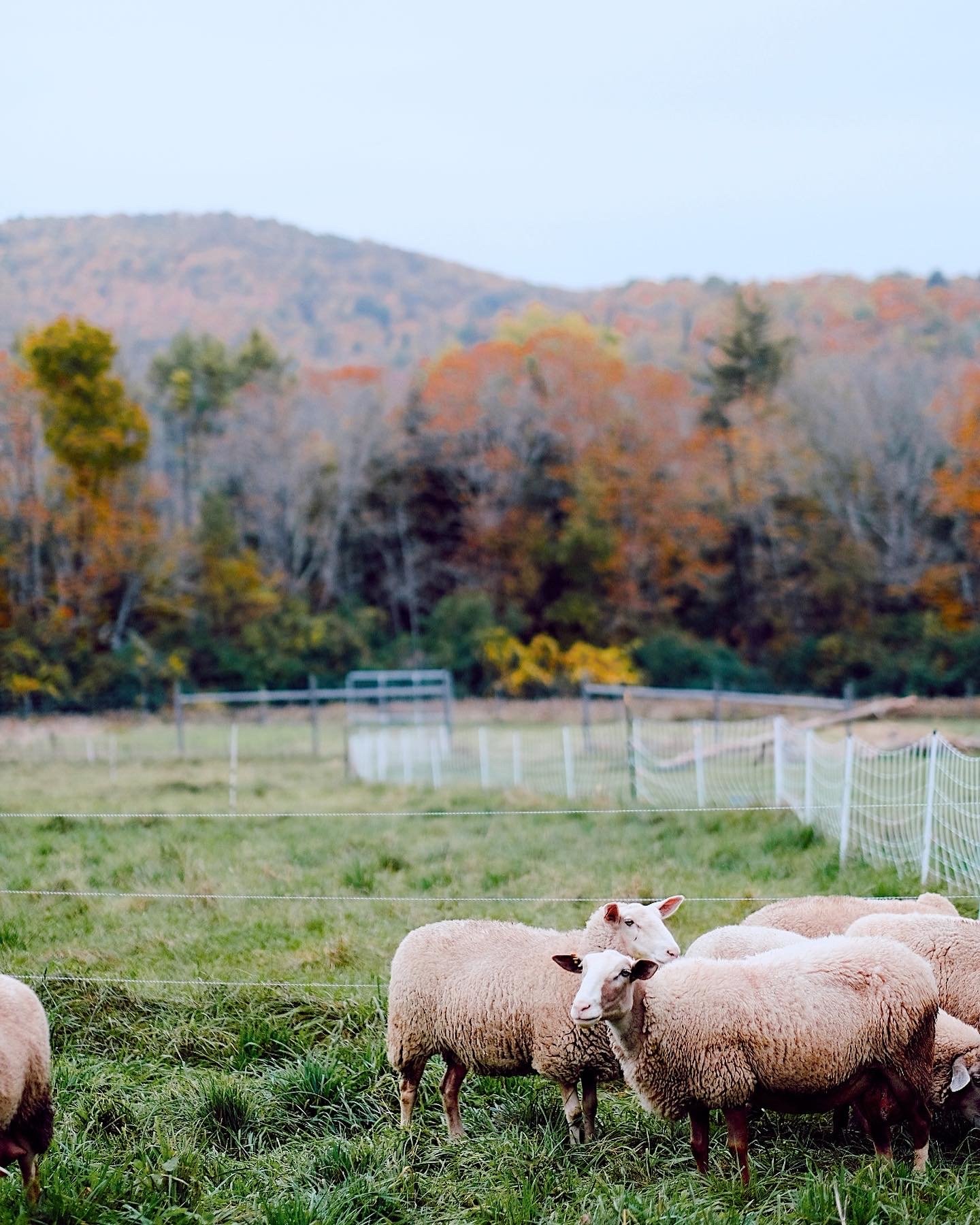 Fat Sheep Farm is a family owned sheep farm with 5 cabins available to rent through Airbnb or direct. We booked the Autusceny Cabin. It was a perfect farm stay!
As I essentially waited a year and a half to take the road trip to Woodstock Vermont, I could hardly contain my excitement as we traveled up New England from Philadelphia. We decided to go through upstate New York and while it took about 20 minutes longer, the fall views were spectacular. 
I'm not used to mountains growing up in Connecticut or living in Philadelphia. Once the mountains were in view with all of the colors of fall foliage, it was breathtaking. We drove up Route 17 in Joey's Jeep and with Theo, our Goldendoodle, onboard.
Traveling throughout New England? Be sure to also check out these New England Guides:
8 Things to do in Newport Rhode Island in the Off Season
The Complete Family Guide to Boston
Boston Massachusetts in the Fall
Visit Guide to Salem, Massachusetts
Visit Guide to Kennebunkport, Maine 
Visit Guide to Newport, Rhode Island

About the Cabin
We stayed in the Ascutney Cabin which is one bedroom. The cabin has a full kitchen, bath and living room area with a pull out couch. They do have two bedroom cabins but it wasn't available for the dates we wanted. Our family of four was comfortable in this cabin for 3 nights. 
This cabin is also pet friendly. Check here to learn more about Fat Sheep Farm's 5 different cabins. 
I adored the sage green cabinetry of the kitchen. It was the perfect place to make hot coca and tea. 
The best thing about the cabin? The view! With fall in all it's glory the view just outside the door and through the windows was such a stunning site. I have no doubt it would be gorgeous in any season. 
Right outside the doors of the cabin are grazing areas for the sheep. The cabins themselves are relatively new built in 2017 and felt they were just the right amount of modern farm stay. 

Things to Do on the Farm
The owners open their farm to allow guests to help with the morning chores in feeding the animals. At 7:30 am we met at the barn to learn the ropes! From feeding the sheep to taking them out to pasture in batches and learning the milking process, the kids had so much fun with the animals. 
The animals that live on Fat Sheep Farm are Sheep, Goats and Chickens. There is also the farm dog Rocky. 
Suzy, the owner, taught us all of the steps of the morning chores of the sheep and the kids collected eggs from the hens. Such a fun experience. Each of the sheep have the cutest name named after different types of cheese or fruit.
Have you ever walked a goat on a leash?! Well at Fat Sheep Farm and Cabins you can do just that.  
The sheep also graze right outside of the cabins. It's such a fun sight to look out the window and see the sheep over the beautiful view. 
The farm also offers a beautiful all wood playground that the kids loved, trails on the property and a small farm stand. One of the best things to do is sit on your cabin's porch at Fat Sheep Farm watch the view and take in the beautiful scenes. 
Where to Eat Nearby
Hartland and the Fat Sheep Farm are just 20 minutes south of Woodstock. Smaller towns can be trickier to find great food and ubereats delivery just isn't as common as it is in the city so I like to be able to provide the options I experienced on a trip for fellow travelers.
Woodstock is a bustling little picturesque town with plenty of restaurants and coffee shops. We had breakfast at Soulfully Good Cafe on the patio in downtown Woodstock. We are always on the look out for dog friendly dinning options and most patios in Woodstock offered dog friendly service. 
Also check out Mon Vert Cafe for coffee or brunch. They offered a lovely patio as well. 
Another great and more casual option as well as avoids a crowd is the South Wood Stock Country Store. At the South Woodstock Country Store they serve breakfast and lunch. The Country Store offered delicious donuts, apple fritters, vegetarian sandwiches and salads and an impressive menu of paninis and wraps. I could honestly eat there every day. The staff was super friendly and made our family, dog included feel very welcomed. 
The only "complaint" I would have is that if you love lattes or other types of coffee, they just have regular freshly brewed coffee. Any coffee is alright with me, I don't discriminate against coffee. The country store is located immediately next to the beautiful Kendron Valley Inn. 
The Town of Woodstock
Also be sure to check out the landmarks The Woodstock Inn and the Covered Bridge for a few Woodstock picture perfect moments. Weekends can get busy in Woodstock so to full enjoy all the quaint town has to offer, you should allow yourself plenty of time for parking and of course, Woodstock window shopping. 
Historic Homes, the Woodstock Inn, Art Galleries, Coffee Shops and small boutiques make for this quaint little town. 
Overall I can't recommend the stay at Fat Sheep Cabin enough! I love lodging that offers more than just a stay, but a whole experience. Our family had so much fun taking in all the beauty that Vermont and Fat Sheep Farm has to offer. 
Have you been to central Vermont lately? I'd love to hear your recommendations and top travel picks in the comments below or let's connect over on instagram! 
What is the best time to visit Vermont?
All seasons are beautiful in Vermont but many travel from all over the world to visit Vermont in the fall.
Is Fat Sheep Farm Pet friendly?
Yes! Fat Sheep Farm and Cabins offer cabins that are pet friendly.
Is Fat Sheep Farm kid friendly?
Yes, Fat Sheep Farm was the perfect place to bring our kids. They loved the animals and farm.
How close is Fat Sheep Farm to Woodstock?
Fat Sheep Farm is about 20 minutes south of Woodstock, Vermont.
Where is the best farm stay in Vermont?
I recommend Fat Sheep Farm for a farm stay experience.
Can you pet the sheep on Fat Sheep Farm?
Yes! Petting the sheep is part of the experience of your stay.