This post is sponsored in partnership with Courtyard Boston Downtown.
Photography by Jenny Meassick and Joe Resignato. All images are copyright property of Chocolate and Lace.
Spring is in the air and with the buzz of the Boston Marathon all around the city, it's the perfect time to book a family getaway to beautiful Boston, Massachusetts. A short drive from anywhere in New England and under a 5 hour drive or train ride from New York City, Boston's stunningly gorgeous streets and parks makes it the perfect family friendly destination. As a former Bostonian for 6 years, it was wonderful to return to the city my daughter was born in and show her all the reasons why Boston is hands down my favorite city in the entire world.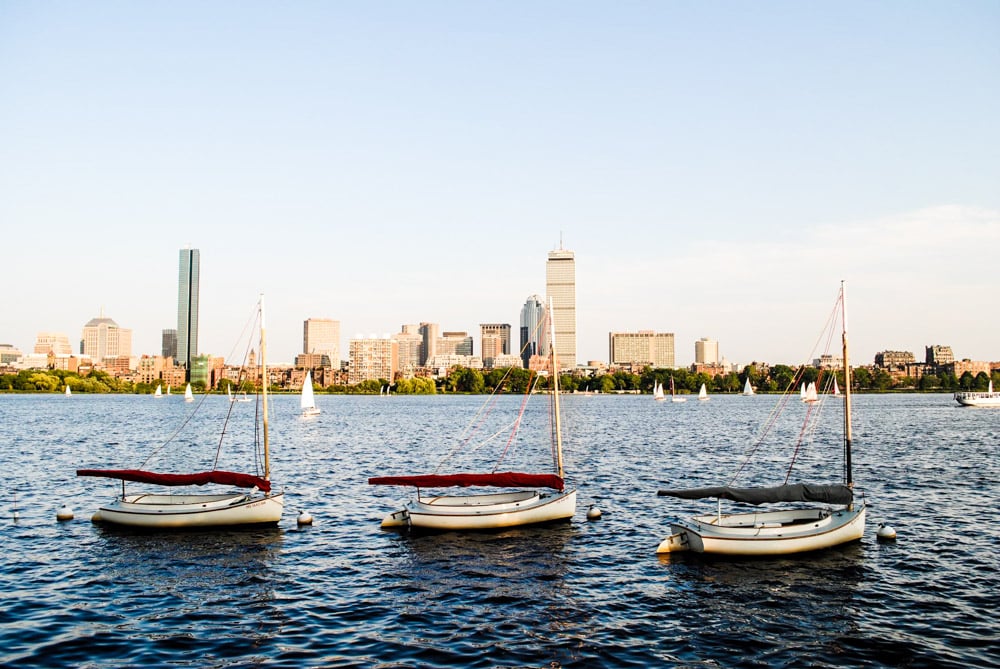 Where To Stay
For this trip I was able to partner with COURTYARD BOSTON DOWNTOWN for an amazing stay in a fabulous location. The Courtyard Boston Downtown is tucked away within the theater district and truly is a hidden gem. Just 1 block away from the top of the Boston Common, we loved staying here and it's close proximity to big city lights, amazing shows and some of the city's best restaurants. There is a reason why Boston is called the 'walking city' and when you stay in the HUB of the city, you're able to walk to all areas or take a quick cab ride. With the hotel's great city views, you can plan out your day just by peeking out the window.
I have been a Marriott fan and Rewards Member for years but after staying my first visit during a short work trip at the Courtyard Boston Downtown I realized I had quickly found my new favorite hotel. Not only is the hotel modern and gorgeous with a great location, but I have been blown away by the level of service and kindness at this hotel. When you're taking your family to a home away from home, the type of service you receive makes all the difference. Every single team member is ready to go out of their way for you. From hand written cards to taking the time to get to know you during a delicious brunch, this hotel really knows how to go the extra mile. It's the perfect place to engage in all the excitement or sneak back into your room to relax from a busy day.
Things To Do
The city of Boston is exploding with things to do! With the Boston Marathon coming up on Monday April 17th, affectionately known to the state of Massachusetts as 'Marathon Monday' the city will burst into celebrations to cheer on the runners. To take part in any of the festivities, CLICK HERE for the complete schedule of Marathon Events.
The New England Aquarium and Wharf
On our first day in the city we walked through Quincy Market and over to the start of the seaport to visit the New England Aquarium. The Aquarium is located on 1 Central Wharf with close proximity to Faneuil Hall. Inside you'll be in awe of the giant ocean tank that is a replica of a large coral reef. It goes up, up, up several levels! At the top swimming around was my favorite part, the giant sea turtle. As you enter the aquarium you are greeted by multiple species of penguins snacking on fish and nuzzling each other.
I would HIGHLY recommend buying tickets in advance online as weekend lines can be extremely long. We were able to buy discounted tickets online and got into a much shorter line while Bailey checked out the Harbor Seals. Inside the aquarium Bailey was able to enjoy educational learnings throughout the aquarium and her favorite, the touch tank. For more information on the New England Aquarium CLICK HERE.
From the Wharf you can also catch a Whale Watch Tour or take a Duck Boat Tour. There are many places to eat lunch or grab a bite to eat within walking distance. From hot dog stands in Faneuil Hall, to Quincy Market to the short walk up to the North End to grab a canoli, it's the perfect area to spend the day as a family. Between Faneuil Hall and the Aquarium, Bailey spotted THE GREENWAY CAROUSEL and for $3 a ticket, she got to take a ride on a butterfly to her heart's content. The carousel is open from 11 am – 6 pm daily.
CLICK HERE FOR INFO ON DUCK TOURS.
CLICK HERE FOR INFO ON WHALE WATCH TOURS
CLICK HERE FOR INFO ON THE GREENWAY CAROUSEL
The Boston Common and Public Garden
Dating back from 1634, the oldest city park in the United States is the Boston Common. The Boston Common boasts many quintessential must-see's of Boston including the Duckling statues and Frog Pond. Easily accessible from Tremont Street, you can walk around the 50 acres of park to reach Beacon Hill, the State House or down to my favorite park in the world, The Boston Public Garden.
The Boston Public Garden has one of the most beautiful cityscapes you can view with the Swan Boats officially sailing April 15th! Through the garden we met an Animal Balloon Artist that won Bailey over with a mermaid balloon and many talented musicians. Boston makes a stunning backdrop while you stroll through the sidewalks, admiring spring's early blooms and taking a walk over the blue bridge to the equestrian statue of George Washington that greets you from Boylston Street. Part of what I love about Boston is the history. It's hard to believe that this stunning garden was once a civic battleground!
Both the Boston Common and the Public Garden are a Boston Must-See.
FOR MORE INFO ON BOSTON COMMON CLICK HERE.
FOR MORE INFO ABOUT THE CITY OF BOSTON CLICK HERE.
Back Bay and Newbury Street
Back Bay and Newbury Street are two of the most vivid areas within Boston. Newbury Street is home to shopping, great places to eat and beautiful brownstones to see. We wandered down Newbury for an extra frosted bite at Georgetown Cupcake and oversized BLT's for lunch. From there you can head on over to Boylston Street to enter the Prudential Center. The Prudential or 'The Pru" hosts hundreds of shops where you can head to the top to take in the amazing views of the city on the Skywalk or even grab a fantastic dinner at the Top of the Hub Restaurant. Also inside of the Prudential is the newly opened Eataly! The city was starting to be adorned with Blue and Yellow Ribbons and Daffodils for support of the Boston Marathon.
When you need a moment to escape from it all, head over to the Boston Public Library on Boylston Street. Recently renovated, the library has a large children's section perfect for a little downtime with a view. Bailey was able to read and meet other kids while she visited the library. For a beautiful quiet moment head into the courtyard of the Library that is in the heart of the city where you can't hear a peep. No taxi's, no traffic, just calm peaceful serenity in the middle of a busy city.
FOR MORE INFO ON THE PRUDENTIAL CENTER CLICK HERE.
FOR A DIRECTORY OF NEWBURY STREET CLICK HERE.
FOR MORE INFO ON EATALY CLICK HERE.
Where to Eat
Boston is home to some of the world's most famous restaurants. From Mistral to the North End to the Legal Sea Food Test Kitchen, Boston is sure to delight any foodie. While 'where to eat' could be a guide in its own, I wanted to share with you some great resources for finding where to eat in Boston.
The North End is always my go-to for handmade pasta and with a crazy busy schedule we caught ourselves with no reservation for a Saturday night. When you are with small children, you know waiting for an hour for a table is out of the question. We headed over to the South End which has some amazing pics to one of Joey's favorite places, Giacomo's (http://giacomosblog-boston.blogspot.com ).
While Giacomo's does not take reservations, we were able to head to in early and putter around the neighborhood while we waited just a few minutes for a table. Once in the family style restaurant we snacked on antipasto, fresh caprese salad and ordered pretty much the one thing I live for…Gnocchi. Bailey might as well had licked her plate clean with a made to order pasta dish while Joey enjoyed Squid Ink Parparadelle with Grilled Sword Fish and Tuna. We had a great time. PS – Giacomo's in both the North and South End is cash only.
The Theater District holds many mouth-watering restaurants just a stone's throw away from the Courtyard Boston Downtown including another Italian favorite of mine Teatro (http://www.teatroboston.com) and the increasingly popular Double Chin offering instagram-worthy dishes featuring modern Asian cuisine and Chinese classics with a twist (http://www.doublechinbos.com).
Lastly I will share with you my 3 favorite Tapas Restaurants in Boston: Barcelona Wine Bar in the South End or in Brookline (http://www.barcelonawinebar.com) be sure to order extra patatas braves, the steak Pillard and the Red Sangria is to DIE for, Toro Boston also in the South End (http://www.toro-restaurant.com) and Tapeo on Newbury Street (http://bostontapas.com/locations/boston-ma/)
Since I have barely scratched the surface of all the amazing restaurants in Boston here are 3 great resources for you to click and read:
For a great list of Family Friendly Brunch options from Brunches of Boston CLICK HERE.
For a great list of Boston Restaurants with a View by the Taste of Mass CLICK HERE.
To check out Zagat's top 15 New Dishes to Try in Boston CLICK HERE.