Everyone knows Newport, Rhode Island is a Summertime heaven. But what about the Off Season? The Off Season is actually a magical time to visit. Here are 8 things to do in Newport, Rhode Island in the off season.
It might not be 85 and sunny but the New England air in September, October and November is actually gorgeous. Fall foliage turning looks gorgeous strolling around Historic Downtown Newport. Last weekend I took a girls trip for 24 hours in Newport, Rhode Island and even with COVID, we had plenty of outdoor things to do! 
Read on for 8 Things to do in Newport, Rhode Island in the Off Season. 
1. Visit the Cliff Walk.
The first reason why visiting Newport, Rhode Island in the off season is that it's just as gorgeous in the fall and winter as it is in the summer. The Cliff Walk is a prime example. 
3 miles of gorgeous scenery behind the mansions makes for a sight to see. No matter what end you start at the Cliff Walk you can't go wrong. Here is a tip – from downtown Newport you can take the bus or trolley for $2 a trip that will take you to multiple spots along the Cliffwalk. 
You can walk the entire 3 miles or walk half and end at Easton's beach or end with cocktails at the Chanler Inn. I love a reward!
2. Go Sailing or Boating 
There are so many options to go sailing and even in fall it's a beautiful time. We love the Adirondak II.
There are several Run Rummers if you're looking for something less active then sailing.
Sail Newport let's you sail with a guide or alone depending on your sea knowledge. I will say the first time I did Sail Newport I didn't realize how active sailing was! Our guide was great and we learned a lot. If you're sailing in the off season be sure to dress warm. 
3. Rent bikes or scooters
For this trip we used the bikes from our stay at Hotel Viking.
You can also rent scooters from the downtown area or bring bikes with you. I can't think of a better way to get around Newport than on bike! It was so peaceful to bike down to the wharfs in the mornings while the light was perfect, grab coffee and a cinnamon roll at The Cookie Jar and bike on back. 
You can also take bikes along Ocean Drive for a stunning scenic route.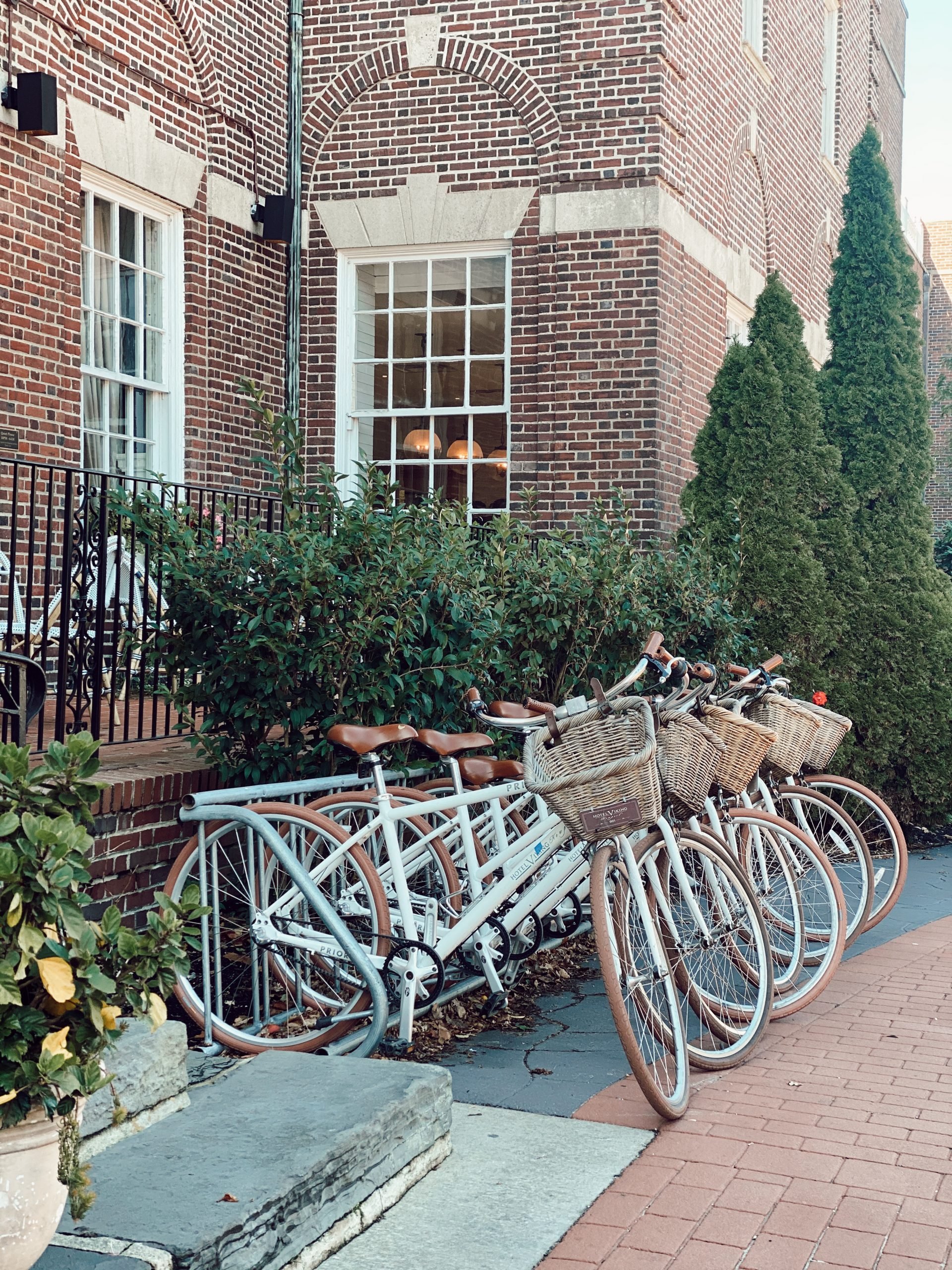 4. Pack a picnic and enjoy it under the Giant Birch Trees at the Elms. 
We picked one pre-made up from Picnic on Bellevue Avenue. Included in the Picnic, we ordered the Cheese Board for 2. It was perfect to pack on a trip. 
On the Elms Mansion property, there are giant hundred year old birch trees. It feels like you've escaped to a secret world when you go underneath them. It makes for the perfect shady spot to have a picnic. 


5. Seaside cocktails on the Lawn at the The Chanler Inn 
The Chanler is at the start of the Cliffwalk and is the perfect beginning or end to your Cliff Walk hike. 
Whether you grab a lawn chair or dine at one of their seasonal pop ups – it's quite the experience. I always recommend a cocktail with a view. 

6. Enjoy the fire pits at Gurney's Newport with a view of the bridge or Hotel Viking and cozy up with hot cocoa. 
The hotels in the area offer up quite a few options for fire pits. Whether you are staying or not, you can usually book a dinner reservation. After dinner order up a hot cocoa.
If you head to Hotel Viking I recommend their S'mores Martini. Part of visiting Newport in the off season is the fun in enjoying the chili air. Warm and cozy of course!

7. Outdoor brunch at Stoneacre Brasserie
Get the biscuits with Honey Sea Salt Butter, trust me! This slightly off the beaten path restaurant is delicious for brunch. We loved the little tea kettles and seasonal jams. 
Their menus are amazing for both brunch and dinner at Stoneacre Brasserie. 
8. Take a drive down with the windows open along Ocean Drive.
Stopping along the way for photo ops of course. 
Ocean Drive must hands down be one of the most beautifully scenic drives in the United States. It offers stunning real estate, sandy beaches, drop off cliffs and plenty of sunsets. I will find any excuse to pack a picnic and Ocean Drive is one of them. 
Blast your favorite music and create the vibes. You'll never enjoy a drive more. 
Looking for more New England Fall Scenery? Be sure to check out these posts!
Boston, Massachusetts in the Fall
FAQ's
Where is the best place to stay in Newport, Rhode Island?
I'd recommend a hotel within walking distance to downtown Thames Street. I recommend Hotel Viking and Newport Marriott as two options.
What is the weather in Newport Rhode Island?
The New England sea breeze is always perfect in Newport Rhode Island. New England weather can change by the hour! In the fall bring a light jacket or sweater. In the winter pack a winter coat, hat and gloves. Summer can be seasonably warm from 75-85 degrees. Layers are always recommended.
Are the mansions in Newport Rhode Island worth visiting?
Yes! The mansions are a spectacular sight to see. As long as you see them once you can check it off your list. My favorite mansions are Rose Cliff and the Elms.
Where is the entrance to the Cliff Walk?
There are multiple entrances. I recommend the entrance by Salve Regina or the entrance outside of the Chanler Inn.
What is the best restaurant in Newport?
This is a tough category! There are so many amazing places. I'd recommend 41 North for ambiance, 22 Bowns for steak and The Landing for it's music and Lobster Rolls.