This post is part of my Where to Eat in Philly Series where I take you through my favorite places to grab a bite in the city of Philadelphia. Today, let's talk about The Continental Midtown, an upscale diner with a bold, eclectic menu and fun cocktails!
Photos is this post are by Gab Bonghi for Starr Restaurants.
The first date Joey and I had when he moved to Philadelphia for his first year of residency was at the Continental Midtown located in Rittenhouse Square. We didn't know much about the city but so many told us, the Continental Midtown was a no-brainer. I sat in swing chairs gently swinging from side to side as I got my first taste of Philly eating Cheesesteak Eggrolls.
Is it a cheesesteak? An eggroll? Do I like it better dipped in ketchup? Or no ketchup?! All the things that ran through my head but I did know my belly was happy!
The menu at Continental Midtown offers a little something for everyone with eclectic flavors and fun cocktails. The space offers several different rooms and each has a vibe taking you to another place in time. During the warm weather there is no better place than to grab the Continental Salad or a Bulgogi Bowl on the roof top for some fresh air.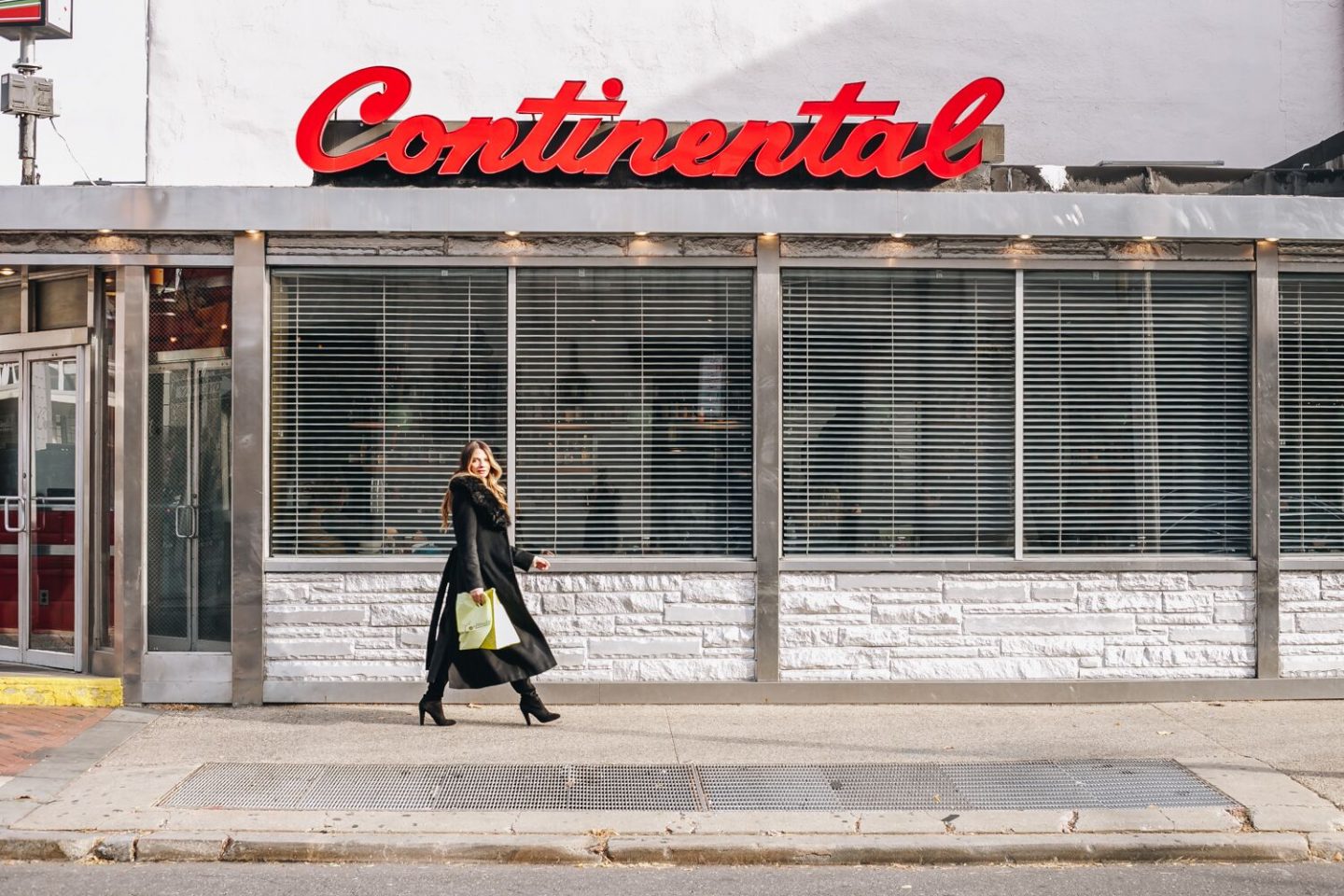 Favorite time to Visit
Lunch or for happy hour cocktails
Must Try Food at The Continental Midtown
Szechuan Shoestring Fries
The Impossible Burger
Thai Chicken Lettuce Wraps
Grilled Pizza
Favorite Place to Sit
The Continental Midtown has a wonderful roof deck patio to enjoy in the warmer months. In the winter, you can opt for cozy booths – with french onion dumpling soup of course.
Where is the Continental Midtown Located
The Continental Midtown is located on the corner of Chestnut and 18th Street in Rittenhouse Square at 1801 Chestnut Street in Philadelphia.
Is the Continental Midtown Open?
Due to COVID restrictions I am encouraging all readers to check the restaurant's website for openings and hours as changes are happening quickly.
Cost to eat at Continental Midtown?
Appetizers start at $8. I'd say the costs to dine are competitive with most restaurants in Rittenhouse Square and dinner for two would cost around $60-80 depending on number of items/cocktails ect. Also be sure to extra tip for your server during these times!
More of Where to Eat in Philly