This is a recipe for the best mushroom herb couscous and it will hit the spot as the weather turns cooler. Hearty, healthy and made in under 20 minutes.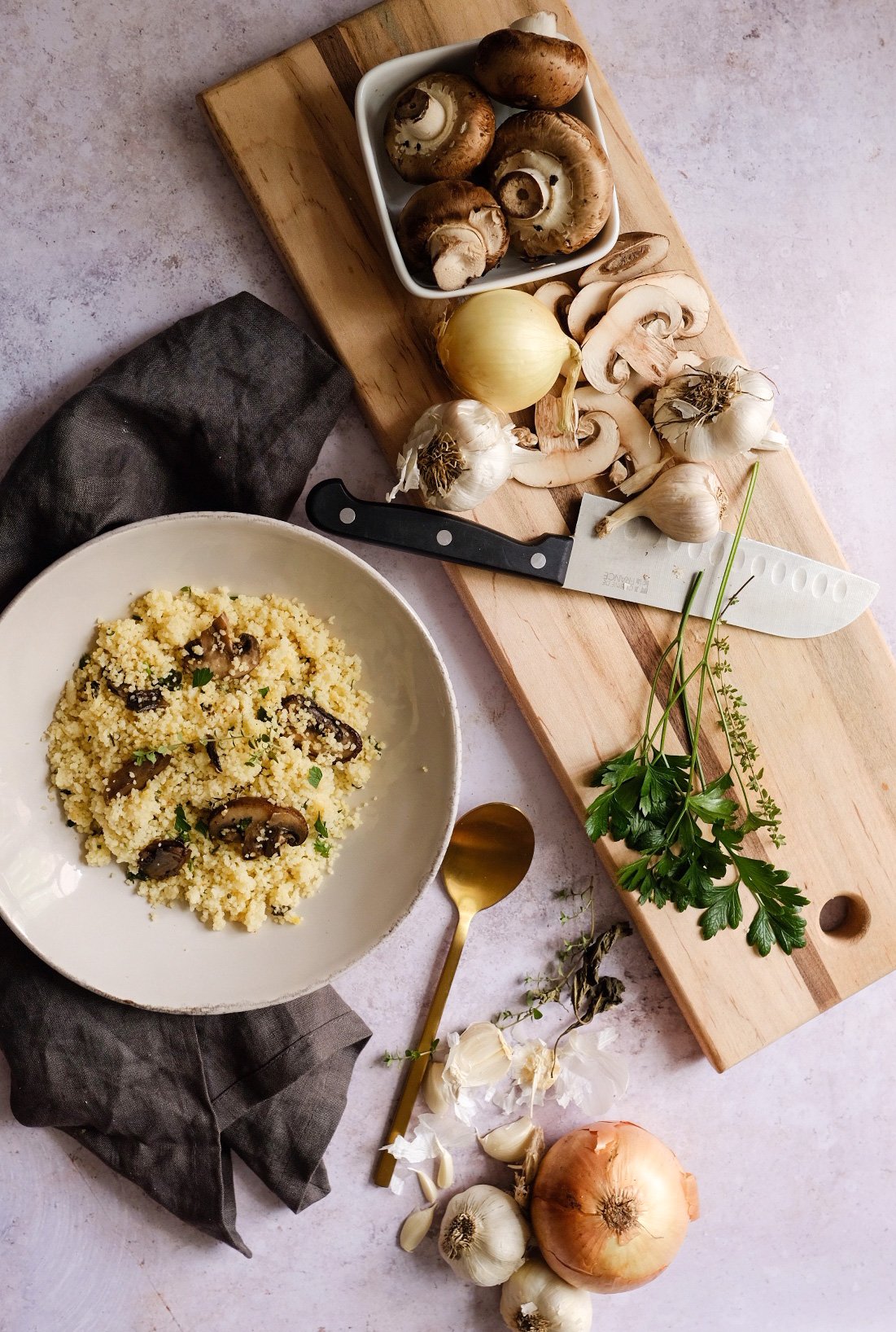 Coucous Inspiration
Ever since the quarantine hit our family has been eating more meatless meals. I keep perfecting hearty options that fill you up and leave you satisfied and this Mushroom Herb Couscous does just that. Couscous, a tiny pasta made of wheat or barley, is the perfect base for so many meals.
This couscous recipe can be used with any grain or rice as a substitute.
Ingredients
Pearl or Standard Coucous
Baby Bella or other type of Mushrooms
Shallot
Onion
Butter
Parsley
This recipe builds flavor by using mushrooms, sweet shallots, butter and your kitchen's herb garden. The mushrooms are sautéed separately and added into the mix.
Not a mushroom fan?
Use any sautéed or roasted veggie in it's place. The flavor of the couscous is delicious enough to eat as a side as well.
Love a hearty bowl? Give a try to Homemade Cheesy French Onion Soup, made in your slow cooker!
Herbs
For your herb selection you can use any combination you love. In a simple recipe like this, fresh herbs are a main ingredient!
This recipe called for chopped basil, chives, thyme and parsley. You can also add oregano, mint or any other herbs available to you. Chopped rosemary with EVOO would also be a delicious combo for this mushroom couscous recipe.
What can you add to couscous?
Couscous is the perfect base for so many things! Any roasted veggie or roasted chicken would taste delicious. You can also turn couscous into a salad with greek olives, cucumber, tomato and feta.
How long does couscous take to make?

Couscous is very quick cooking, about 5 minutes.
Is couscous vegan?
Couscous is plant based and does not use any animal derivatives however this recipe calls for chicken broth. If you'd like to make it vegan omit the chicken stock and use water or vegetable broth.
Try these other hearty recipes:
Honey Balsamic Roasted Carrots
Cheesy Slow Cooked Scallop Potatoes
One Pan Creamy Spinach and Mushroom Tortellini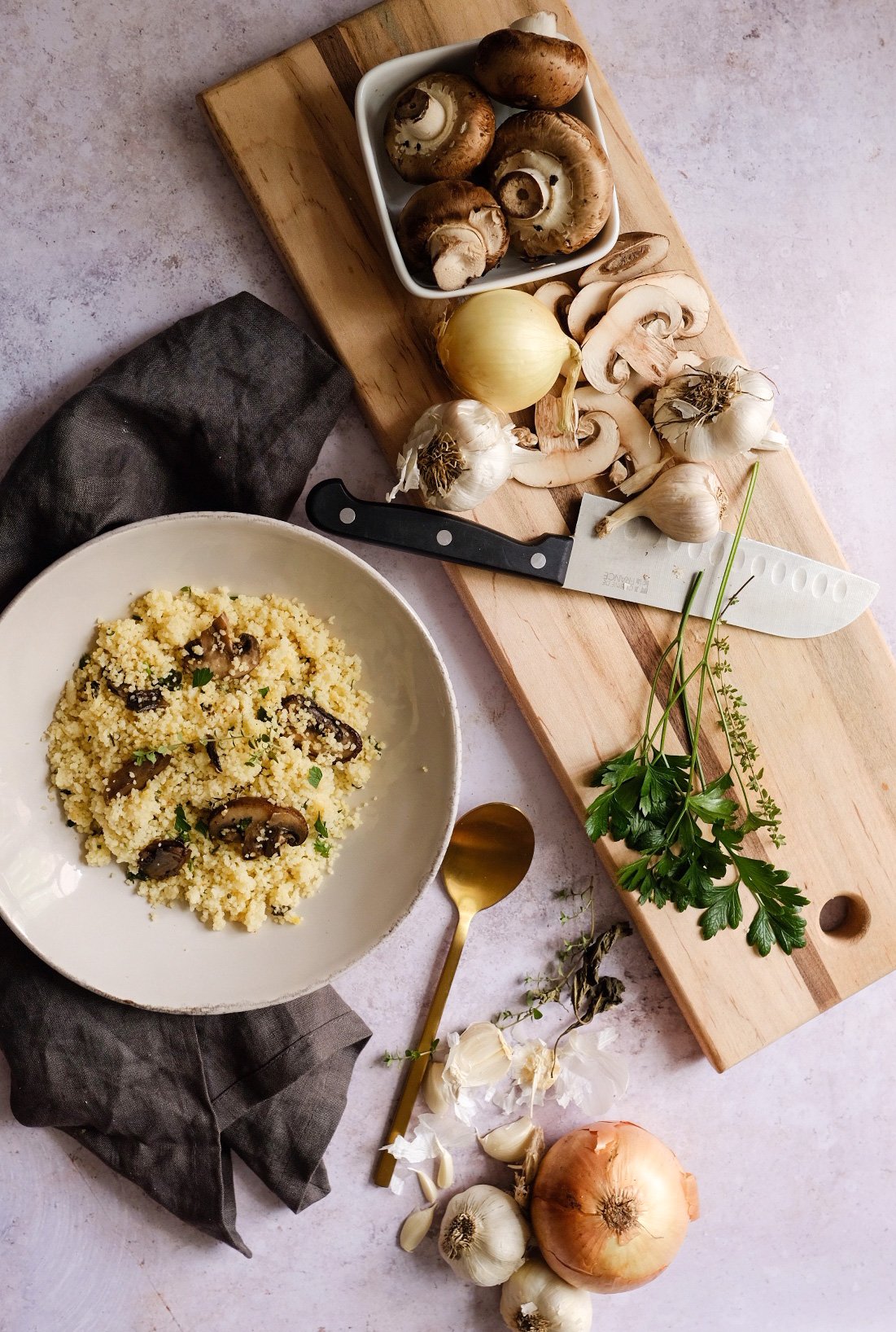 Yield:

4-6
The Best Mushroom Herb Couscous
Ingredients
1 Cup Golden or Pearl Couscous
1 and 1/4 Cup Chicken Stock 
8 medium size Mushrooms
3 Cloves Garlic, minced
1 Shallot, minced
Assorted Herbs, Chopped
2 tablespoons butter
Instructions
Slice mushrooms, chop and dice all herbs, garlic and shallot.
Over medium low heat, saute shallot, garlic and mushrooms utnil golden about 3-5 minutes. Remove from heat and set aside.
Bring to boil couscous, chicken stock and butter. Remove from heat and cover. Fluff with a fork.
Add in the fresh chopped herbs, a dash of EVOO and mushrooms. Gently stir.
Serve warm and enjoy!