This Honey Balsamic Roasted Carrot recipe will bring color to your table. I am all about having a variety of side dishes for the perfect holiday dinner or to mix it up during weeknight dinners.
I used rainbow carrots but you can use baby carrots or peeled and chopped classic orange carrots as well. Balsamic Vinegar, Honey and Thyme make for an excellent marinade to roast any vegetable in.
Ingredients:
Carrots, baby or full sized and sliced the way you like them
Balsamic Vinegar 
Honey
Thyme
Extra Virgin Olive Oil
Salt
Method
Easy and classic, these carrots make for the prettiest and delicious side dish. The first time you roast will just be in EVOO. Then remove from the oven and toss with honey and balsamic vinegar. Replace the carrots back in the oven to be caramelized for Honey Balsamic Roasted Carrots. 
You can use this recipe with nearly almost any other vegetable that's typically roasted. Use honey per your taste to sweeten the carrots. You can use the thyme whole in sprigs or remove the leaves. I usually do a mixture of both. I love how pretty thyme leaves make any dish.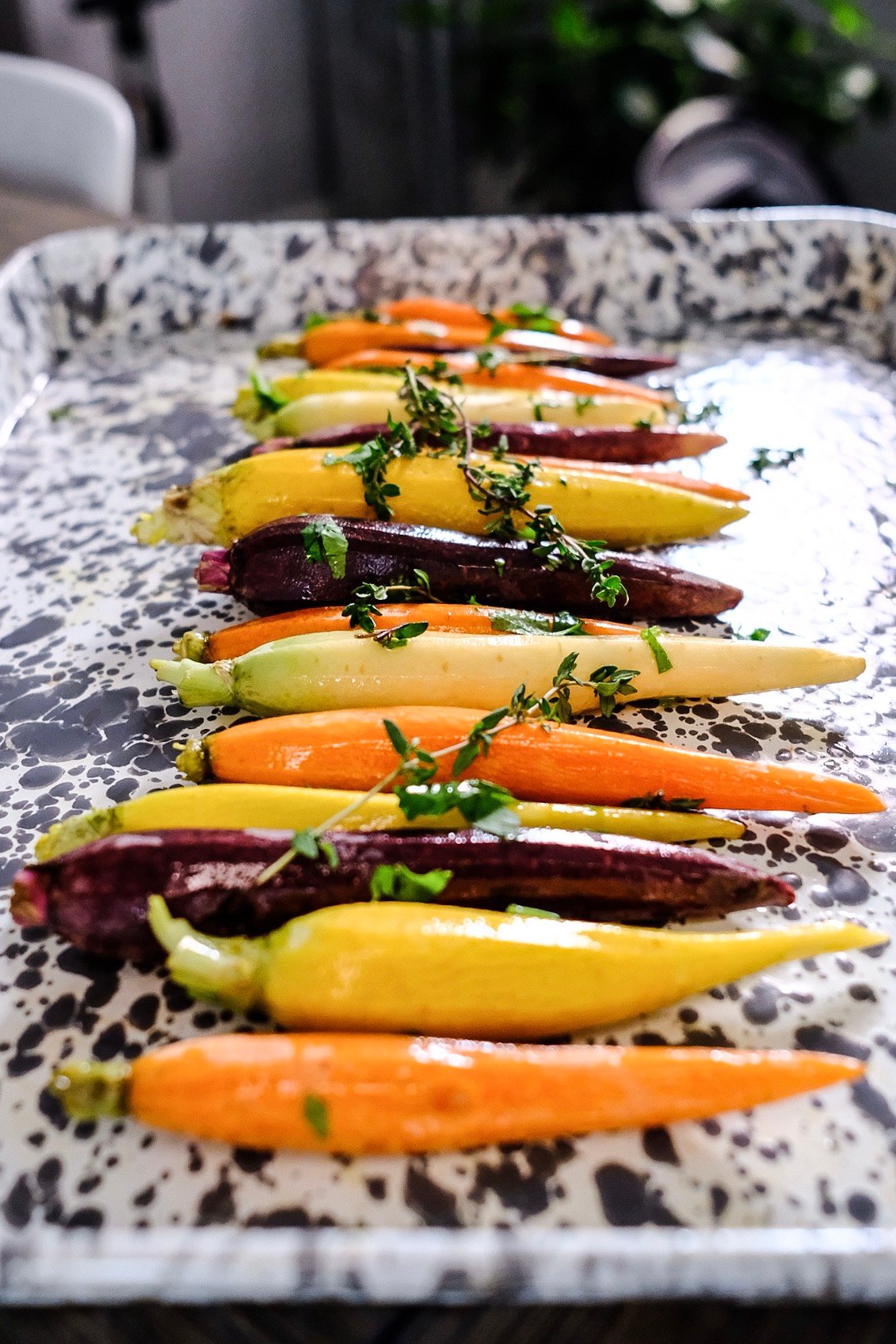 Honey Balsamic Roasted Carrots
Ingredients
1 bag rainbow or baby carrots
6-8 sprigs thyme
2 Tablespoons EVOO
2 Tablespoons Balsamic Vinegar
2 Tablespoons Honey
Salt and Pepper to taste
Instructions
Preheat Oven to 375 degrees.
Wash and cut carrots if applicable.
In a large bowl place carrots and EVOO. Coat evenly.
Transfer carrots to a baking dish.
Sprinkle with salt and pepper and thyme leaves. Whole sprigs are fine too.
Roast for 20 mins.
While the carrots are roasting, in a small mixing bowl combine balsamic vinegar and honey.
Whisk together.
Remove carrots from over and transfer back into the large mixing bowl.
Pour balsamic and honey mixture over and coat evenly.
Transfer back to the baking dish and roast for another 5-10 minutes until carrots are soft.
Serve immediately and enjoy!
Try these other related recipes:
Cheesy Slow Cooked Scalloped Potatoes