This is a recipe for crunchy fajita salad.
Ask me how many versions of "Taco Tuesday" I can make and this salad would be in my top ten. Okay maybe top 5. The best thing about this salad are all of the crunchy ingredients combined with fajita grilled peppers and onions, marinated chicken, creamy avocado and of course crunch tortilla strips.
Read on for tips to making this recipe and how I switch it up for the fam when making this crunchy Fajita Salad.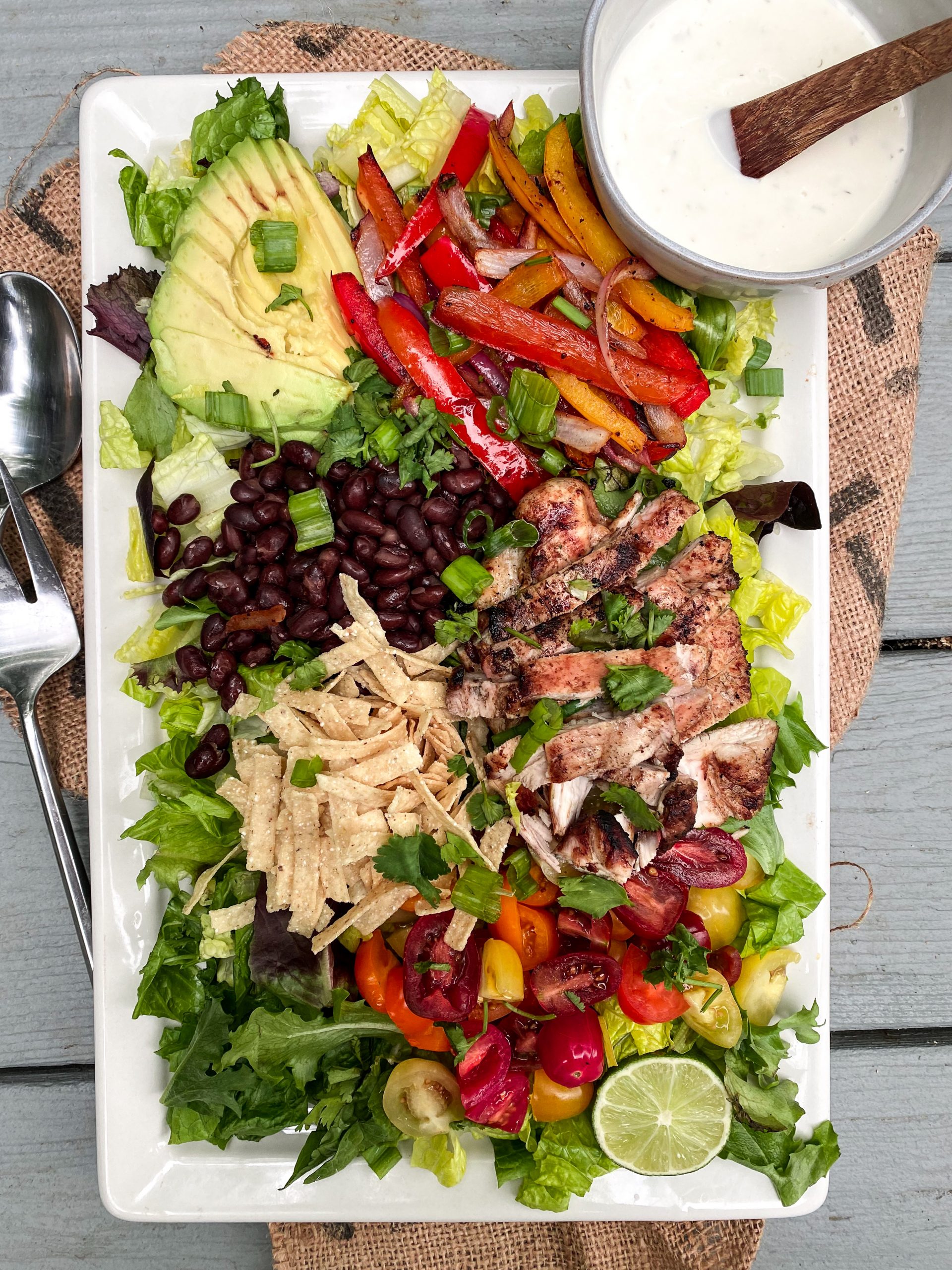 What Ingredients are in a crunchy Fajita Salad?
Crunchy Romaine
Chili Lime Marinated Chicken
Tomatoes
Cheddar Cheese
Tortilla Strips
Avocado
Sautéed and Seasoned Peppers and Onions
Lime Juice
Black Beans
Creamy Ranch Dressing
Cilantro and Green Onions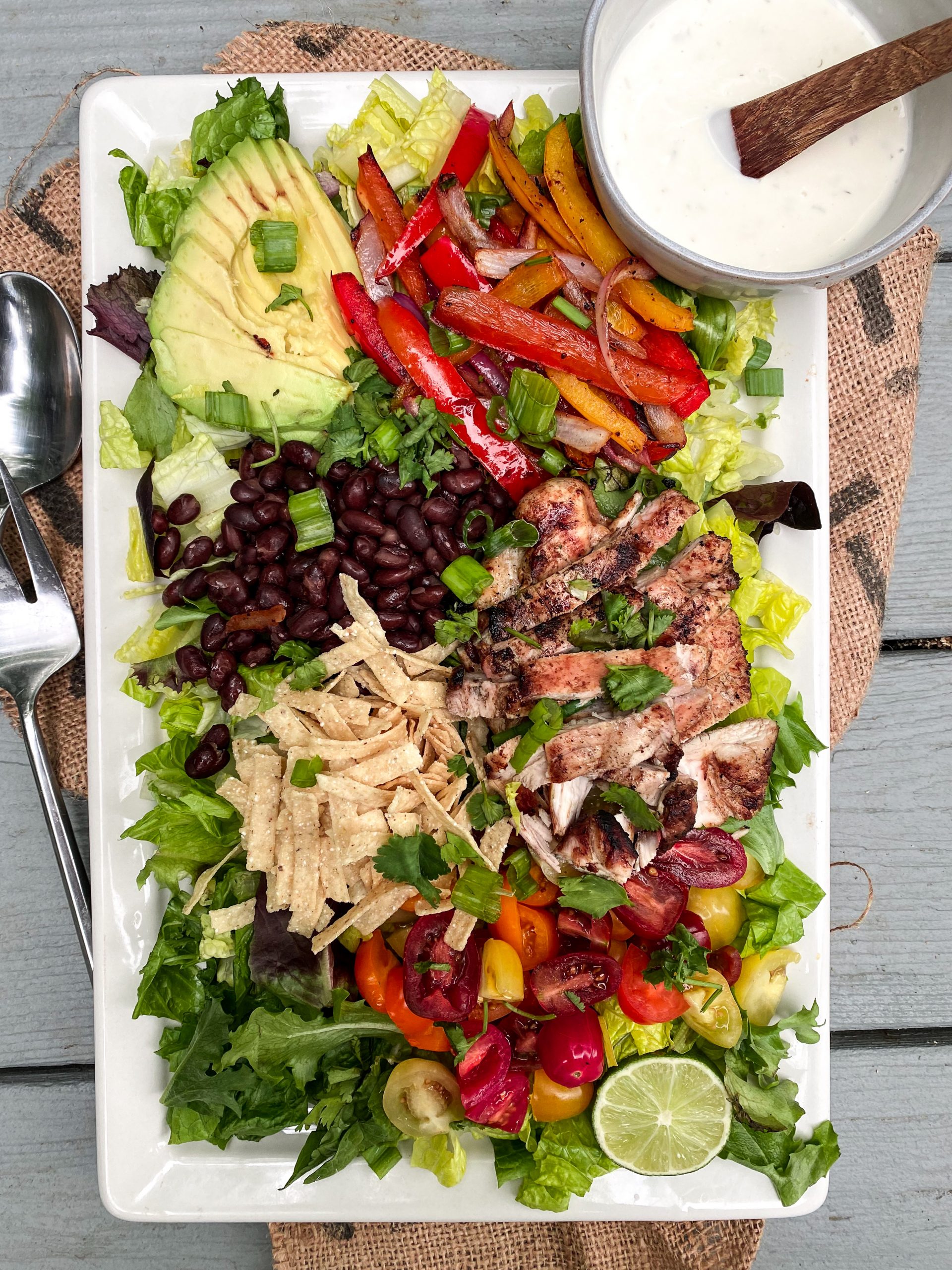 Marinating the Chicken
For this salad it's all about simple but flavorful ingredients. Here I used green onions but you can also use jalapeños or a salsa of your choice. I included a protein for this crunchy fajita salad of marinated chicken. Your marinate can be as simple as a pre-seasoned fajita package or you can use this Cilantro Lime Marinade. It's one of my favorite marinades that makes for a fantastic base for many dishes.
Can I substitute Chicken in a Fajita Salad?
Absolutely! The most common substitutes are steak or shrimp. The cilantro lime marinade will work well with either option. You can also make this salad vegetarian and use seasoned black or pinto beans. You can't go wrong with any choice!
Fajita Seasoned Peppers and Onions
The prime ingredient that makes this a crunchy Fajita Salad is the seasoned and sautéed peppers and onions. Using a large skillet or cast iron pan, you'll want to sauté your bell peppers and onions to perfection. I like my peppers slightly charred.
You'll want to slice the onion and peppers into medium sized strips, about 1/4-1/2 inch thick. With a little EVOO heated over medium heat you can add the peppers, onions and seasoning. Cook until the onions are translucent but the peppers still have a very slight crunch. Do not over cook them as they won't lend well to a crunchy salad if they are mushy.
You will want to ensure you cook them right before you put your salad together so they are still warm when placed on the salad. All colors of bell peppers or even spicier versions to balance out the sweet of a bell pepper are great in this dish.
Love peppers? You'll also want to try this Mediterranean Roasted Stuffed Peppers Recipe.
Let's Talk Dressings!
I love a classic, creamy ranch on a Fajita Salad but you can also opt for something more simple such as lime juice, salt and EVOO. Vinegerettes would also pair well with this salad.
My vote is pick your favorite and if you're cooking for a crowd place the dressing on the side to provide options.
Yield:

4-6
Crunchy Fajita Salad
Additional Time:
7 minutes
This crunchy Fajita Salad is a great version of Fajitas with delicious seasoned bell peppers and cilantro lime chicken.
Ingredients
1 Head Romaine Lettuce
Chili Lime Marinated Chicken, 1/2 lb of Chicken breast
Tomatoes, chopped
Cheddar Cheese, 1/4 cup
Tortilla Strips
1/2 TSBP Cumin
1/2 TSP Chili Powder
Avocado, 1-2 sliced
2 Bell Peppers, sliced
1 Yellow or Red Onion, Sliced
2 Limes
1/2 cup Black Beans
Creamy Ranch Dressing or other dressing
Cilantro and Green Onions for garnish
Instructions
Marinate your chicken for at least 3 hours. Set aside until you're ready to cook and prepare the salad.
Heat a skillet with EVOO over medium heat. Saute the peppers and onions with the cumin, chili powder, salt, pepper and squeeze of one half of a lime. Cook until the onions are translucent.
Heat your grill or grill pan and cook the Chicken. About 6 minutes on each side.
While the peppers and chicken are cooking put together your salad.
Start with Romaine as the base. From here you can either mix the ingreidents or place it's in it's own space as pictured here.
Add on tomatoes, black beans, lime, tortilla chips and cheese to the salad.
Once the chicken is cooked, remove from heat. Allow to cool for about 2-3 minutes and slice it into chicken strips.
Place the peppers and onions and chicken onto your salad.
Top with green onions and cilantro.
Serve with a side of your favorite dressing and serve immediately. Enjoy!
Notes
1. Peppers should be cooked but have a bit of crisp to them still. Do not over cook the onions and peppers.
2. You can marinate the chicken the day before or hours in advance.
3. Be careful that your hot items are not placed next to your cheese until you're ready to serve. It will all melt together.