This is a recipe for Loaded Smashed Potatoes. Loaded Smashed Potatoes have all the fixings and delicious topping of a potato skin but keep the potato in the skin. Smashed with EVOO, salted and cooked until golden brown, this recipe is the best Loaded Smashed Potatoes.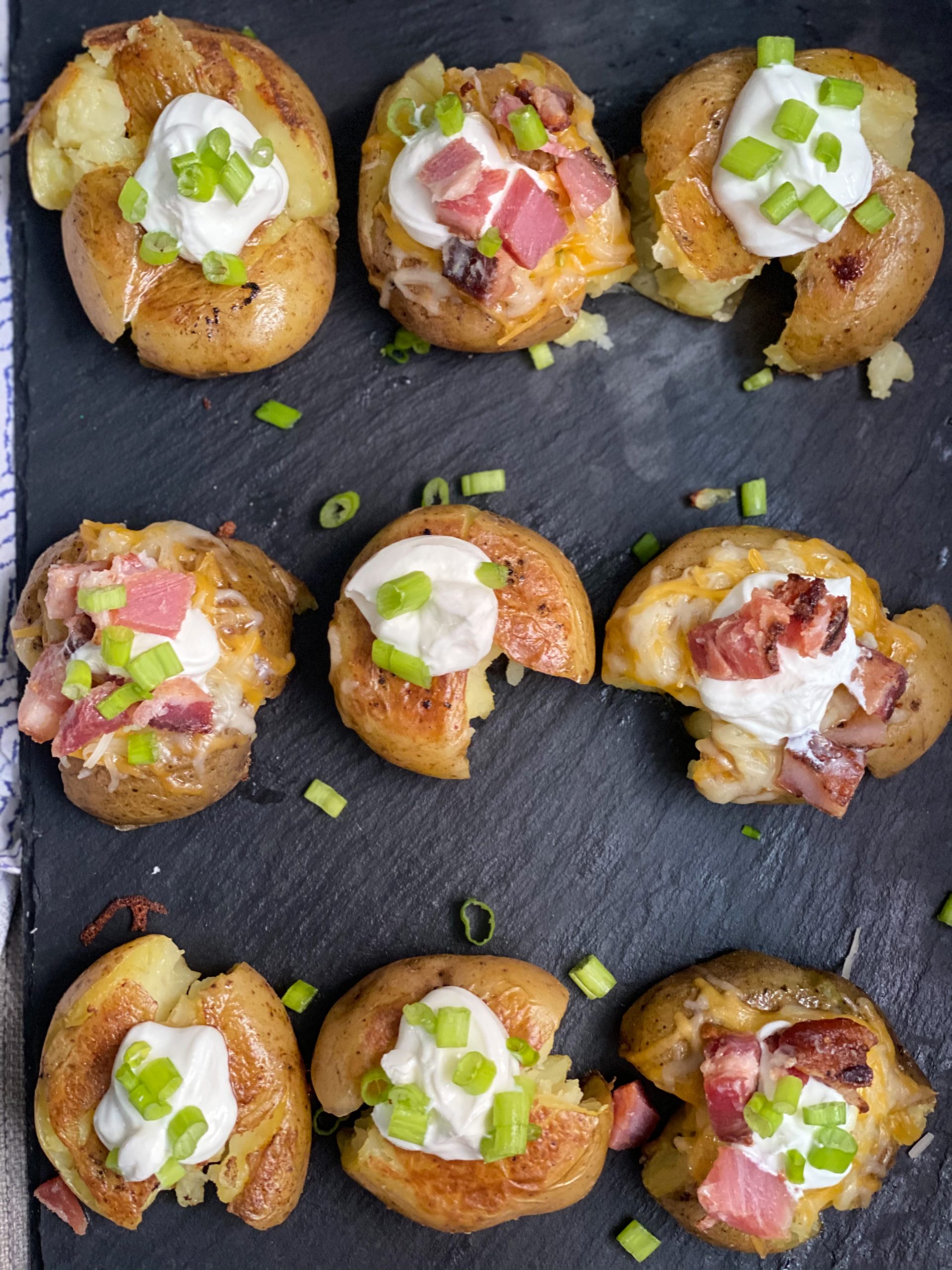 I love potato skins. Like, love. But I have always wondered why the potato is removed? Couldn't they get the crispy effect and keep the potato in? Enter in… Loaded Smashed Potatoes. 
What are the best type of potatoes to use for this recipe?
I had handy a bag of small yellow potatoes. Small potatoes are perfect for this extra large bit size recipe. The golden potatoes are softer than russet and the skins taste delicious. You can really use any potato, even sweet potatoes but will have to adjust accordingly depending on your size because you want an equal amount of skins and potato. 
Check out my other favorite potato recipes:
Cheesy Slow Cooked Scalloped Potatoes
We had on hand a special treat from the Baconer, and I chopped up tiny pieces of bacon lardons for this recipe. You can use any bacon strips or skip the bacon for a vegetarian option. 
What I must recommend at a minimum for this recipe is good extra virgin olive oil, kosher salt, sour cream and chives. These key ingredients lead to the simple perfection of beautiful potatoes with a bit of flavor. 
To smash the potatoes you will need a fork and I used this cast iron press.
A little pressure with the press made for perfectly golden potatoes. Delicately wrapped in EVOO and salt…yum! When you are pressing the potatoes and turning them you want to be gently that they don't fall apart. The key to this is first smashing them with a fork once or twice but not overdoing it!
You'll also love this recipe for Crispy Onion Rings!
FAQ's
What kind of potatoes do I use for Loaded Smashed Potatoes?
A small potato is best for smashing and size. You can use any potato and adjust accordingly.
Can I use sweet potatoes for Loaded Smashed Potatoes?
Yes! You can use sweet potatoes. Sweet potatoes are generally larger so I would cut them in half before smashing. Keeping the skins intact is important.
What other toppings can I use on smashed potatoes?
While cheddar cheese, bacon and sour cream is a traditional "loaded potato", you can use anything your heart desires! Any type of cheese or just butter and salt is a great idea.
What type of presser is used for Smashed Potatoes?
Here I used this presser for the Smashed Potatoes.
How long do Loaded Smashed Potatoes take to cook?
Cooking will take about 10-15 minutes and toppings another 2-3 minutes.
Yield:

8-12
Loaded Smashed Potatoes
Additional Time:
3 minutes
Loaded Smashed Potatoes are super easy and simpler way to get your favorite Loaded Potato fix in! In only about 15 minutes you'll have Loaded Smashed Potatoes.
Ingredients
8-12 small potatoes 
A good Extra Virgin Olive Oil
Kosher or Sea Salt
Sour Cream 
Bacon, cooked and chopped
Chives or Green Onions, chopped
Cheddar Cheese, Shredded
Instructions
Place the potatoes (unpeeled) in a heavy bottom pan. Cover with cold water. Boil until soft but not mushy. About 10 mintues but check frequently. Do not over cook your potatoes or the recipe will not work as well.
Remove softened potatoes from water and place on a cutting board. Using a fork, gently smash your potatoes. Smash each potato 1-2 times. You want the potato skins broken but still in tact.
Heat a skillet over medium heat and drizzle with EVOO.
Gently place the potatoes into the pan. Becareful to keep them in tact.
Salt the pototaoes. Cook about 3-5 minutes on each side until golden brown. Turn the potatoes over very carefully.
When both sides are golden brown, covered in EVOO and salted, remove from pan and place onto a serving tray.
Immediately top with cheddar cheese so the chees melts over the hot potato.
Next top with sour cream, bacon bits and chives.
Serve warm and enjoy!
Notes
Do not overcook your potatoes. You want them softened but not soft enough to mash just soft enough to smash gently with a fork.
Treat the potatoes delicately as you are smashing them and turning in the pan. You want to keep the skins on and the potato smashed but together.