This is an easy recipe for Sweet Potato Casserole. Sweet Potato Casserole is famously served at Thanksgiving Dinner but it really is a great recipe for any time!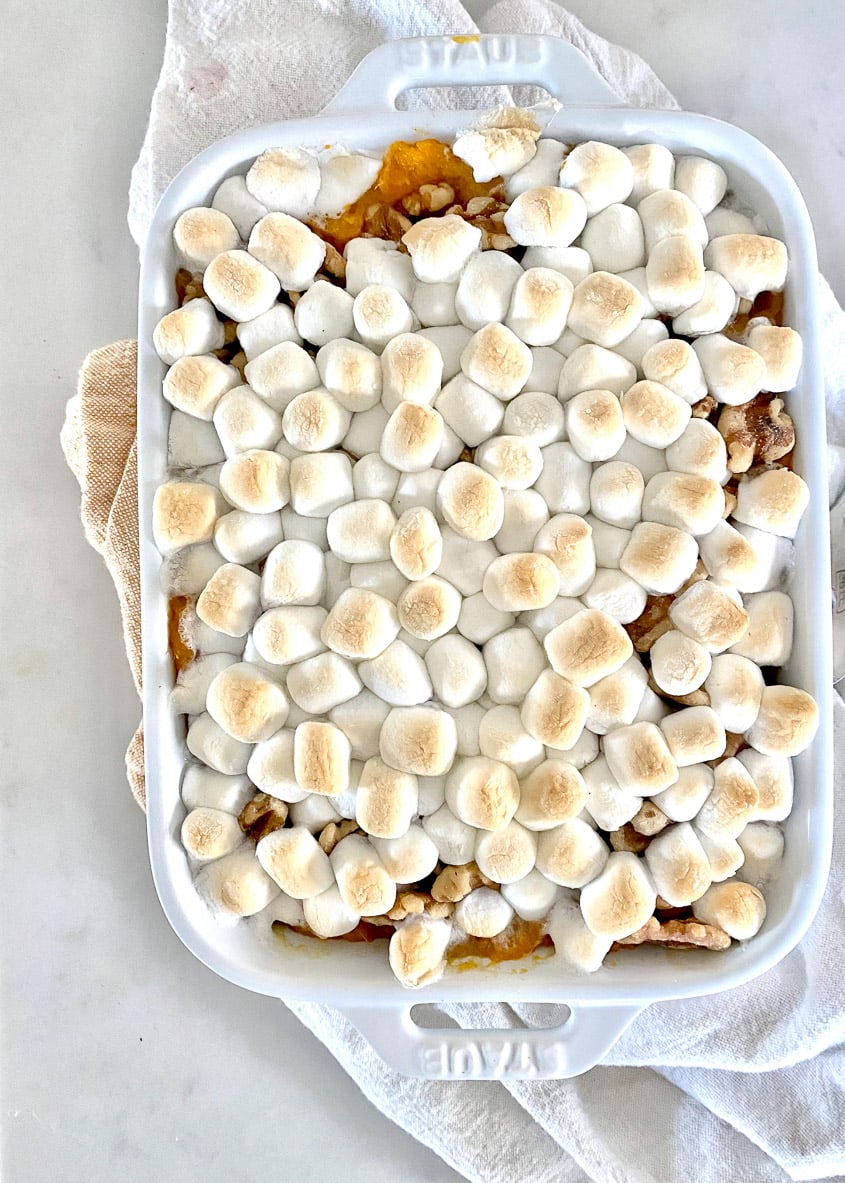 The first time I made Sweet Potato Casserole was a few Thanksgivings ago by the request of my family. Warm, mashed sweet potatoes, blended with the right amount of fall spices makes for a great Thanksgiving side to the savory items around a Thanksgiving table. 
Sweet fall spices like cinnamon, nutmeg mixed with the creamy nutty flavor of walnuts makes for the most delicious combination. Using a kitchen torch, I lightly toasted the marshmallows on top until golden brown. 
Ingredients
Sweet Potatoes 
walnuts
mini marshmallows
cinnamon
nutmeg
brown sugar
vanilla extract
butter 
How to make the sweet potato casserole 
The Sweet Potato Casserole is all about the delicious layers!
First step is to perfectly peel all the potatoes and boil them until soft. Once they are soft, add in the butter and mash them until smooth. Add in the spices. 
Place the sweet potatoes in a 9×13 dish and smooth them out evenly. 
Next, top with walnuts to your liking. I like just a little crunch. Onto the Marshmallows!
I highly recommend enlisting your small child to help you PERFECTLY line up the marshmallows on top. Not because they need to be perfect, but because it will keep your little one busy. Wink wink 😉
Toasting the Marshmallows
There are two methods to toast the marshmallows. The first is to use your broiler. You must be careful that you watch your dish closely. Only a minute or two is needed to ensure the marshmallows don't burn. 
For a more precise method, use a kitchen torch. I find this method to be a lot more fun if you order one or have one handy! 
Sweet Potato Casserole
Ingredients
4-5 Large Sweet Potatoes, peeled and chopped into 1 inch cubes
½ cup Light Brown Sugar, packed
4 Tablespoons of butter
½ teaspoon Vanilla Extract
½ teaspoon ground cinnamon
⅛ teaspoon ground nutmeg
pinch of salt
½ cup chopped walnuts
2 cups mini marshmallows
Instructions
Preheat Oven to 375 Degrees. Spray a medium size casserole or baking dish with cooking spray or grease accordingly. Set aside for later.
Place the Sweet Potatoes in a large pot and cover with water cold water.
Boil over high heat until softened. About 15 mins.
Drain and let cool slightly.
Transfer potatoes to a large bowl.
Add in sugar, butter, vanilla, spices and salt.
Mash or use an electric mixer until smooth and creamy.
Using a spatula, transfer the potato mixture into your baking dish and spread evenly.
Sprinkle the walnuts on top.
Top with mini marshmallows.
Bake for 15-20 minutes until marshmallows are browned on top.
Serve immediately and enjoy!
Here are 
3 Other Perfect Potato Recipes!
This Savory Vegetarian Stuffing is just what you need at the table for the vegetarian in your life.