This recipe is for Tortellini and Arugula Soup. This original post was updated. 
Attention: MORE snow perhaps…maybe…potentionally coming this week accompanied by freezing cold temps and one of my favorite slow cooker recipe! My soup recipes have been on rotation this winter with this Tortellini and Arugula Soup being one of my hearty favorites. As I spend my last few days at home before going back to work with Mia, I made this one low and slow in my Staub Dutch Oven. However this recipe can also be tossed into your slow cooker or Instapot to come home too.
Also try One Pan Creamy Mushroom and Spinach Tortellini!
This is the recipe that you want to come home to, a soup that truly feels like a meal and is delightful with a loaf of crusty bread and block of parmesan cheese.
I love when soup is a meal. You can really make it an experience with all of the garnishes!
Ingredients
Simple ingredients that will get you through this winter! The power of herbs in chicken or vegetable broth will help you through any winter blues.
Chicken or Vegetable Broth (or stock)
Canned diced tomatos
spinach or Arugula 
onion
celery
carrot
parsley
garlic
oregano
basil
ground beef (optional) 
Love this recipe? Also try Avocado + Honey Dijon Pasta Salad.
Best Pan for Cooking Soup
When making soup I only use two options. If stovetop, I use a Staub Dutch Oven. The black cast iron really helps to build flavor in the vegetables. If I want to take my time, I use a slow cooker and add the pasta after. 
I've linked my Staub Dutch Oven for you HERE on Amazon Prime. I have the Dark Blue shown here but I am also loving the Graphite Gray and White colors lately. I've been investing in a few quality cookware pieces lately and they are paying off in flavor! I've also linked the Instapot HERE on my Amazon Page.
Soup Variations
As with all soups you can mix up the ingredients to what you have on hand. My version calls for baby arugula but you can sub kale or another leafy green instead.
I browned ground beef however ground pork to spice things up or ground turkey to keep it healthy would work just as great. You can also omit meat and make the soup vegetarian by switching the chicken broth to vegetable broth. 
Make to what you and your family love.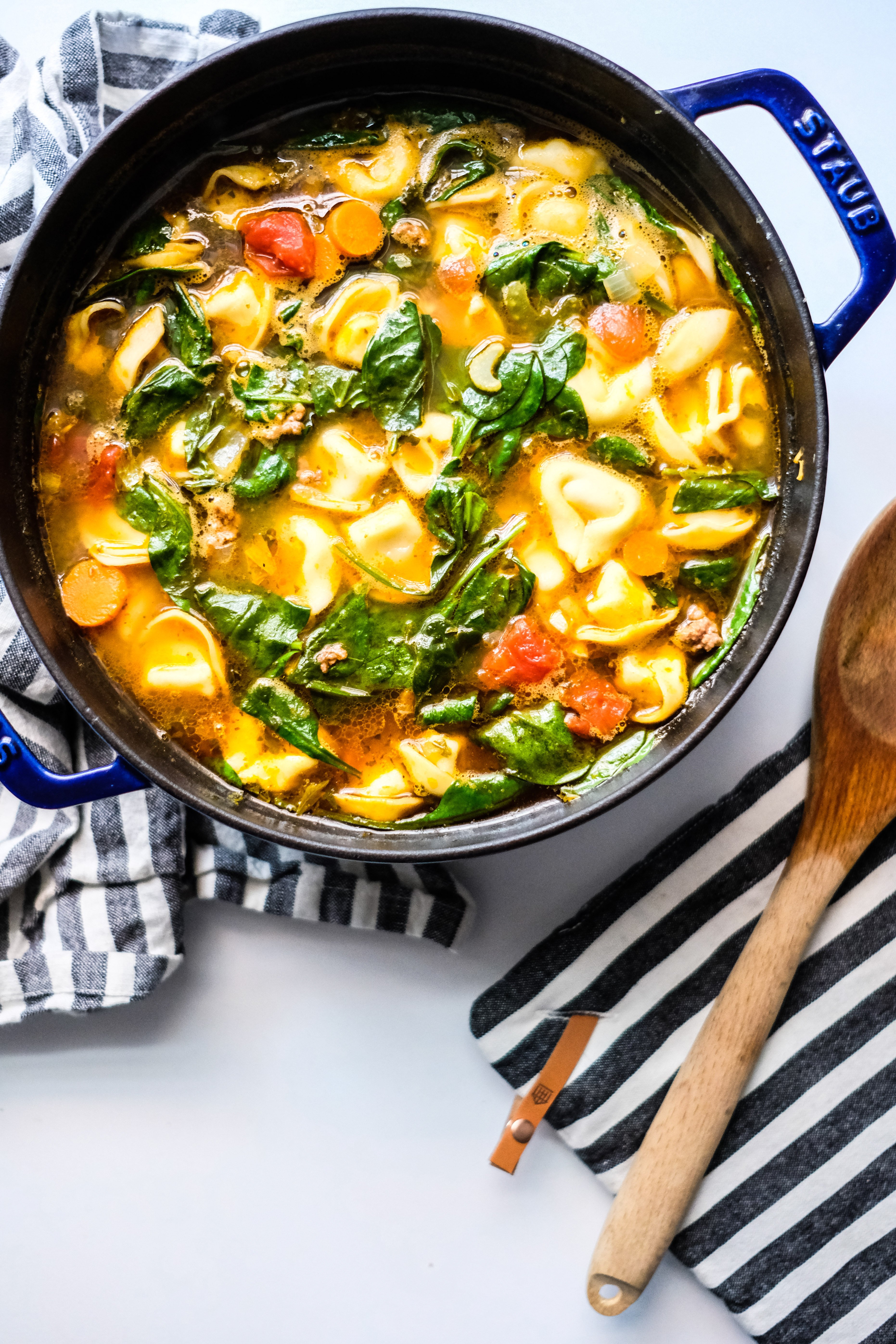 Tortellini and Arugula Soup
Ingredients
1 small yellow onion, finely diced
2 celery stalks, sliced
¼ cup parsley, finely chopped
4 cloves garlic, minced
12 baby carrots or 1 large carrot, sliced
1 15 oz can diced tomatoes
8 cups chicken stock
2 large basil leaves, chopped
1 tablespoon oregano leaves, chopped
2 cups arugula
1 lb fresh tortellini
salt and pepper to taste
EVOO
shredded parmesan cheese for garnish
Instructions
Slow Cooker Method:
Put all ingredients except for pasta and arugula in the slow cooker. Cook on high 3-4 hours or low 5-6 hours. In last 30 minutes add the pasta and arugula. Serve immediately.
Dutch Oven or Heavy Bottom Pot:
In a large skillet brown the beef and set aside.
In a dutch oven or large heavy bottom pot, add a tablespoon of EVOO and saute onions on low until they become translucent.
Add the remaining vegetables and garlic and cook until softened.
Pour in chicken stock.
Add in beef and herbs.
Let simmer on low heat for 45 minutes. You can let simmer longer if you would like.
Taste to check progress.
When the soup has reached it's flavor add in the arugula and tortellini.
Cook until pasta is tender. Do not overcook.
Ladle into bowls and garnish with shredded parmesan cheese.
Serve and enjoy!
 Recommended:
The Best Damn Meat Recipe that you can EVEN make in your slow cooker!