Pasta Fagioli Soup
This easy hearty recipe for Pasta Fagioli Soup will warm you up!
Hello February. It's been cold, windy and rainy for days in Philadelphia. Winters make me long for comfort food. And frankly a little snow at this point would be nice! It's been crazy to see over the past few years how much warmer Philadelphia is to a New England winter. Whether you're here or there or across the country, this easy Pasta Fagioli Soup recipe will do just the trick as we get closer to spring.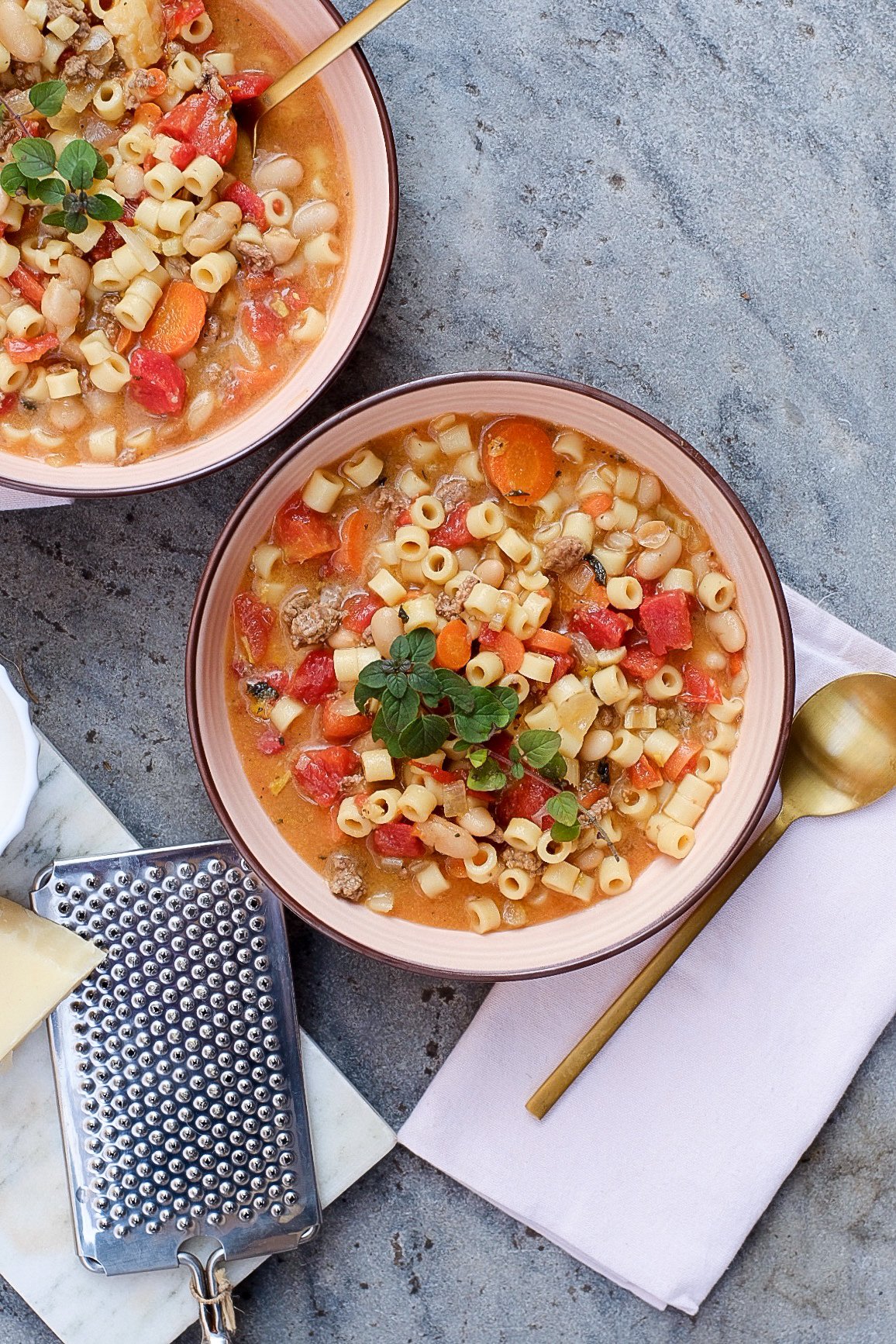 What I love about soups is that for the most part they are fool proof. You can add more of your favorite ingredients, less of the ingredients you don't like, make it vegetarian or add more meat for the meat lovers. Soup means the world is your oyster, and I love options.
For dried pasta I always use Barilla. Trust me I've tried every grocery store version of dried pasta, including generic brands and Barilla is just the best. I also am a big fan of Trader Joe's Chicken Broth. When you're not making your own, it's really important that you like the taste of the broth you are using. Otherwise you may not like the soup all together. Read on for more of my favorite Trader Joe's items here.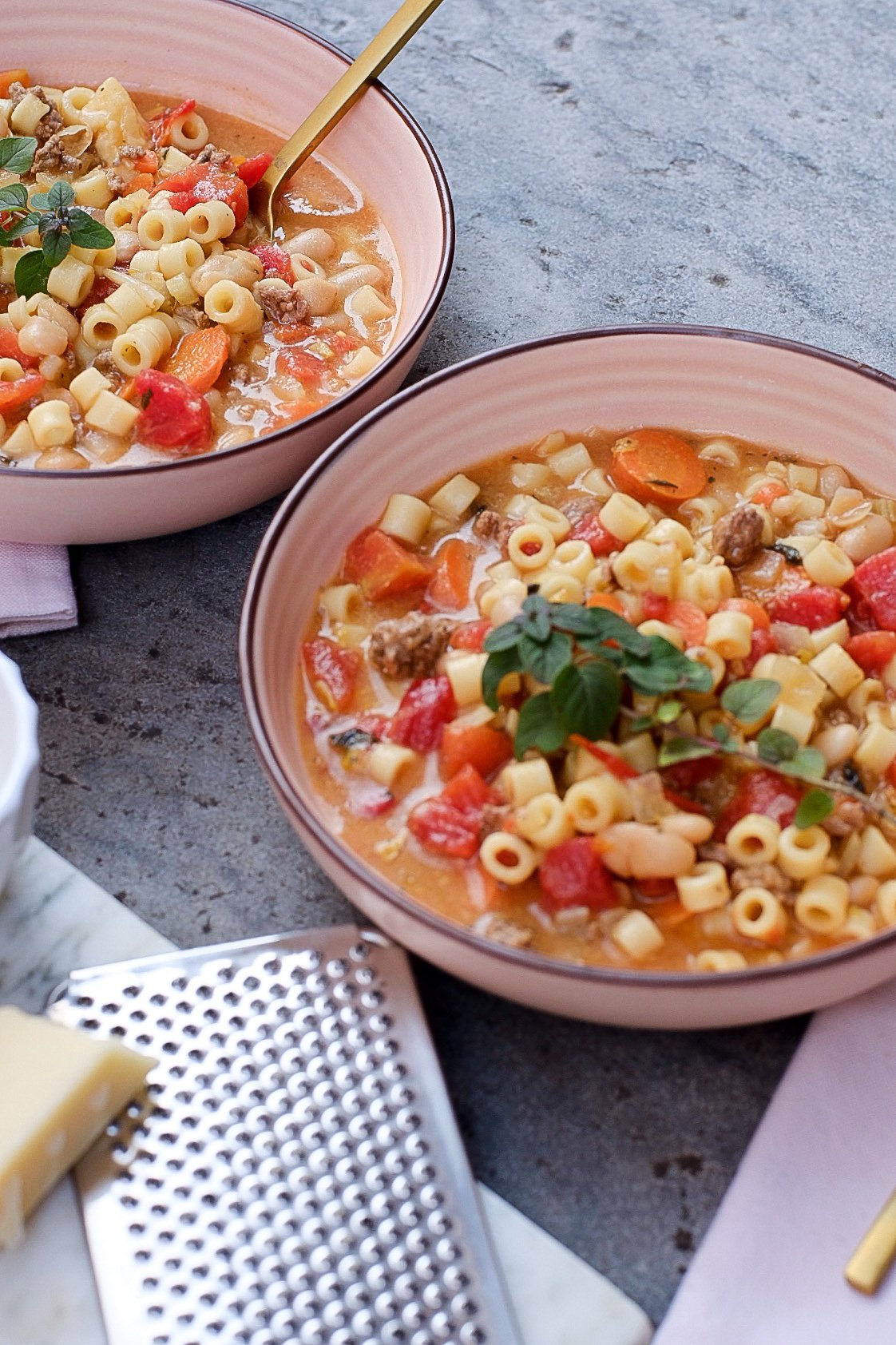 This recipe for Pasta Fagioli Soup is a 30 minute maximum recipe in one pot. For bigger batches, I will double or just simply freeze the left overs. If you intend to freeze do not add the pasta as directed. Cook the pasta separately and add in. Pasta does not freeze well and will be mushy in your soup. I also love using the cupcake pan method for freezing as it freezes your soup into neat little cubes as you can use as many or as few as you'd like. Just reheat over low to medium heat on the stove top or pop a few in a tupperware to bring to work for lunch.
Fresh herbs can also really make the difference in a soup. Although pricier at the grocery store, if you can freeze some summer garden goodness or use your left overs by freezing into Olive Oil you'll extend your herbs. The best way to store herbs in the fridge is by using a glass jar, filling it with about 2 inches of water and standing your herbs up like flowers. (This works well for Asparagus too!).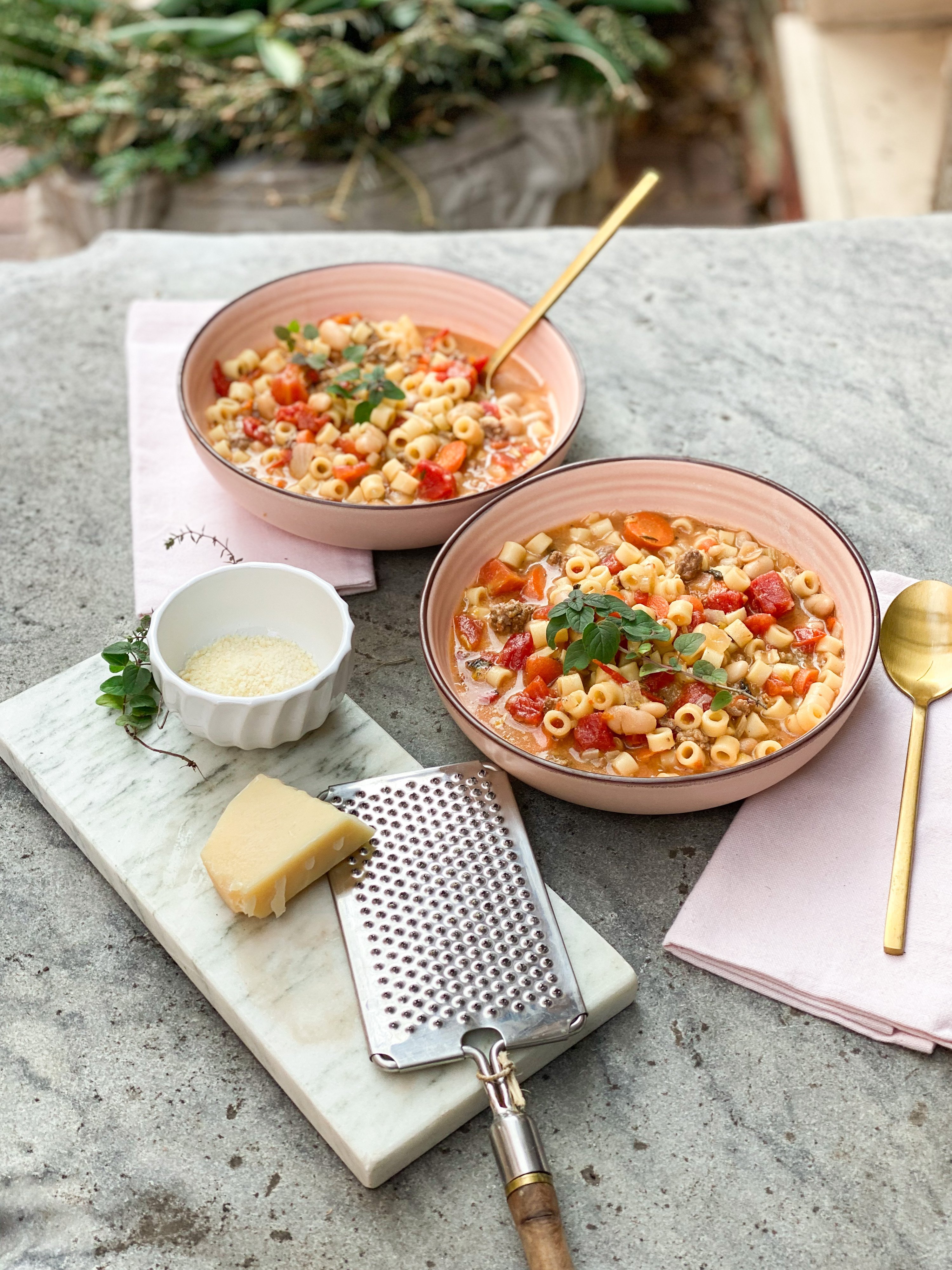 Yield:

4-6
Pasta Fagioli Soup
Additional Time:
7 minutes
Easy Recipe for Pasta Fagioli Soup.
Ingredients
1 cup Datalini Pasta (or other small shape)
1 carrot, peeled and diced
1 small yellow onion, diced
3 cloves garlic, minced
1 14oz can diced tomatoes, drained
fresh herbs, basil, oregano and parsley 
32 oz Chicken Broth
1 can of beans, cannellini or kidney beans, drained
Salt and Pepper to taste
Grated Parmesan Cheese for garnish
1/2 lb ground beef, ground sausage or ground turkey (may also exclude for vegetarian option)
Instructions
In a dutch oven or deep pot heat 1 tablespoon of EVOO over medium low heat. Add in onions and carrots. Saute until onions are transluncent about 3-5 minutes.
Add in the ground meat and cook until browned. Drain any excess fat.
Add in canned tomatoes, beans, broth, garlic, herbs, salt and pepper.
Simmer for 20 minutes.
Add in pasta and continue to simmer on low. Cook until pasta is al dente per the pasta instructions.
Remove from heat and serve.
Garnish with grated parmesan cheese.
Notes
You can pretty much use as much or as little as something as you'd like in this recipe such as more beans.
Do not over cook the pasta in the soup, it will be mushy.
If you are making freezer batches do not add the pasta. Cook and add seperately.
You can remove the meat for a vegetarian option.
Also check out my most popular soup recipe below!
Tortellini and Arugula Soup