A visit to the Barnes Foundation is both a must see for locals and tourists alike in Philadelphia, PA. Separate from the Philadelphia Museum of Art, the Barnes Foundation is the private collection of Dr. Albert Barnes made public in 1922. Dr. Barnes wanted to show people all over the world how to look at art.
The collection included art by Renoir, Cézanne, Matisse, and Picasso accumulated over 3 decades by Barnes all pulled together carefully curated in Philadelphia. The fact that Barnes was able to acquire such important and famous pieces is quite impressive. Mixed among the Impressionist Art are displayed African Masks, Native American Jewelry and decorative metal work.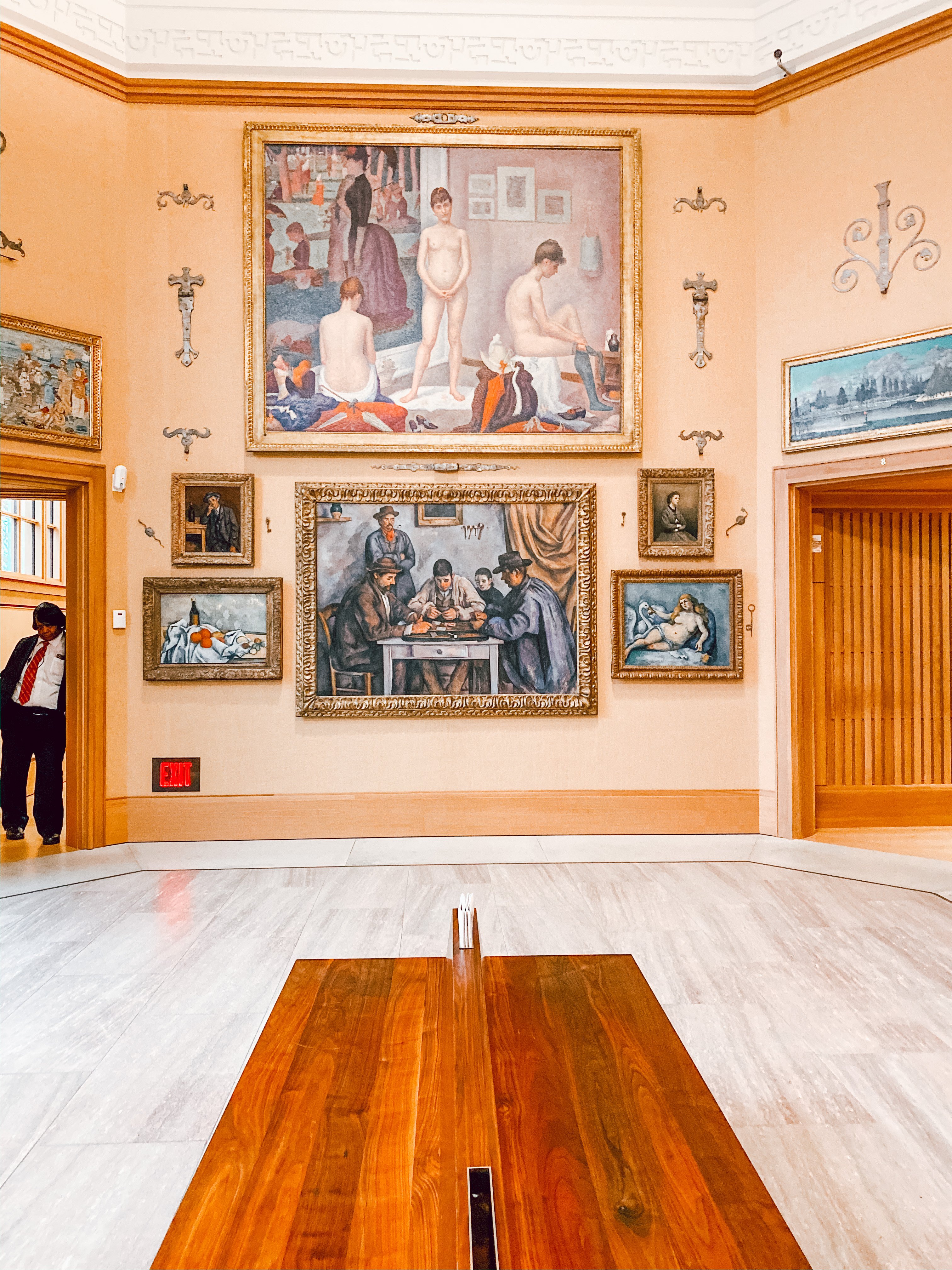 In high school, Art Class was always one of my electives and I leaned towards impressionism, making attempts with acrylics to mimic Monet and Van Gogh. (As you can imagine, I never made it to a museum) However it was a delight to see some of Van Gogh's most coveted paintings and admire his heavy brush strokes for a few moments here in Philadelphia. After a few of the galleries, I must have been inspired as I had this idea, to create some art myself.
Check out Philadelphia's Coolest Club with this Full Review of the Fitler Club.
We visited the museum on my Birthday in the middle of a quiet Monday. While we were the only ones in one of the galleries, I watched Joey observing a Renoir and told him to stay put. "Don't move!" I whispered. I quickly set up my iPhone on selfie mode giggling and ran to get in position while my self timer counted down. In position parallel to Joey I posed while stifling a giggle. Pretty happy with the result I decided I would make a series in as many galleries as I could. After all, when do mom and dad get to play hooky for a day and hit up a Philadelphia attraction to look at Art? Never.
The result? A masterpiece.
As a digital creator I've forgotten what it was like to put brush to paint and visiting the museum reminded me of a different type of inspiration.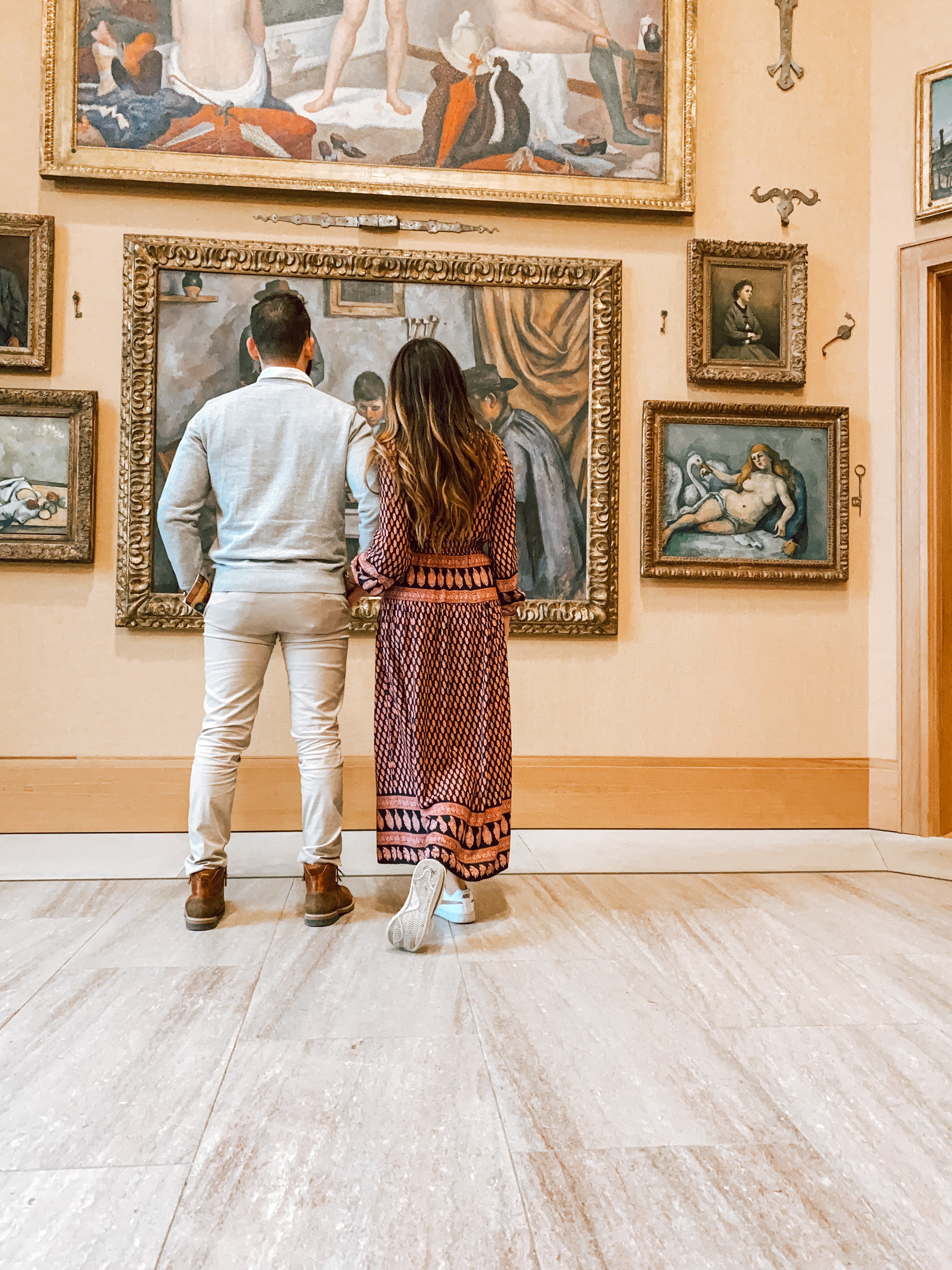 The Barnes is located at 20th and Parkway in Center City Philadelphia and has been voted the #1 museum to see while in town. For all my students, tickets are only $5 and children under 12 are free. The museum also offers Free Family Days monthly. This is not a museum I would recommend taking littles. If you have a child who's interested in art and has the ability to observe I would say 7 or older, use your best judgment but I would not have brought a toddler. The museum has a parking lot however there is plenty of street parking around the museum and it's accessible by public transportation.
As some of the galleries are small, I would recommend going at non-peak times to have the best experience with plenty of space to sit and observe. The museum is closed on Tuesdays. If you can join one of the tours, the curators at the Barnes are extremely knowledgable and it makes for a more interesting experience to learn the "why" of each room, the thoughts of Barnes and the history behind the paintings. We were fortunate to join two listening sessions while we were there. I also high recommend using the Barnes technology on your phone. It allows your to scan a painting using your camera and then reports back on your phone information about the painting. Very cool!
Please let me know if you're local to town or you're visiting Philadelphia and you stop at the Barnes. I'd love to hear about your experience. I hope you enjoy my little #ipone masterpieces. After I posted to my Instagram several told me it reminded them of a Beyonce series which I hadn't seen before. I mean, we are just as a cool as B and Jay Z right? 😉

Visiting Philadelphia? Be sure to check out EXPLORE PHILADELPHIA on the menu bar for a local's top picks and tips.