Healthy Greek Quinoa Salad Bowls
I love a warm bowl that's hearty enough to serve as lunch or dinner. This Greek Quinoa Salad bowl does just the trick to fill you up in a delicious and healthy way. I pack my with extra herbs for flavor and nutrients.
Ingredients
Quinoa
Cucumbers
Katamala Olives
Chickpeas
Hummus
Feta Cheese
Tomatoes
Fresh Herbs
How to Make Quinoa
With Quinoa as your base, this Greek Quinoa Bowl is warm and hearty. When cooking quinoa, ensure you rinse thoroughly. I use a handheld strainer like this one.
You'll bring equal cups quinoa and water to a boil before simmering for 15-20 minutes or following the package instructions. If you're looking for a more flavorful quinoa you can use vegetable broth or chicken broth as a substitute for water.
Simmer until the quinoa has absorbed all liquid and is light and fluffy.
How to Make Greek Quinoa Bowls
Using the quinoa as a base for your bowl, start by scooping quinoa into your bowl first. Add in your favorite ingredients from the list above.
You can leave the ingredients separate (my personal favorite) or you can toss with the quinoa until all ingredients are evenly mixed. I also love adding handfuls of my favorite herbs. For this I enjoy a mix of chopped basil and cilantro. You can also use parsley, mint and oregano.
Serve dry with hummus or with a dressing. You can can also pack for lunch. This is one of Bailey's favorite lunches that I pack for her for school in a glass container.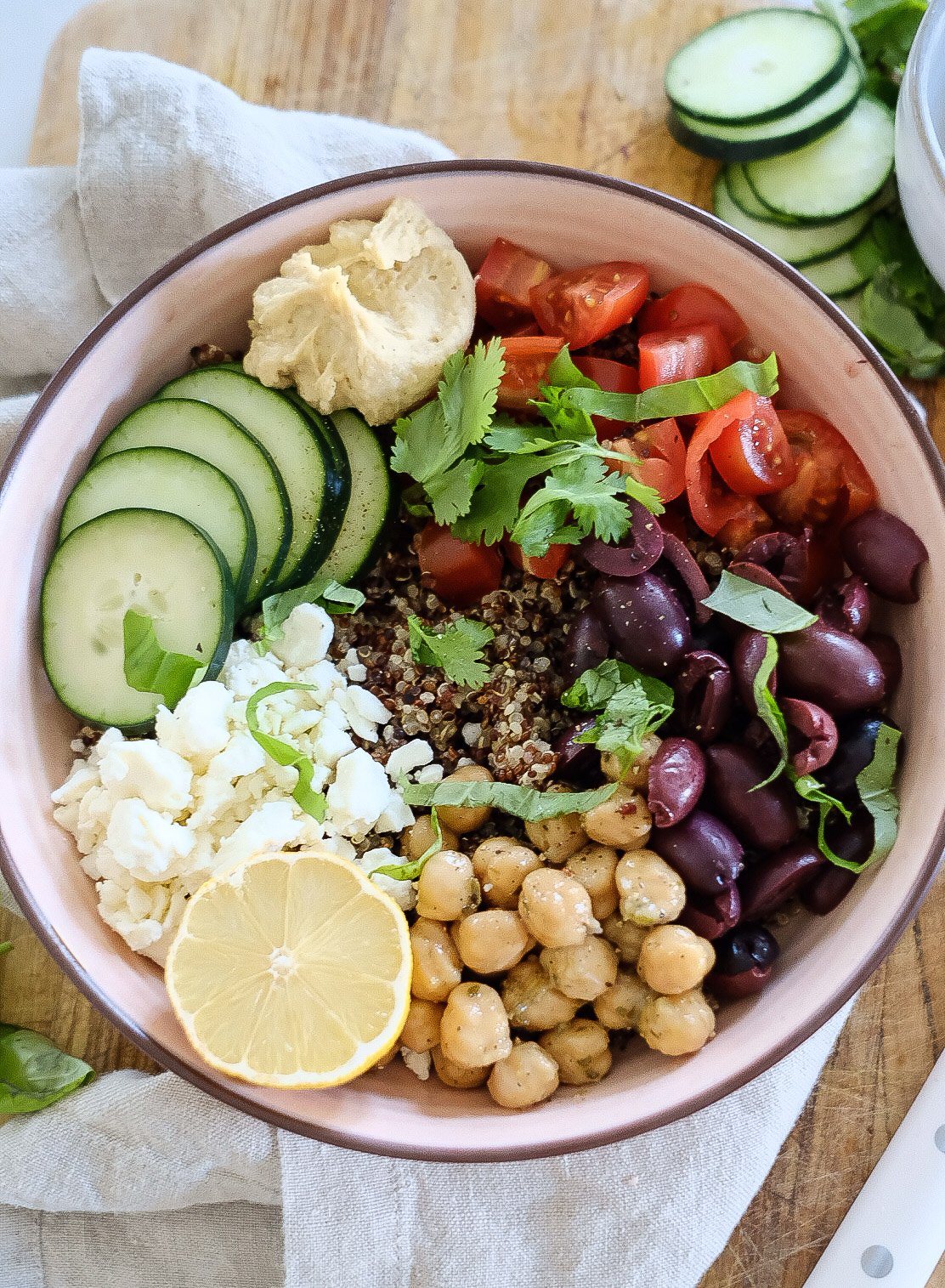 Greek Salad Dressing
This bowl can be made with or without a dressing. It depends on your tastes! I like to eat this bowl with just a delicious hummus and a little lemon juice and extra virgin olive oil.
You can also mix up this quick and easy dressing in your food processor for the perfect complement to your Greek Quinoa Salad Bowl. With Lemon and Oregano it will add a bit of brightness to your salad.
RELATED: Check out these other delicious salad recipes!
Honey Dijon and Avocado Pasta Salad
How do you say Quinoa?
Quinoa is pronounced KEEN-WAH.
Can you substitute Quinoa?
Yes, you can substitute quinoa for wild rice, white rice or orzo pasta. Each make delicious substitutions.
Can you make vegan greek quinoa bowls?
Yes! Be sure to substitute the feta for vegan cheese and you've got yourself a vegan meal. Always be sure to read the ingredient labels carefully to ensure no traces of animal product are listed.
Yield:

2 Bowls
Healthy Greek Quinoa Bowls
Additional Time:
2 minutes
This quick and easy Healthy Greek Quinoa Bowl can be made in under 15 minutes.
Ingredients
1 cup Quinoa
1/2 cup cucumbers, sliced or diced
1/2 cup tomatoes
1/2 cup Katamala olives
2 TBSP Hummus
1/4 cup Feta
1/2 cup chick peas
fresh herbs, chopped
1 TBSP Lemon Juice
Extra Virgin Olive Oil
Salt and pepper to taste
Instructions
Rinse Quinoa using a strainer for at least 30 seconds until the water runs clear.
In a sauce pan, bring equal parts water and quinoa to a boil.
Once it reaches a bowl, cover and allow to simmer fo 15 minutes or as otherwise directed on the packaging.
While your quinoa is cooking, chop your cucumbers, tomatoes and olives.
Once the quinoa is done cooking, remove from heat and fluff with a fork.
Divide quinoa into two separate bowls for two servings. Squeeze a half of lemon over the bed of quinoa.
Top quinoa with cucumbers, feta, chickpeas, olives, tomatoes, hummus and your favorite herbs.
Grind with fresh ground pepper and a sprinkle of salt.
Enjoy!