This post contains a recipe on how to build the best After School Snack Board.
Woo hoo! We are back to school and in person this year. I couldn't be happier for the kids after a year of virtual school. I want to make sure they have a great year and of course for me part of that is snacks!
Ensuring your kids have healthy after school snacks is all in the prep! Whether you are packing the snacks for an after school program or they are coming home off the bus, this After School Snack Board can last you all week when made once and stored properly.
The girls love having a variety of items to choose from and when you focus on the presentation, all the healthy foods get eaten too!
How to Build the Snack Board
Choose boards or large containers that can hold a variety of snacks. Some of my favorite options for snack building are shown below.
My kids know that when a board comes out delicious items are coming! The board should include fresh fruits and veggies, cheese, carbs and a few of their favorite items like Goldfish crackers or Alphabet graham crackers.
It's not only about the food but also about the presentation! You'll want to place everything in a way in which the kids say "Wow!" to their after school snack board. I love using these wooden condiment bowls.
Also check out Healthier Chicken Nuggets Your Kids Will Love!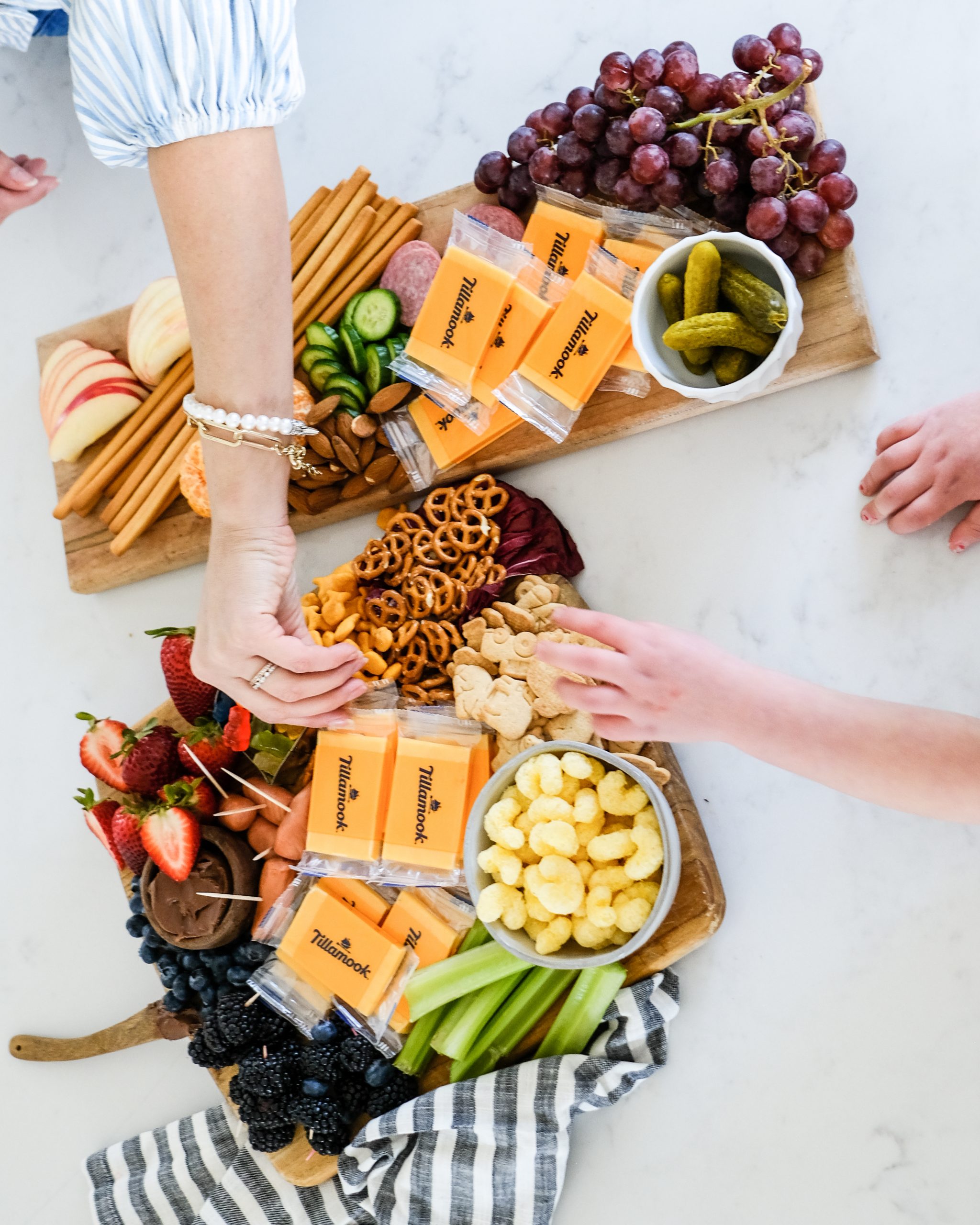 Produce
Strawberries
Blueberries
Baby carrots
Celery Sticks
Bell Pepper Slices
Grapes
Blackberries and Raspeberries
Cucumbers
Pickles
Apple Slices
Clementime Oranges
Cheese
Mozzarella sticks, cheddar portions and cheddar cubes are all my kids favorites.
I love any cheese that is individually wrapped so it stays fresh when they want it and is easily packable.
Here I use Tillamook Snack Portions (I find them at Target!).

Crackers and Carbs
Pretzels
Animal Crackers
Graham Crackers
Goldfish
Breadsticks
Wheat Thins
Almonds
Cashews
Pirates Booty
Popcorn
Dips
Ranch Dressing
Nutella
Hummus
These are my kids favorites. Mia will put Nutella on anything!
How to Get Kids to Eat Healthy
It's likely one of the most popular questions I get! My kids love fresh fruits and sweeter vegetables like bell peppers.
From an early age I let them be a part of the process. Take your kids to grocery stores or a farmers market and let them choose what they want to try. Even if they got home and they didn't like what they bought I still commended them for trying. Hey Dragon Fruit isn't for everyone!
Next, to get your kids to eat healthy get them in the kitchen! From preparing finger foods or baking getting kids to cook is a vital part of them eating healthy. It makes them part of the process and then want to eat the finished product.
Yield:

4-6
After School Snack Board
Curb the hanger with this after school snack board for kids.
Ingredients
Cheese
Mozzarella
Cheddar
String Cheese
Produce
Grapes
Apple Slices
Strawberries
Cucumber Slices
Carrot Sticks
Red Bell Pepper Slices
Pickles 
Celery Sticks
Carbs
Crackers
Breadsticks
Pretzels
Goldfish
Animal Crackers
Pirates Booty
Dips
Instructions
Gather all items on your list together. Start by setting up bowls on your board to hold small items and dips.
Fan out apples, crackers and cheese slices.
Arrange with all your kids favorites. Watch them enjoy!
Nutrition Information
Yield
6
Serving Size
1
Amount Per Serving
Calories

230
Total Fat

11g
Saturated Fat

5g
Trans Fat

0g
Unsaturated Fat

5g
Cholesterol

14mg
Sodium

393mg
Carbohydrates

27g
Fiber

3g
Sugar

10g
Protein

7g
Please note nutrition is automatically calculated and may not be accurate.
Also Read:
We tried Inspired Start to Introduce Early Allergens to our Baby.