Let's talk about fast food for a minute…
It was a widely known fact that the first person who ever dared to feed my child fast food, would die. Every single study, piece of data and just the way you feel after you eat that giant burger for a $1 says fast food is bad news bears. I felt so strongly about my 'no fast food' ban for my child probably until about the age of 3. And then I got tired.  I grew even busier. And hungrier. And gosh darn it, I've taken a spin once or twice through the drive thru. SHAME!!! (cue the dramatics)
While the fast food industry tirelessly attempts to remake and promote 'healthy' menus (did you know a crunchy taco from Taco Bell is only 130 calories!)…nothing will ever beat you knowing exactly what's going into your kids bellies.
Sometimes the grocery store isn't your friend either. Raise your hand if you're guilty of heating up processed chicken nuggets for your kids mid-week? I am. I often make a large batch for the week and then also use in lunchtime salads to bring to work. Here is a recipe that will have you ditching the mystery meat and making some easy, home cooked goodness for your little ones…and for you…because honestly who doesn't like chicken nuggets?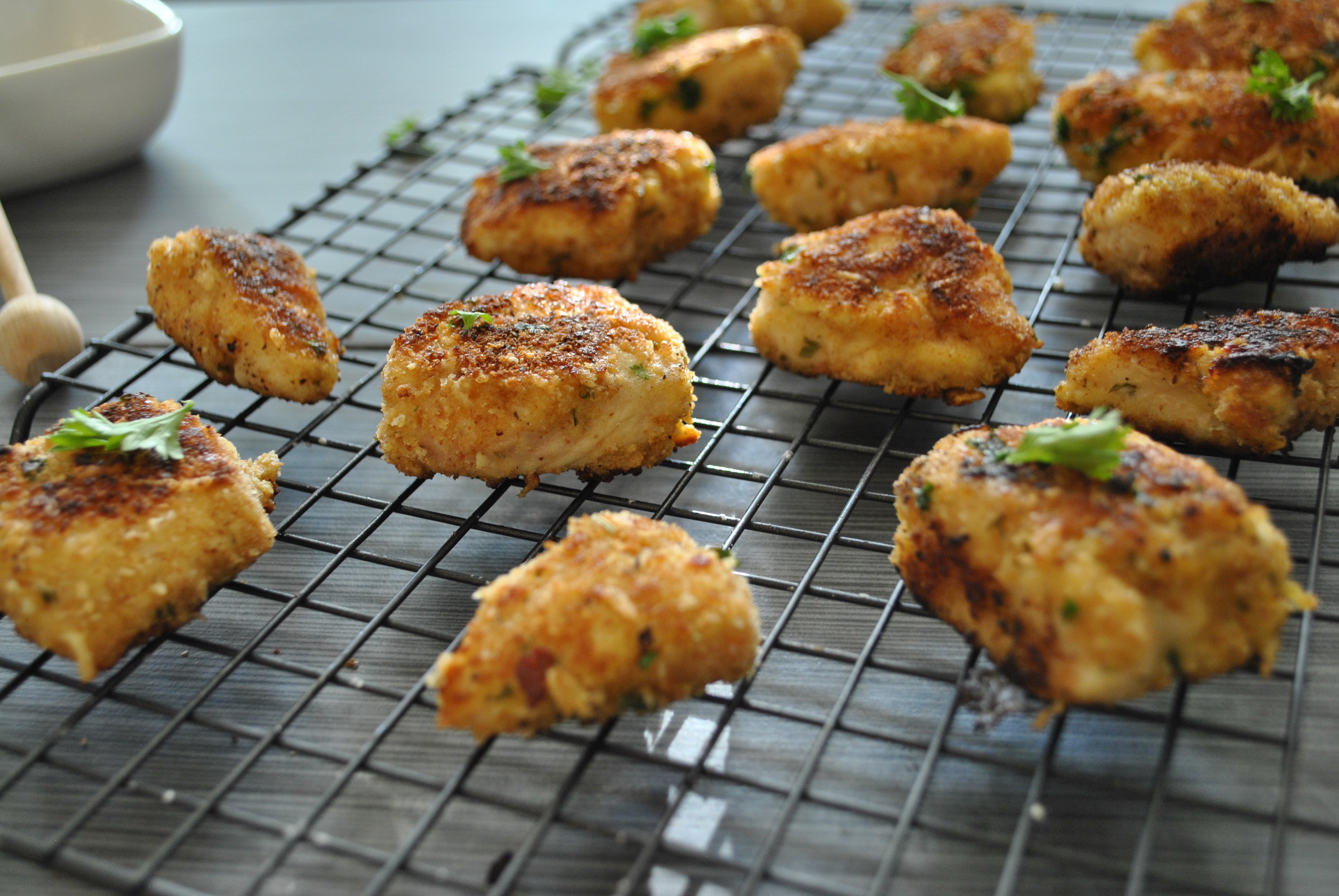 Chicken Nuggets
Author:
Chocolate and Lace
Ingredients
1 lb chicken tenders, sliced in half
1½ cups bread crumbs
¼ cup fresh parsley, finely chopped
¼ cup grated parmesan cheese
1 clove garlic, grated or finely minced
1 egg
1 cup flour
salt and pepper to taste
EVOO
For the sauces choose your favorite BBQ sauce.
For the Honey Mustard use 2 TBSP of honey mixed with ½ cup of dijon or brown mustard.
Instructions
In a large skillet, heat 1 TBSP of EVOO over medium high heat
In a shallow dish mix together bread crumbs, parmesan cheese, garlic, parsley flakes and salt and pepper to taste.
In a second shallow dish place the one cup flour.
In a third shallow dish beat one egg with a fork.
Please the dishes in a row. Flour dish, egg dish and bread crumbs dish.
Dip each piece of tender in flour on both sides, then the egg on both sides and then cover in bread crumbs.
Place into the hot skillet.
Cook on each side until golden brown.
Serve with sauces + ketchup for the kiddos!