This post shares how to cook artichokes by steaming them. I've found steaming to be the quickest and easiest method. How to steam Artichokes is easier than you think!
This beautiful vegetable is delicious when steamed once you peel back it's thorny layers.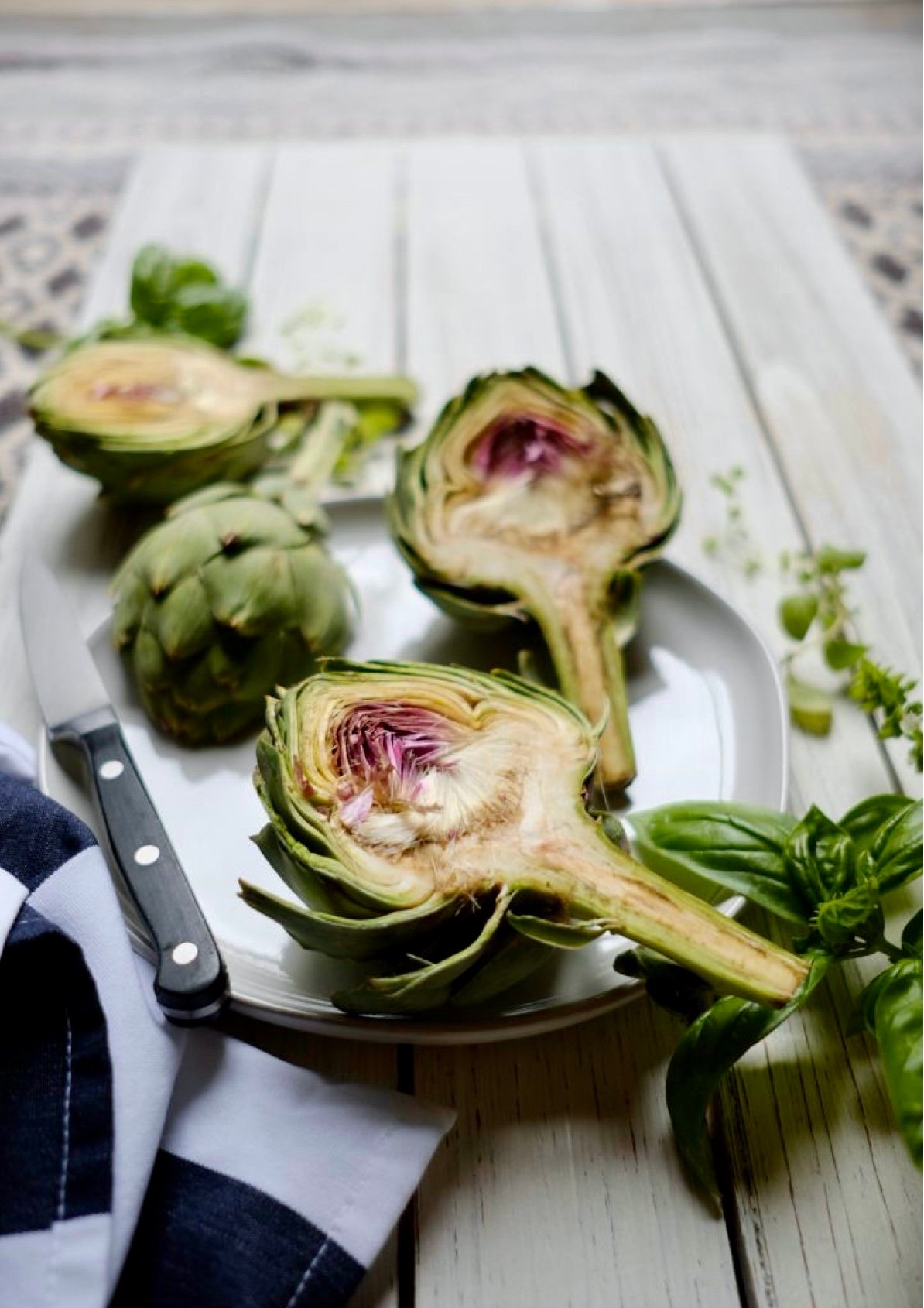 Our family has an obsession with artichokes. We steam them using this recipe and gather around to enjoy them together. This recipe was actually taught to me by Joey. I had never had an artichoke like this before and was intimidated by their spikes and leaves! But once steamed, they are so special and delicious!
We are actually trying to grow one this year in our vegetable garden.
Tools for Steaming Artichokes
Although several methods to cook artichokes, I've found steaming artichokes to be the easiest and tastiest. To steam artichokes you will need:
A large pot with a lid and a steamer.
A steamer is usually a metal tool with small holes in it that opens up to the bottom of your pot. This is the steamer that I frequently use.
Ingredients
Here is what you will need to make this Steamed Artichoke Recipe.
whole artichokes, I prefer the larger ones
a lemon
garlic cloves
salt
butter
extra virgin olive oil
How do you Cook an Artichoke
Although his recipe takes you through steaming artichokes, there are several ways to cook them. You can cook them by:
Steaming
Roasting
Grilling
In this recipe we will be steaming the artichokes. Here are the step's you need to prep them for steaming.
Cut off the tip of the artichokes. You can trim them with a knife or a pair of kitchen scissors.
Open them up by gently opening their leaves. Then pack inside garlic gloves, lemon slices, EVOO and a pinch of salt.
Trim the stem if you don't have space in your pan.
Cut the stem in half if it's a long stem so you can steam it as well.
How Long to Steam Artichokes
Steamed artichokes take about 30-45 minutes to cook on a stove top. You can see if they are done when the leaves are easy to pull off.
Don't over cook them as they will be mushy. It can take some trial and error to see how firm or soft you like your artichokes.
How to Eat Steamed Artichoke
You can eat a steamed artichoke by pulling the leaves off one by one and eating the artichoke "meat" off the leaf. Many people don't know but you can also eat the stem! Pull back the thick layers and once steamed, the artichoke heart will be nice and soft.
The heart of the artichoke is the best part. Carefully cut back the "furry parts" to leave a delicious and soft heart. Dipped in butter, it's perfection.
How to Steam Artichokes in a Microwave
While I highly recommend steaming the artichokes stove top, you can cook one in a microwave!
Trim your artichokes and place them in a microwave-proof dish. Add about an inch of water to the dish and cover. Microwave on high for about 4 minutes. To see when they are done, the leaves will easily pull off. Careful as they will be hot!
Artichoke Health Benefits
Artichokes are a healthy vegetable! To start, artichokes are loaded with nutrients. These nutrients include potassium, fiber, vitamin C, magnesium and folate.
Artichokes are also known to possibly improve liver health, digestive health and may help regulate blood pressure.
An artichoke a day can keep the doctor away! Unless you're in my house 😉
How to Steam an Artichoke in an Instapot
You can also steam them in an Instapot. Place them upside down together in the pot. Pop on the life and lock it into place. Cook on high for 15 minutes.
Can you eat the stem of an Artichoke
Yes! The steam is actually a continuation of the heart. If you can find artichokes with long stems in your grocery store or farmers market then you are in luck!
Steam the stem as you would the rest of the artichoke.
Yield:

2-4
Steamed Artichokes
Additional Time:
5 minutes
Steamed artichokes are delicious dipped in butter and steamed with lemon and garlic.
Ingredients
2-4 fresh whole artichokes
1/4 cup butter
EVOO for drizzling
4-6 garlic cloves, 2 for each artichoke
1 lemon, sliced
Instructions
Trim the arctichokes. Start by holding an artichoke at the bottom and trimming the top. Trim the stem so it can fit in your pot for steaming.
Slice the lemon and gently crush the garlic cloves.
Open up the artichoke by pulling back the leaves. Place the lemon slices and garlic cloves inside. Drizzle the inside and outside with EVOO and a sprinkle of salt.
Place the steamer inside your pot and 4-8 cups of water. You want enough water to boil to touch the top of your steamer.
Place the artichokes inside the steamer. Cover with a lid.
Boil the artichokes for 30-45 minutes. Check at about 30 minutes. You'll know they are ready when the leaves are easy to pull off.
Just about 5 minutes before, melt 1/4 cup butter in a small dipping dish. Top with salt.
Once the artichokes are done cooking, remove from them from the pot and place on a plate or tray. Serve with the melted butter.
Notes
The artichoke heart is the best part! Carefully remove the center coke and scrap away to the heart. Dip the heart in butter and enjoy!
Nutrition Information
Yield
2
Serving Size
1
Amount Per Serving
Calories

480
Total Fat

31g
Saturated Fat

16g
Trans Fat

1g
Unsaturated Fat

13g
Cholesterol

61mg
Sodium

401mg
Carbohydrates

50g
Fiber

22g
Sugar

5g
Protein

12g
Please note nutrition is automatically calculated and may not be accurate.
RELATED RECIPES:
Honey Glazed Carrots