Let's talk Charcuterie Board. CHAR-CU-TE-RIE. Don't worry, I got you. I still can't pronounce the word but I sure can eat one.
After slaving away at Thanksgiving over a dozen dishes, I decided Christmas was way to soon to go through the whole ordeal again. I wanted to share my Christmas Charcuterie Boards with you just in time for New Year's Eve as you prep, plan and get ready to don the champagne and celebrate. That's CHAM-PAGNE.
Click here to get the Charcuterie Board Shopping List sent right to your inbox!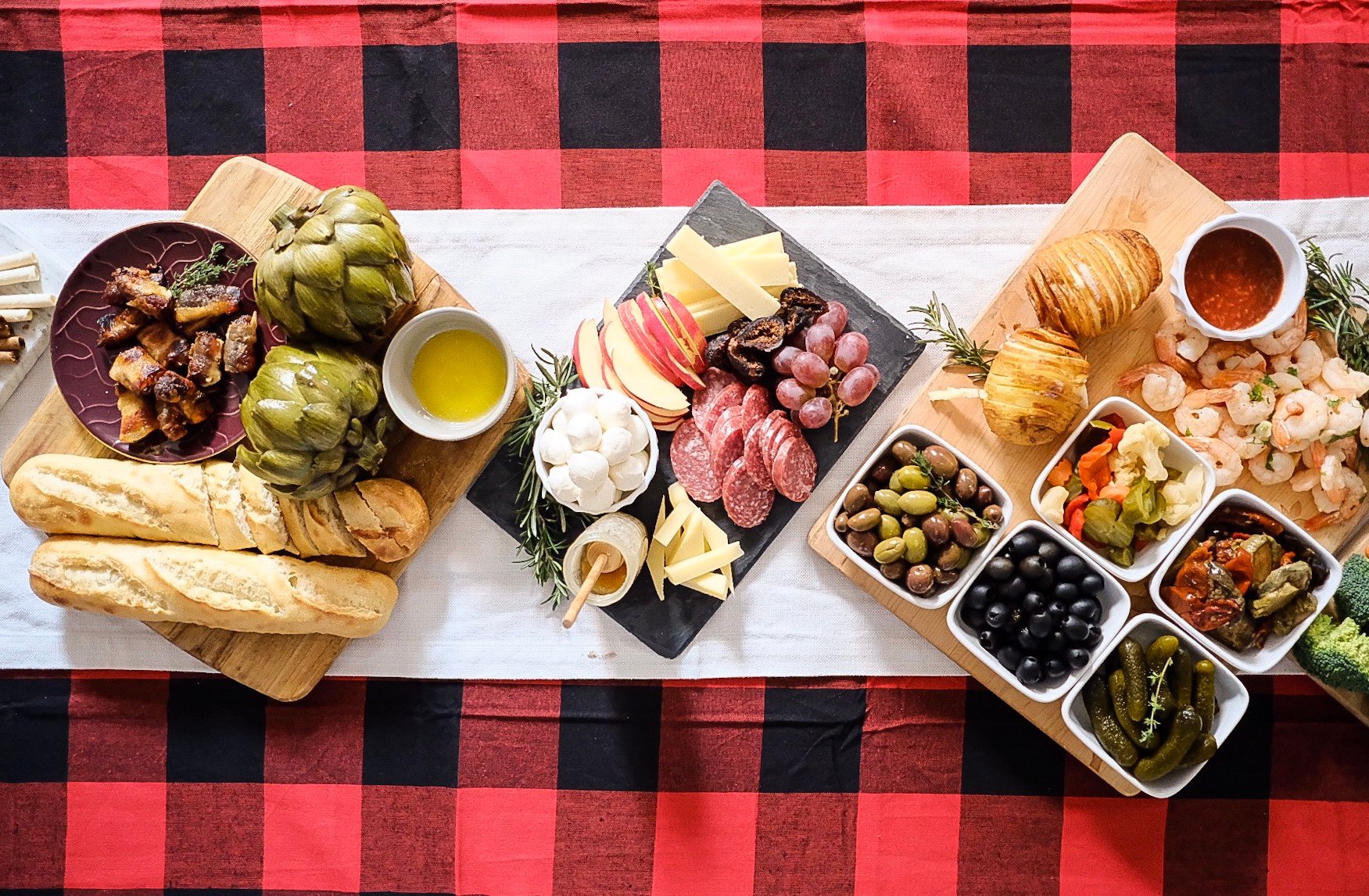 Charcuterie boards look easy and relatively are but it's about having the prepared checklist of a boy scout. I made 5 boards for Christmas and watched my little family hover over them with big eyes and excitement. It was basically like the kids were at Disney World. Seriously, when you have a little something for everyone you can't go wrong. Served in the early afternoon, we were able to munch all day after with no additional prep time for another meal or dessert.
I did much of my shopping at Trader Joe's for their selection of cheese, meats, veggies and speciality items. I also love Labottega Cheese and adore their cheddar blends. Rosemary makes the perfect garnish all around for pretty boards.
I've made a shopping list for you – just screen shot or print and get shopping. I have a variety of boards and cheese plates but two I love are my Slate Cheese Board from Target and my Marble Board from Food52. You can also shop my Buffalo Plaid Table Cloth and Napkins here
Enjoy and wishing everyone a Happy New Year. Thank you for all your support in 2018 XO.
Board One: The Classic Cheese Plate
Sharp Cheddar
Slices of Parmesan
Chèvre Goat Cheese with Honey
Fresh Mozzarella Balls
Honey
Grapes
Genova Margarita Salami
Sliced Figs
Red Grapes
Sliced Honey Crisp Apple
Board Two: Savory
Roasted Shrimp Cocktail (10 mins to roast)
Hasselback Potatoes (Trader Joe's prepared)
Mixed Olives
Black Olives
Mini Sweet Pickles
Crunchy Pickled Vegetables
Marinated Mediterranean Vegetables (Eggplant, Sun-dried Tomatoes, Portobello)
Board Three: Staples
Steamed Artichokes (the biggest hit!) with melted butter
Fresh French Bread
Bacon Wrapped Dates (Trader Joe's prepared)
Board Four: Veggies
carrot sticks
brocoli
cucumber sticks
sliced Portobello mushrooms
avocado slices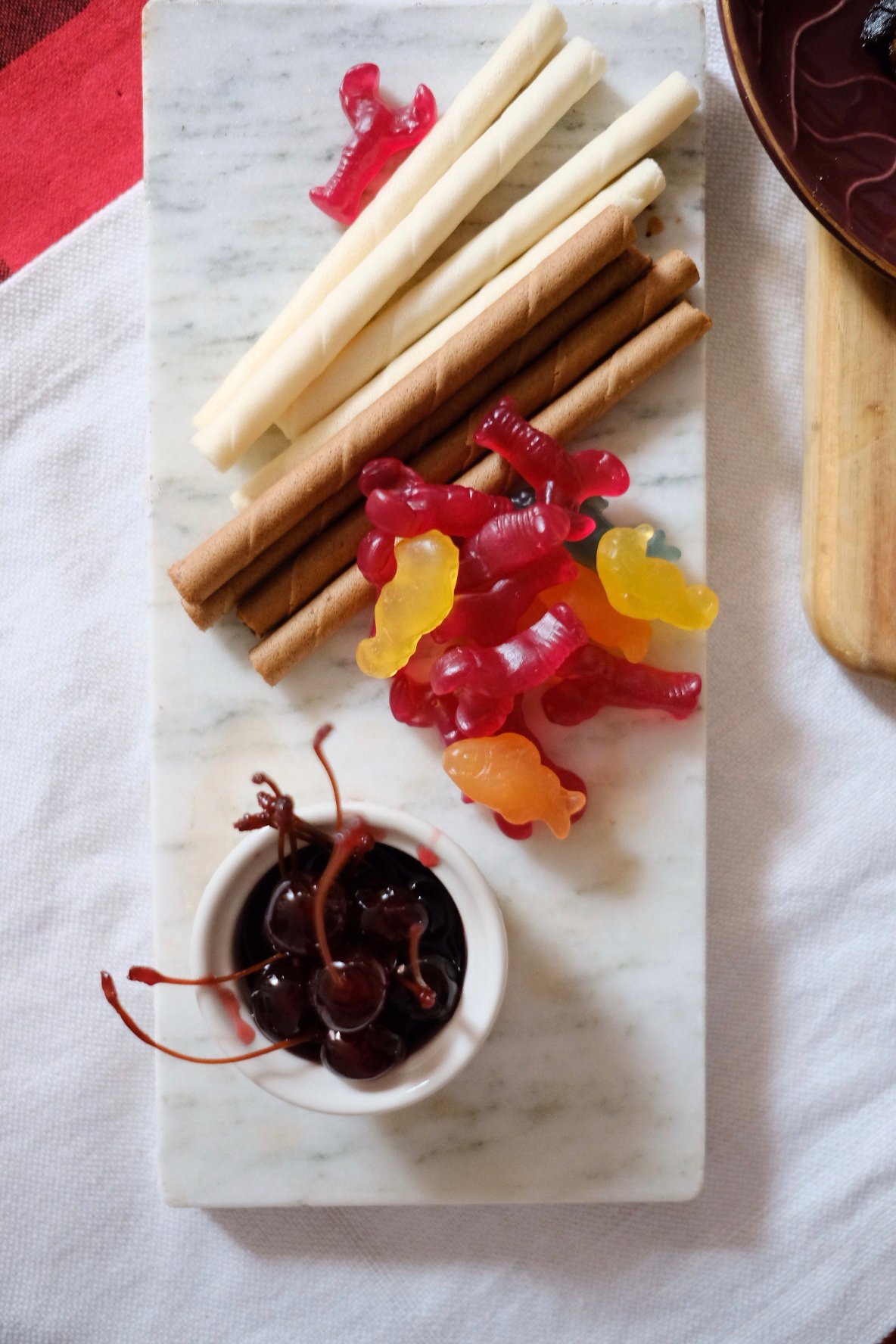 Board Five: Sweet
Amarena Cherries
Trader Joe's Swedish Swimmers (OMG SO good)
Rolled Vanilla and Chocolate Wafers