The Feast of San Gennaro is an annual American-Italian Festival that happens each year in New York City. This year the festival celebrates it's 93rd anniversary and will take place for 11 days in the heart of Little Italy. We visited on the opening day of the festival, as it's tradition for my hometown friends and I, to eat our way through the Feast of San Gennaro!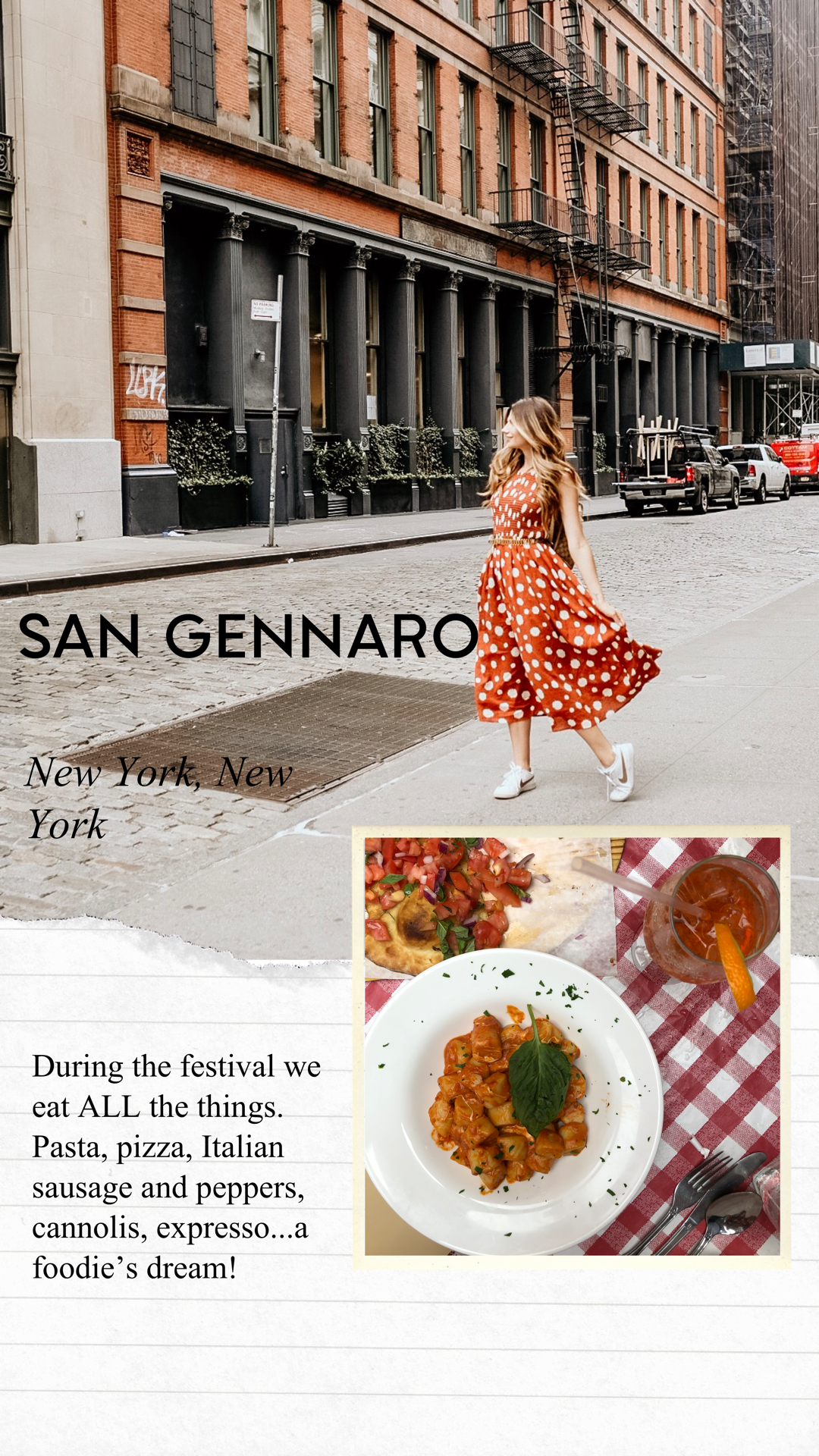 Mulberry Street and the surround area in Little Italy, New York City close down the streets to cars opening up space for locals and tourists alike. Little Italy is filled with music, vendors, and food and the weather in New York is perfect in September.
Our intinery began with our first stop for street food, sausage and peppers. We always get one regular and one spicy sandwich to share as we walk through the streets and take in the sights. For the past two years we have eaten at Da Nico which offers a full menu. There are many restaurants that offer special menus for the festival however we always like options to choose from. Every year at the San Gennaro Festival, I get gnocchi. Okay let's be real, anytime there's an Italian restaurant in sight…I get gnocchi. But this was traditional and even though gnocchi was some how not on the menu this year, the restaurant was kind enough to whip me up some pillowy soft gnocchi in marinara. Aperol Spritz's all around to toast to our friends reunion and we had quite the feast.
A quick walk down the streets to walk a huge meal off and we next found ourselves at the bar of Tomino Taberna which had a special drink menu. The girls got beautifully crafted Gin and Tonics while I stay true to summer not being over yet with a glass of Rose. An hour or so later we were back on the move.
Also see, The Greenwich Food and Wine Festival.
While we did not participate in the 22nd annual Cannoli Eating contest, we did head over to where we go for dessert EVERY year, Ferrera Bakery. Located at 195 Grand Street, this bakery has been open since 1892 and everything is simply amazing. I usually go for the tiramisu, it's perfect. There are cappuccinos and Italian pastries all around to end the day.
If you are a short trip to NYC or you happen to be visiting in September, I highly recommend check out the Feast of San Gennaro!