Here, I am sharing the complete Guide to Old City, Philadelphia in partnership with Zumper. By partnering with sponsors I am able to bring powerful posts to my blog.
So what's different to my guide as opposed to any tourism board's guide? I'm going to take you through Old City, like a local. Sharing with you my favorites and my neighborhood tips and secrets.
You can check out more gorgeous photos of the neighborhood on my Philadelphia dedicated Instagram account @oldcitylove
I remember when we first decided to move to Philadelphia. With the excitement of a new city upon us we also had tons of questions on where to live. Where was the best neighborhood? What about the school systems? Where on earth could we find a three bedroom apartment within our budget? Just how many sets of stairs were we ready to deal with!? (serious question!) After searching high and low, we found a dream spot and landed a 2 year lease in the heart of Old City, Philadelphia.
I immediately fell in love with our neighborhood and all it's vibrancy when we moved into Old City that spring. Old City, also know as the Historic District, is home to very special parts of the United States History like the Liberty Bell and the Betsy Ross House but it's also home to a thriving neighborhood full of shops, boutiques and restaurants.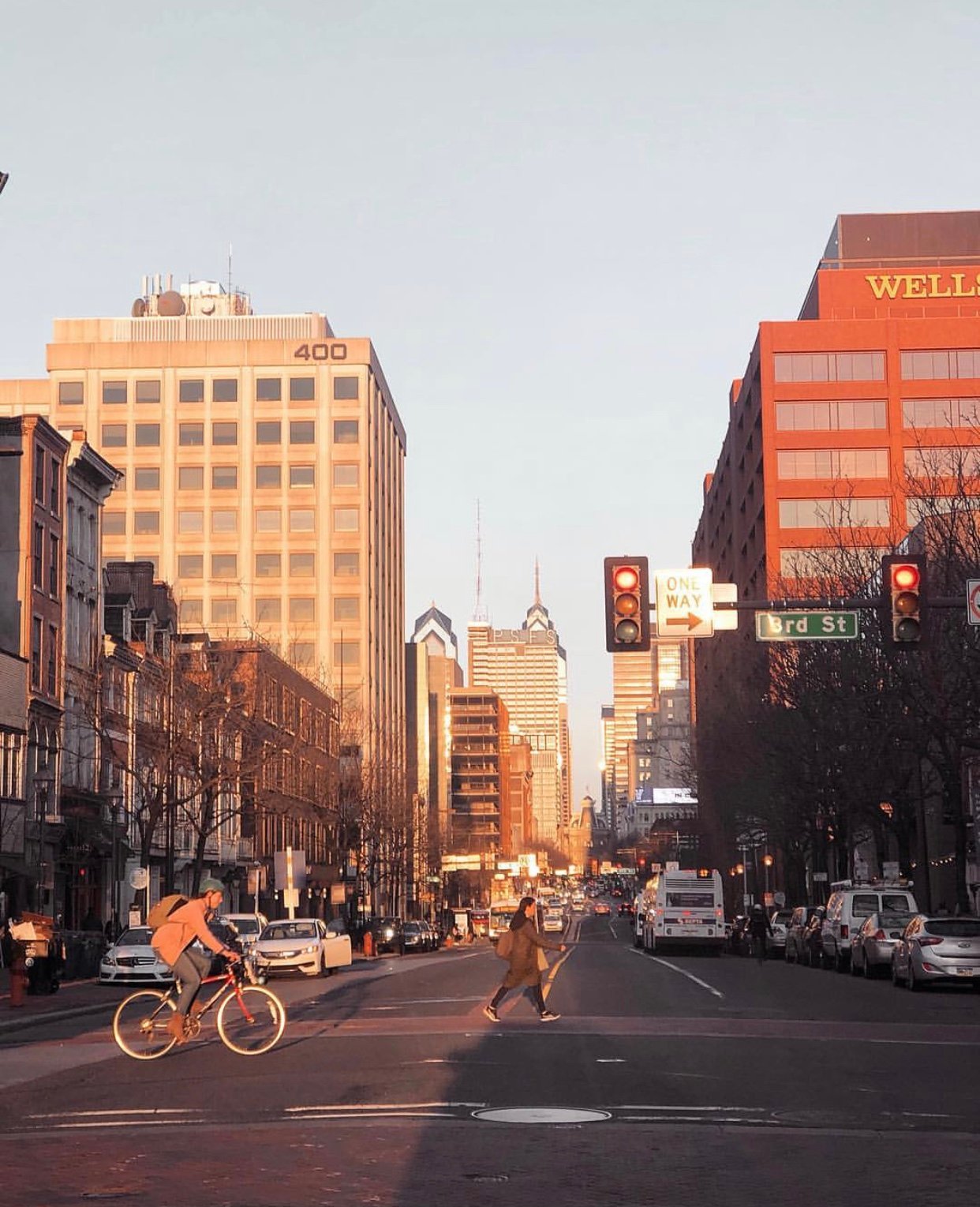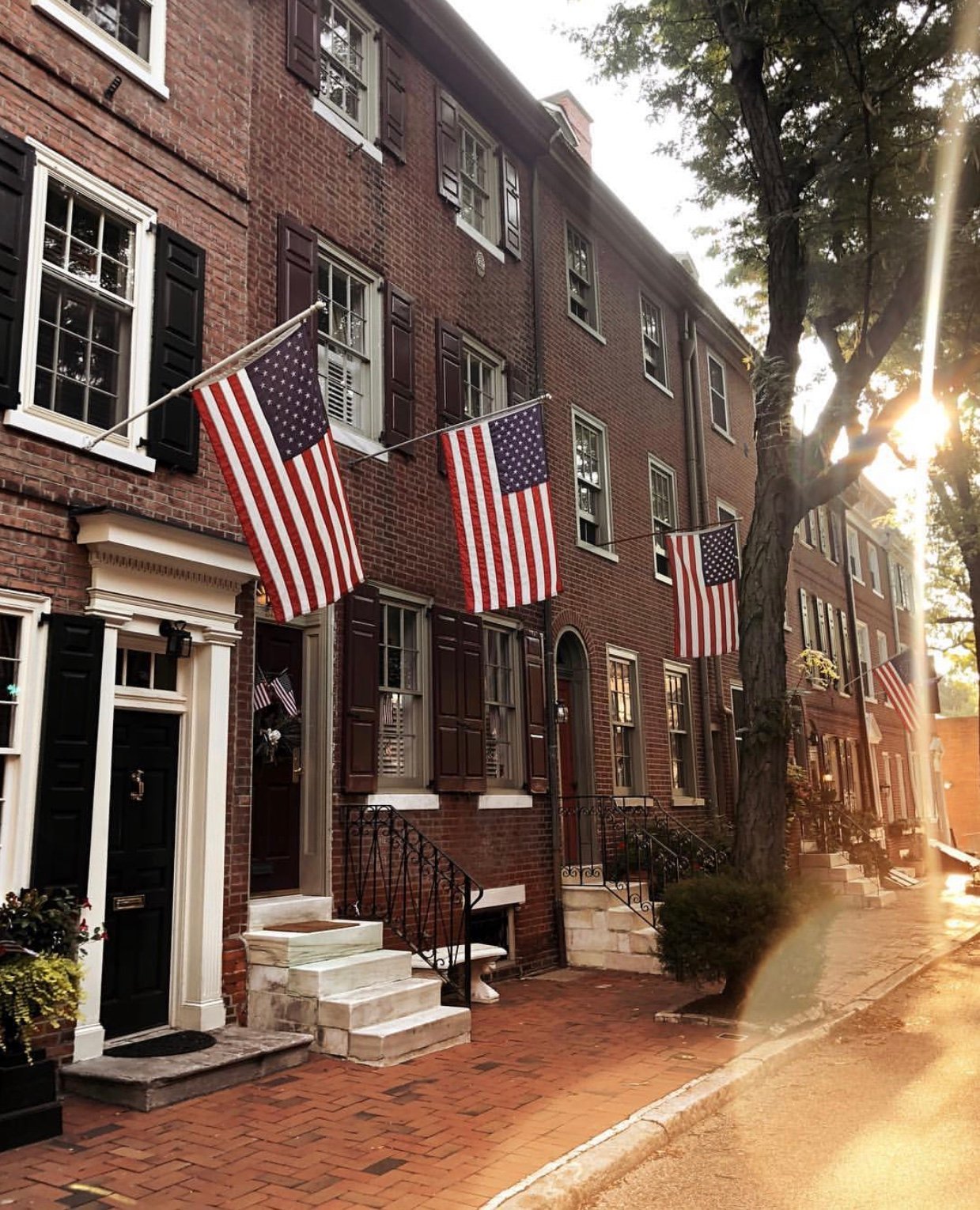 With our lease end up coming, we wanted to ditch the drama and make the process more seamless. You've heard the nightmare rental stories! You know how long it takes to find the perfect place. Zumper will work with you to reduce the amount of time and hassle it takes in finding the perfect rental. You simply tell the team your budget and move-in date and Zumper will do the work by searching for options that meet your needs.
If you haven't noticed, the apartment options have exploded in Old City and I highly recommend using Zumper to begin your search. Download the app so you can use it on the go!
Want to know the best place to grab an iced coffee or to walk your dog? I've got you right here with my complete Guide to Old City, Philadelphia.
Related: The Best 12 Airbnb's in Philadelphia!
Where to Eat
Let's start with by far the most important part of living in Old City, where to eat. From Italian to Israeli food, some of Philadelphia's finest restaurants are in Old City. You will never go hungry living in Old City!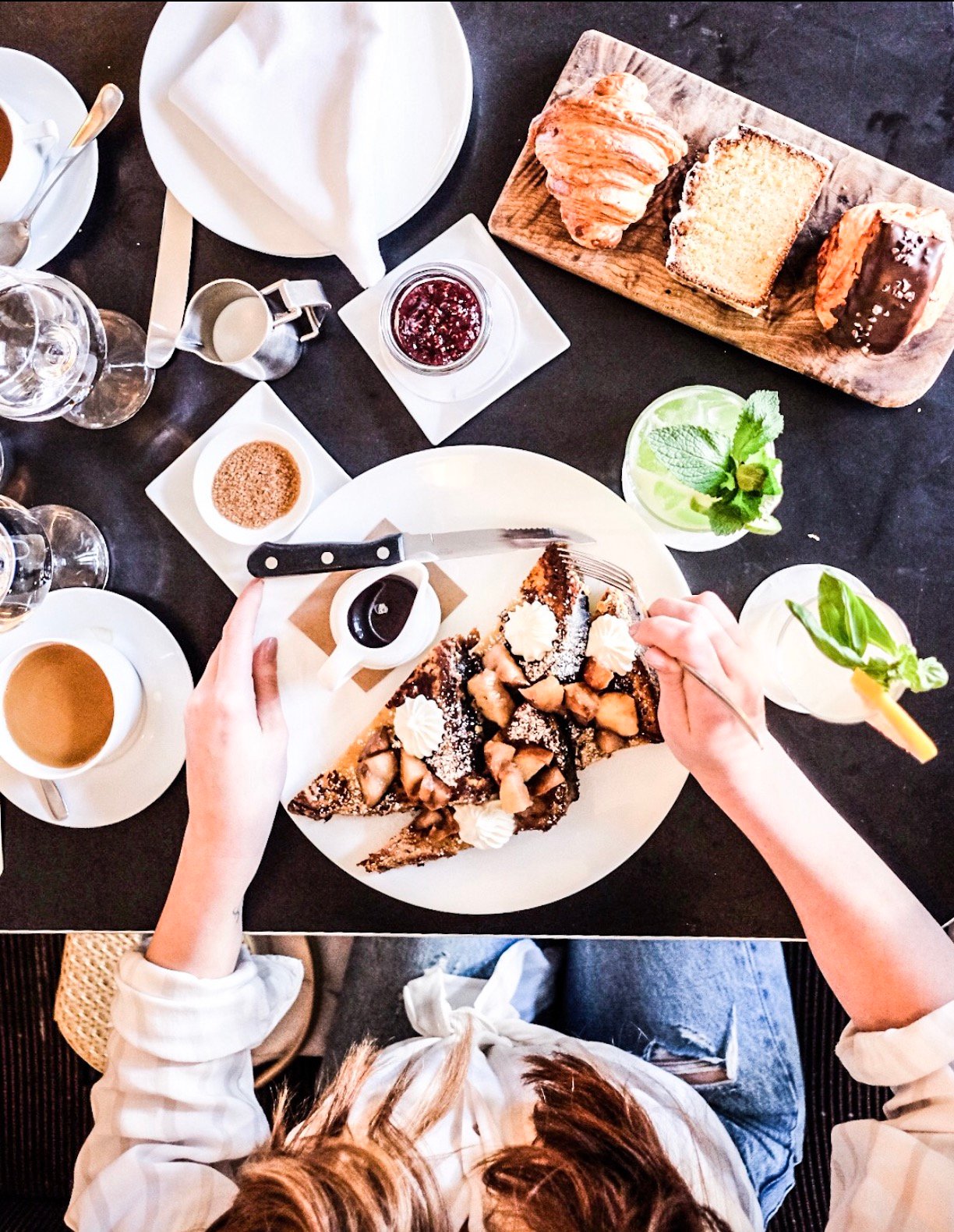 Where to Brunch
Ah brunch, the most important meal of the day. There is nothing like feasting on brunch in Old City followed by a leisurely stroll around the beautiful neighborhood. Top picks for brunch include Fork, be sure to order Brunch for the Table for no brunch regrets, neighbor High Street on Market, Cuba Libre, Red Owl Tavern and Royal Boucherie up on the roof deck.
Where to Lunch
You can't go wrong with lunch in Old City. Some of my favorites include Lucha Cartel for tacos, the Gaslight or Commonwealth for Sandwiches and Burgers or one of our whole family's favorites, the Race Street Cafe.
Dinner in Old City
Gosh the options. Feeling like Italian? Panorama. Go with the house made burrata and enjoy a glass from the wine bar's Guinness World Record custom built wine keeper. Mojitos and Dancing? Cuba Libre. A world class experience? Zahav. But in order to get a table, make your reservation weeks in advance. Key tip, the bar is self seating but get there early! They open at 5 and you want the Laffa bread, trust me. Lastly, you can't go wrong with tapas at Amada.
Quick Bites
Old City is also home to several on-the-go or quick stops including the Bourse Food Hall (Vera Pasta and Rebel Taco are two of my favs), Oh Brother, Mamoun's Falafel, Big Ass Slices and Gianfranco Pizza.
All the Sweet Things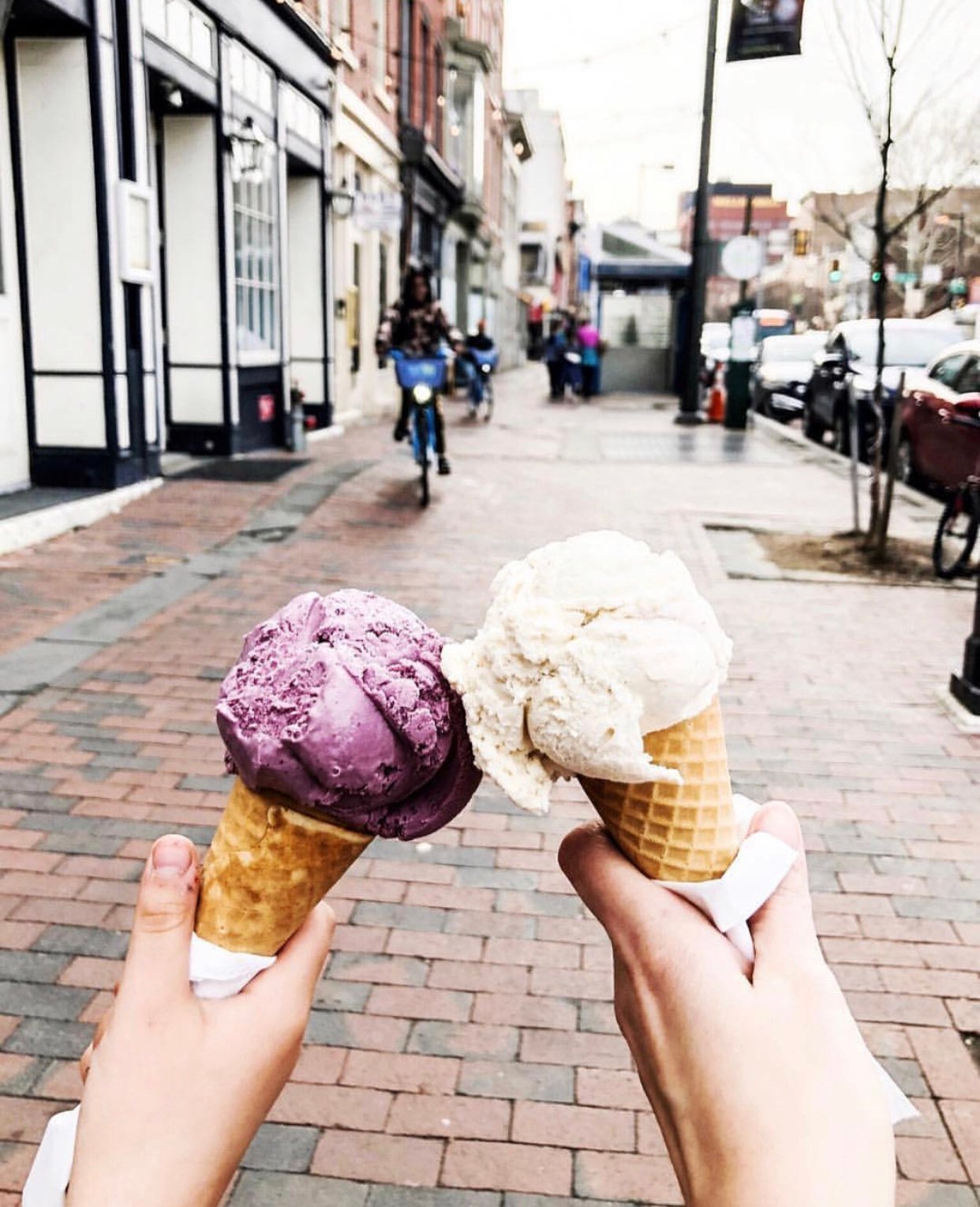 Now we are talking! Old City will also cure your sweet tooth. Tarte's Fine Pastry's should be at the top of your list for it's walk-up window ordering through it's Instagram worthy bubble gum pink storefront. Must have on a hot summer day is the Caramelized Banana ice cream flavor from Franklin Fountain. Franklin Fountain will have a line around the corner on a warm day but don't let that scare you, it's worth the wait and part of the fun in being in Old City. Local-tip, hop next door to the Franklin Ice Cream Bar that serves many of the same flavors just in a different genre and always has a shorter line.
Also worth mentioning is ICI Macarons on Arch Street, their salted caramel macaron is amazing.
Coffee Shops
Old City covered in Cobblestone and Ivy is the perfect place to hunker down in a coffee shop and work or catch up with an old friend. Here are some of my favorite coffee shops in Old City.
Old City Coffee
Located on Church Street, Old City Coffee roasts up the perfect blend. Park your dog outside or meet some new furry friends while you grab your cup of joe. The must have at Old City Coffee? Delicious cookies the size of your head!
Menagerie Coffee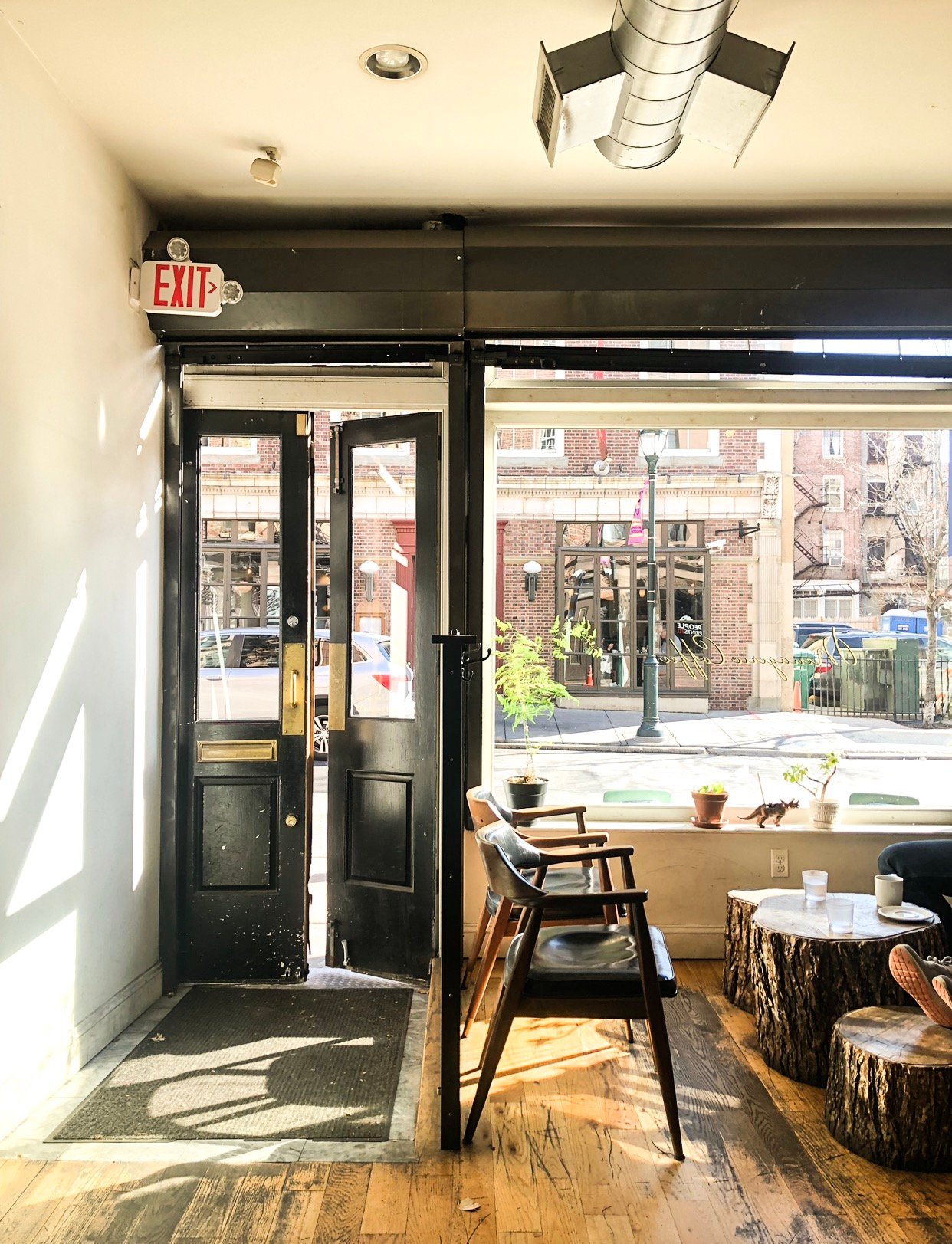 I can't sit in the window next to stunning green plants at Menagerie and not feel like I'm in a movie. Hashtag, #instagramworthy, Menargerie is located on 3rd street between Market and Chestnut and their latte art is also completely picture perfect.
United By Blue
Hello Moms! I love UBB as this location is completely stroller friendly which can be hard to find in Old City with all the old buildings. UBB is a great location to also pop open your laptop and get to work while you enjoy a cold brew.
Also in the neighborhood are OCF Coffee, Starbucks, Wawa (the latest and greatest from the Wawa group, Luna Cafe, Cafe Ole and let's not forget picking up or sitting at the bar mid morning and ordering an amazing Cafe Con Leche from Cuba Libre.
Boutiques, Shops and Galleries
Some of my cutest dresses, tops and accessories are right from within my neighborhood! I always say shop local when you can! I love being able to leave my house and just steps away are so much options. To top my favorites list are the Geisha House , Rennes and Smak Parlour. The neighborhood is also home to many salons and spa's.
The Hardware Store on 3rd has everything you could need from potting small plants to batteries to keys made. We pop in whenever we have a need and it's super convinent. CVS on Market or Sassafras Market on 3rd will always have whatever you need. Be sure to also make a stop into Humprey's Flag Store on Arch where you can see some very cool Philadelphia memorabilia and pick up your favorite or custom flag.
There is one flower shop in Old City that is a "must visit" of your list if you are a lover of beautiful curated and french things, Petit Jardin en Ville.
From the moment you walk in your senses are up with the most stunning floral scents you've ever smells and although this shop is small, you could spend an hour just looking at every single pretty detail where light flows in from street windows. My vote? Skip the tourist shops and head to Petit Jardin on 3rd Street. Pick up a fresh bouquet the day you move into your new apartment in Old City.
Weave through thousands of books and bring your old ones at The Book Trader at 2nd and Market and say hello to the shop's orange cat. Old City is also home to many amazing Art Galleries. My favorites are Muse and Larry Becker.
Lastly, there is a farmer's market every Wednesday in Old City located at the Old Christ Church in the spring and summer from 2-7 pm. You'll want to grab an apple or bring a bag to pick up your weekly produce while you venture into the Church's garden.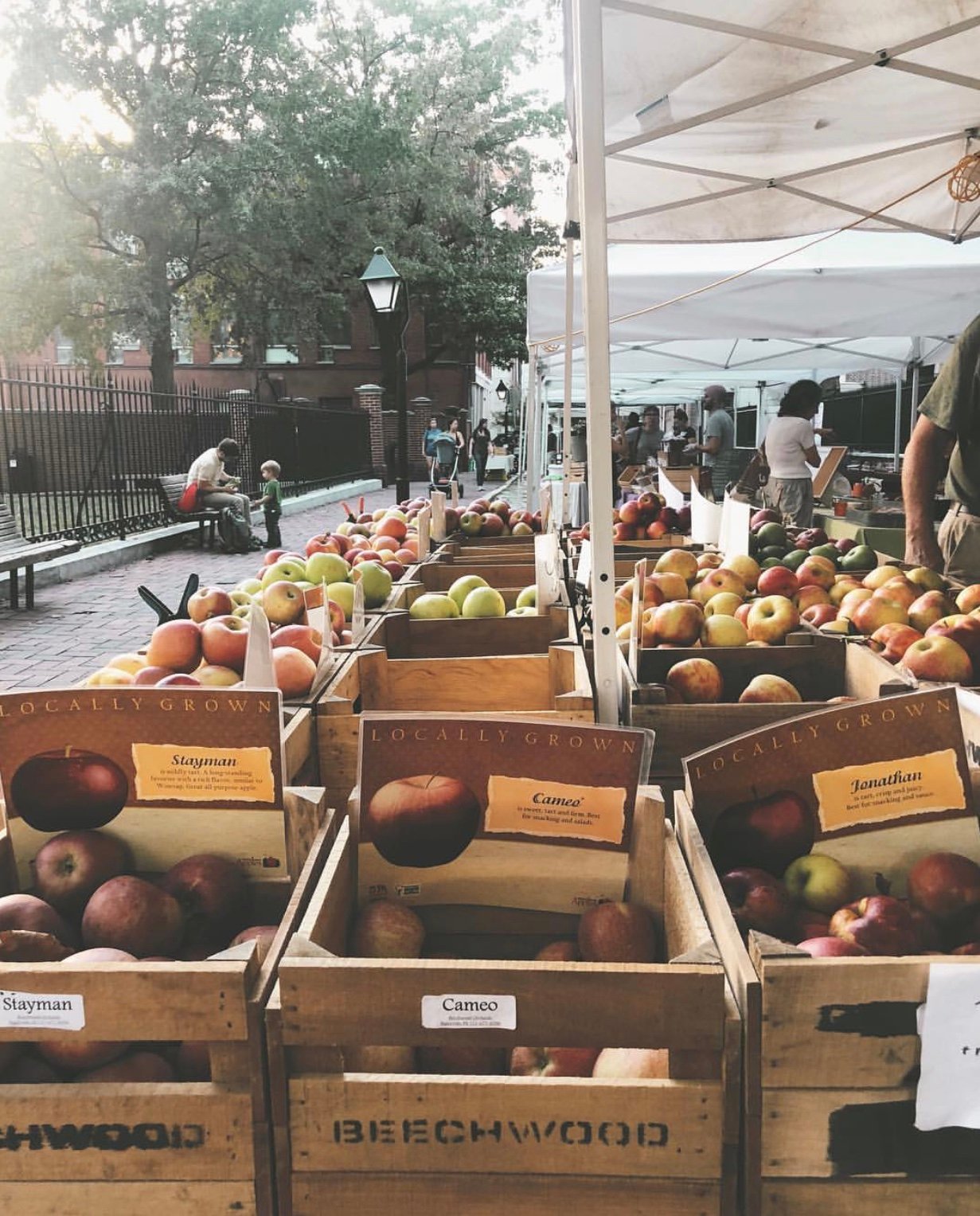 The Perfect Neighborhood for Pets

Old City is the perfect place if you're a #dogmom or have a pet. You'll meet plenty of people and the Old City Neighborhood Committee has set up pet stations all over the neighborhood as part of their "Scoop the Poop" campaign. Go ahead and laugh but wether you're a pedestrian or a pet owner you'll REALLY appreciate a neighborhood that takes care of their pets and streets.
Things to Do
Old City has no shortage of things to do and in fact the neighborhood hosts some of Philadelphia's top attractions. Race Street Pier and Cherry Street Pier are great to visit on a beautiful day. Race Street pier holds weekend Yoga classes on the pier while Cherry Street Pier is now home to vendors and rotating showcases. The piers are located right next to each other.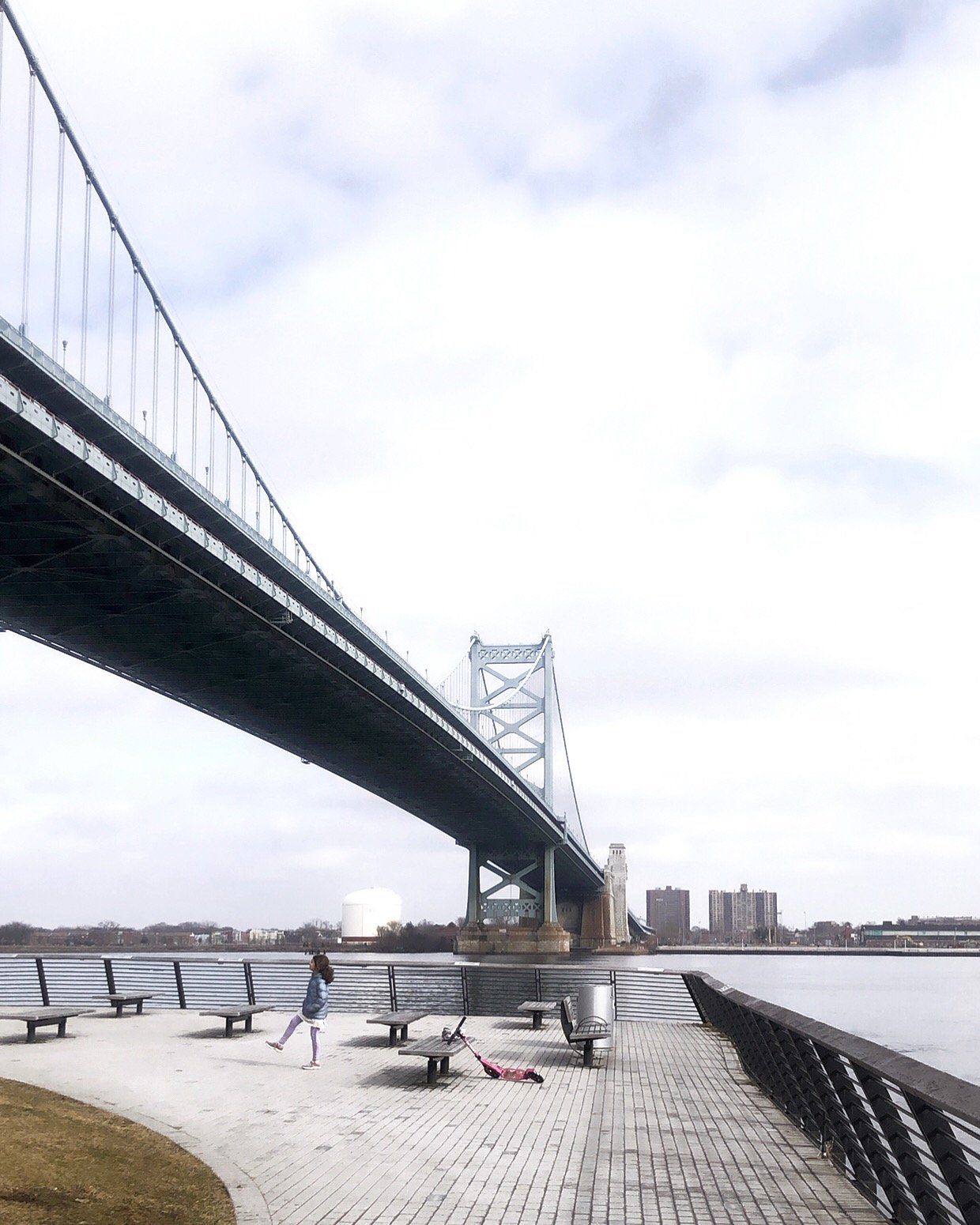 Penns Landing provides plenty of entertainment. From ice skating in the winter to roller skating in the spring, swan boats on the river or visiting the Seaport Museum there is plenty to do. Fireworks are commonly held at Penns Landing and a summer concert series. Walk on down the river a little further to hit Spruce Harbor Park where you can take a swing on a hammock under colorful lights.
On the historic route is the Liberty Bell, the Betsy Ross House, Independence Hall and you can check out the cool and creepy graveyard of THE Ben Franklin. Elfreth's Alley has beautiful homes as the nation's older residential street in America. History buffs will have plenty to do in Old City not leaving one cobblestone unturned. Philadelphia is home to 4 National Parks!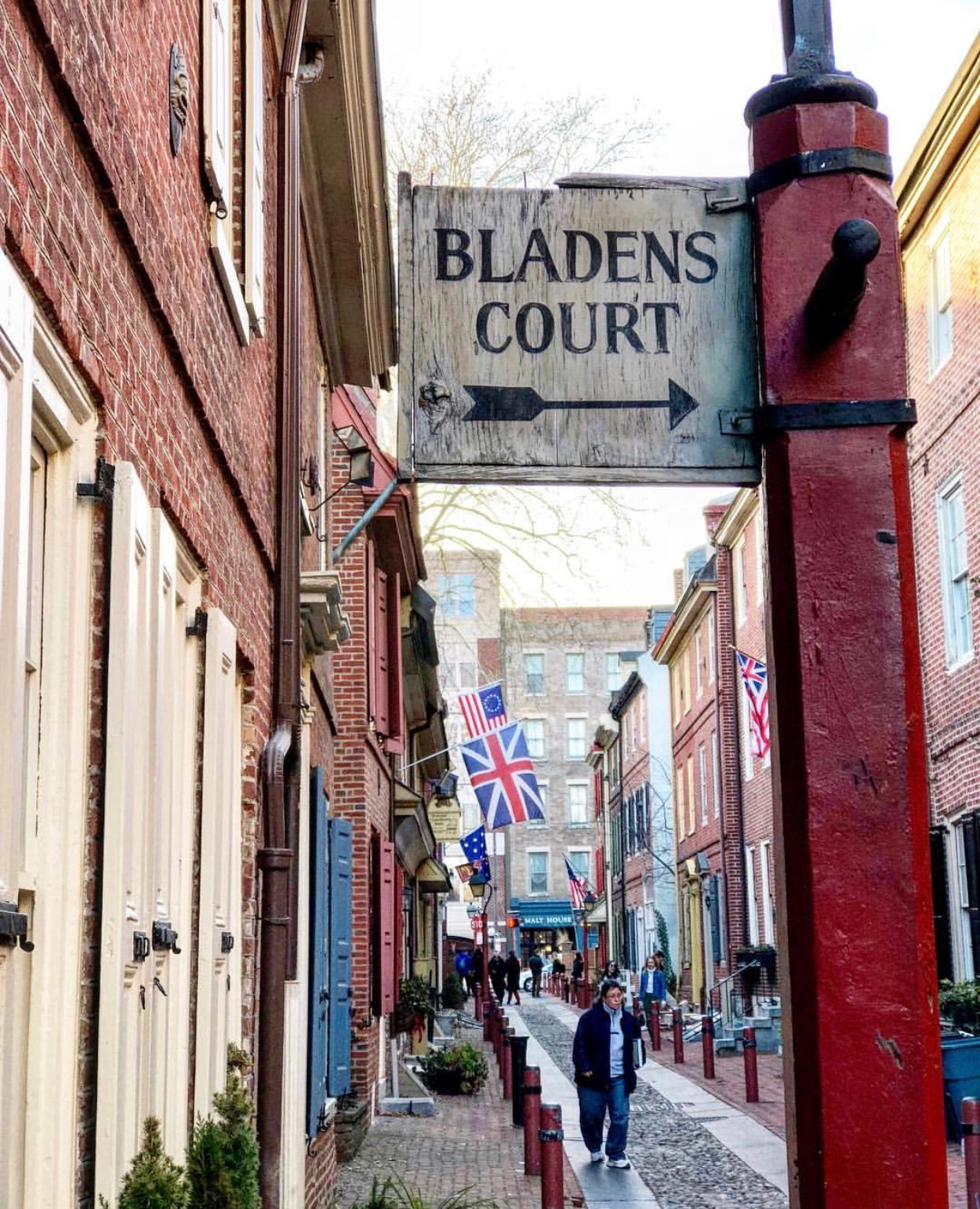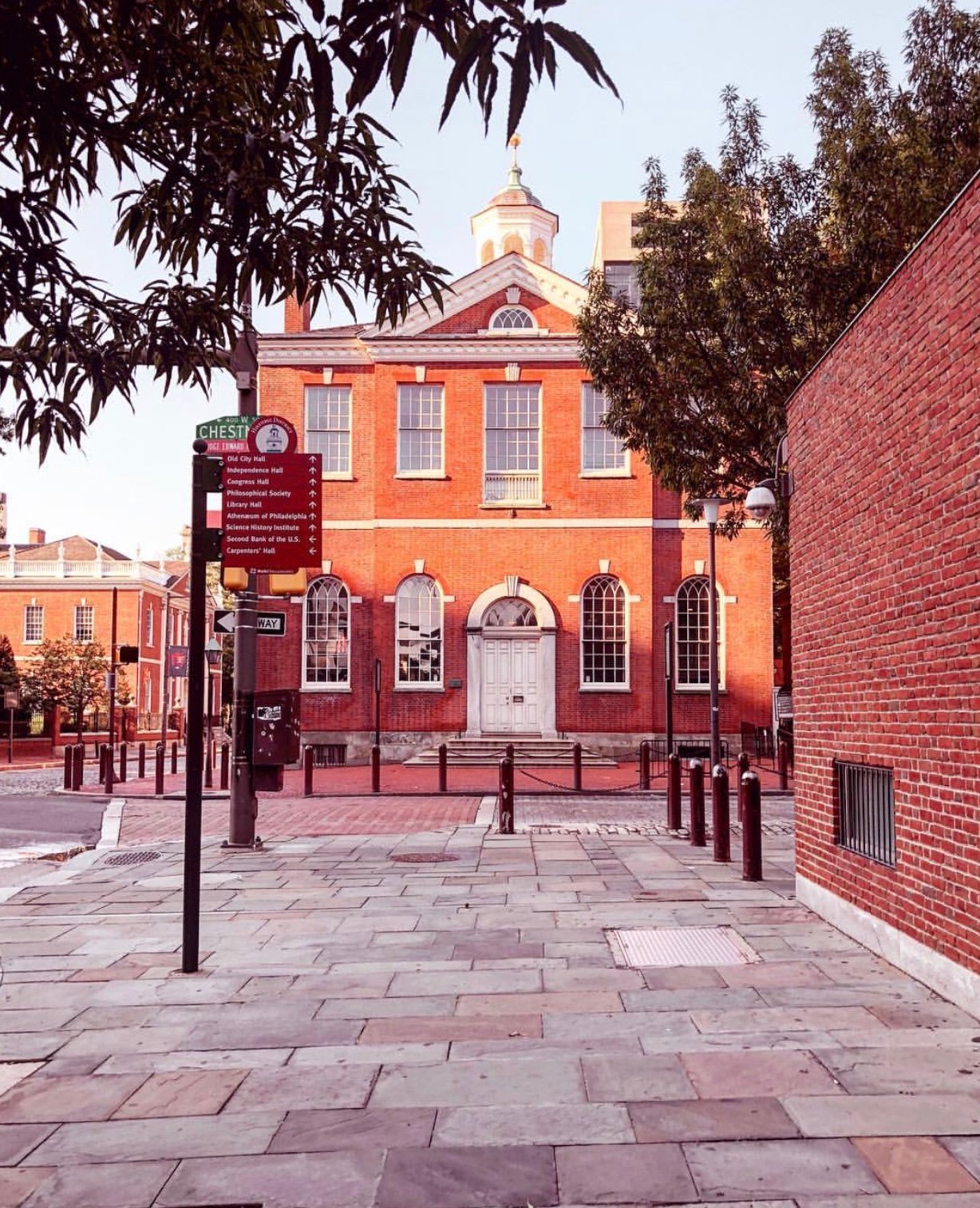 My favorite thing to do is to venture out without a plan and get lost in the alleyways of the past with an Old City Coffee in hand. So many of you ask exactly where to find a street or a house that you've seen before in photos. Grab your camera and here are a few streets you can toss into your GPS and go find: Bread Street, Elfreth's Alley, Cuthbert Street, Locust and 5th, Church Street, Head House Square, 3rd and Arch, Race and 3rd, Delancy Street and Quince Street.
Bike rentals are located in many places around Old City and is a great way to get around Philadelphia.
The best place to see if the neighborhood is right for you before you move? Head to Stay Lokal. This renovated historic building is stunning from the inside and out and will give you the complete sense of living in Old City while you stay. They've thought of everything for your stay in the neighborhood but trust me, Old City is a great place to live!
So what are you waiting for?! Make your move with Zumper and come be my neighbor 🙂