Newport, Rhode Island is perhaps one of my favorite places on Earth. As you drive over the Pell Bridge and down overlooking the Newport harbor, you're almost transformed to another time. The Atlantic ocean sparkles welcoming you to Newport.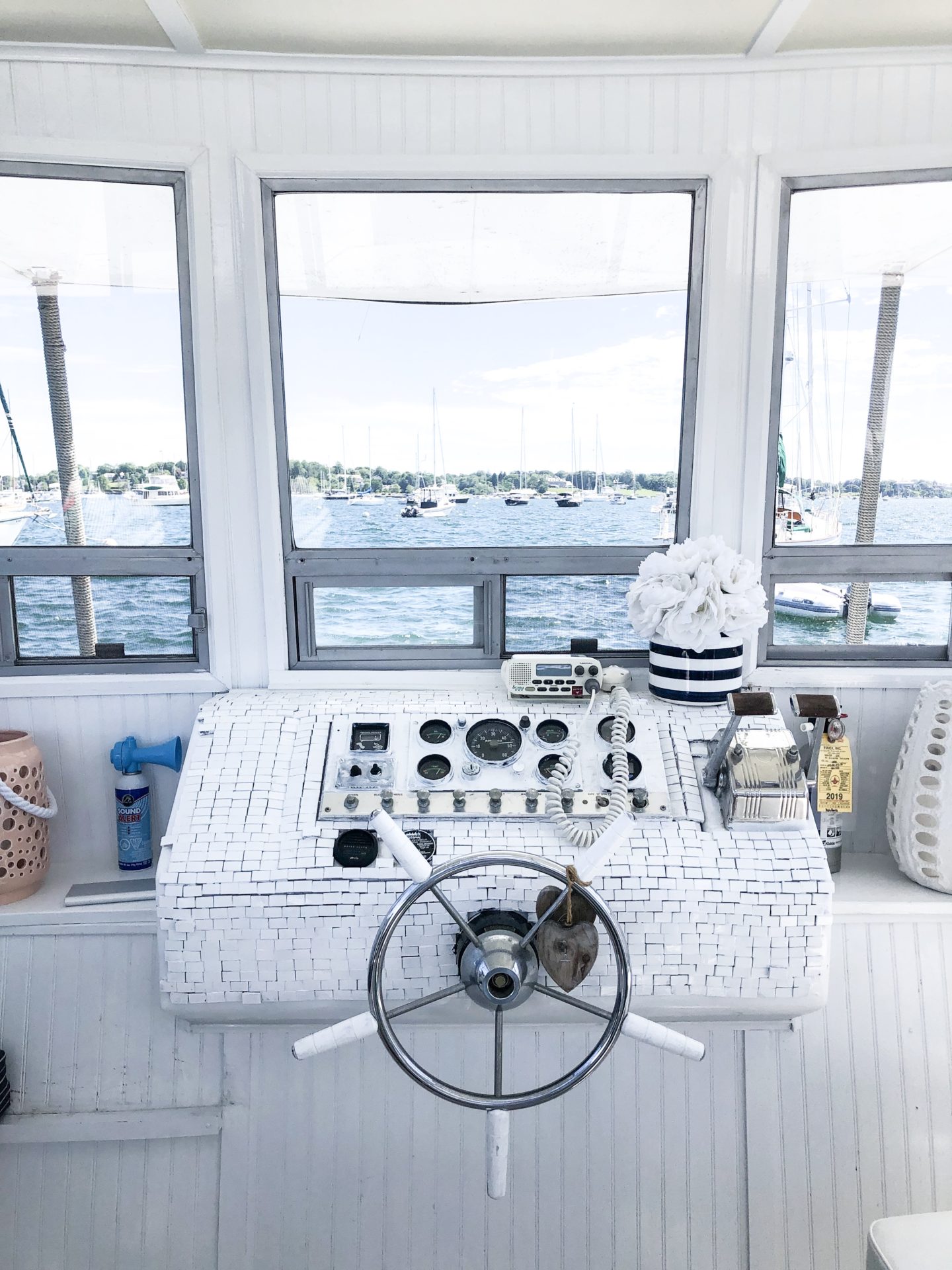 The Belafonte
While there are many great places to stay in Newport, this time around we booked a boat! I was stopped in my scroll on Instagram when I saw the Belafonte. The Belafonte is a vintage house boat, available as an Airbnb, renovated by award winning designer Kristen Coates. Super chic and colorful, this one bedroom on water is a bit of a dream boat. Nestled in the Newport Harbor, we could nod to beautiful yachts as our neighbors, watch seagulls soar and there's nothing like a Newport Sunset.
The boat is anchored in the harbor and no, you are not allowed to drive it. You also have to visit sans kids for the night which was perfect for us as this was quite possibly one of the only nights we've had away to ourselves in years. When we got to the boat we were welcomed by colorful décor and a bottle or Rose. The boat boasts 360 views of the harbor. It was so much fun to wake up on the water.
The boat has no electricity (no curling irons ladies!) and is powered by onboard solar panels. While the boat does have a bathroom, it does not have a shower. One of the other perks of the boat in trade for what you'd expect at a hotel, is a roof deck for seating up to 10. The boat was about the size of a standard hotel room with space to move around, a sitting space up by the wheel, (In my mind, I was totally the Captain) and an oversized about a Queen-sized bed with nautical bedding. The dashboard and wheel of the boat was covered with white mosaic tiles. You could walk entirely around all sides of the boat.
We stayed for one night and spent the afternoon lounging, enjoying the sounds of the harbor and reading about Newport's history while enjoying the sun on the roof deck. Yes, I said reading! Who gets to that anymore as a parent? It was so peaceful and the weather was perfect. To get to and from the boat we had to grab the water taxi. So, we called over the radio for the water taxi and within a few minutes of "roger" our ride back to shore was there.
We went into town for dinner and shared a meal and charcuterie board at Forty 1 North. After dinner, we walked down Thames to Bowen's Wharf and got Ben & Jerry's before returning to the Water Taxi to take us back to the Belafonte.
Once back on the boat we changed into warmer clothes as New England air gets cold at night on the water and watched an epic sunset that seemed to go on forever. The pinks, purples and oranges of a New England sky make my heart feel at home. From the harbor we had an unobstructed view of Goat Island and the Pell Bridge. The boat gently rocked from side to side which gave us a rotating view of the Sunset.
Engaged!
The next morning, we woke up on the water and we heard the slow pitter patter of rain. It was grey outside but still so gorgeous. You could see the details of every sailboat and yacht against the cloudy blank backdrop. I slept in later than Joey and he told me to come up to the roof deck when I got dressed.
It was colder than yesterday and slightly drizzling. But nonetheless, I put on jeans, a sweater and a denim jacket and climbed up to the roof deck. He was sitting on the cushioned seating under a thick blanket, in a navy blazer and reading a research paper presumably for work (something about neurobiology). I sat down and joined him under the blanket and snuggled up against him as it was freezing up there.
We talked about hobby's and a few years ago Joey learned to sail. Surrounded by sailboats, we talked about what it would be like to sail up and down the Atlantic coast in one. A race was taking place that day so one by one we watched sleek sailboats breeze by with crews to line up for the race. Sailboats of all sizes and colors, we pointed to a blue one called the Fox and a brown boat with sharp black sales. While I don't know much about sailing, I love being on the water and so we made a pact that rainy grey morning on the top of the Belafonte to sail.
That Sunday morning the love of my life proposed to me on the top of the boat in Newport Harbor!
My rings are perfect and there are actually two. One is Rose Gold and the other is White Gold. Joey had them customized from a shop in London. Which I think means he should take me because I've never been!
Sunday Brunch
After a lot of hugs, we called the Tango and water taxied back to shore to head back to the kids. But not before we had Brunch. It was also Father's Day so we have a lot to celebrate. A tiny bit off the beaten path we went to Stoneacre Brasserie.
We had coffee cuddled in a corner table and sat side by side. Which I think is the best way to sit with your signifiant other. The restaurant was gorgeous and we ordered Salt and Honey Biscuits, Avocado Toast and French Toast. Plenty of carbs to celebrate, just the way I like it! That morning was very special to me.
I am very excited for our little family and I happen to know of two of the prettiest flower girls to be.
You May Also Enjoy: