Late summer in Philadelphia is heating up! Wether you are a local to the neighborhood or visiting one of the most historic cities in the US, you need to know where all the best Ice Cream spots are, stat. The best travel tips include ice cream. The heart of Old City Historic District hosts all things American you need to see while in Philly. From the Liberty Bell to the Betsy Ross House, you can get your fill of American History along the Delaware River.
Every great walk through America needs an ice cream cone. As you stroll through the neighborhood from the Liberty Bell to Elfreth's Alley, be sure to check out my top picks for Ice Cream.
The Franklin Fountain
http://www.franklinfountain.com
116 Market Street
Most likely one of the most famous ice cream spots in all of Philadelphia, you can take a trip down America's past with nostalgic feelings and deep flavorful ice cream. From Black Raspberry Ice to stacked high cones with Rocky Road, The Franklin Fountain is an Ice Cream lover's dream. On hot summer evenings and weekends there is always a line out the door.
All ice creams, toppings and baked goods are made in-house from scratch with locally sourced ingredients. Can you imagine getting a summer job as an ice cream churner?! That's how they do it at The Franklin Fountain.
Tips for Visiting the Franklin Fountain:
Go for the PEACH ice cream – best peach in town!
Bring CASH! It's a cash only shop. A small cone with one scoop will cost you $5. Bring more for sundaes and fancy sodas.
Ask for the kid sized for your little ones, it's not advertised but they do have it!
"Beauty and Folly are old Companions" – Benjamin Franklin
Olde Creamery Cafe
http://oldecreamerycafe.webs.com
105 South 2nd Street
Down on 2nd Street is Old Creamery Cafe which is one of my simple favorites. This is the spot to go when you want straight forward ice cream a little off the beaten path of tourists. Olde Creamery serves up Bassetts Ice Cream with plenty of toppings to choose from. They make their own Belgian Waffles and Crepes in-house.
Tips for Visiting Olde Creamery Cafe
Ice Cream Happy Hour is from 5-9PM Sunday – Thursday for a free XTRA scoop
Go for the Mint Chocolate Chip or Moose Tracks.
In house Wi-Fi…Ice Cream > Coffee Shop
Old City Frozen Yogurt
229 Market Street
While I am a firm believer that Frozen Yogurt will never be Ice Cream (never), Froyo is one of Bailey's favorite treats and I am sure many of yours! Right on Market Street you can pile up a cup of your favorite flavors and toppings. Outdoor seating perfect for people watching on Market.
Fezziwig's Sweet Shoppe
http://fezziwigsphiladelphia.com
17 N. 3rd Street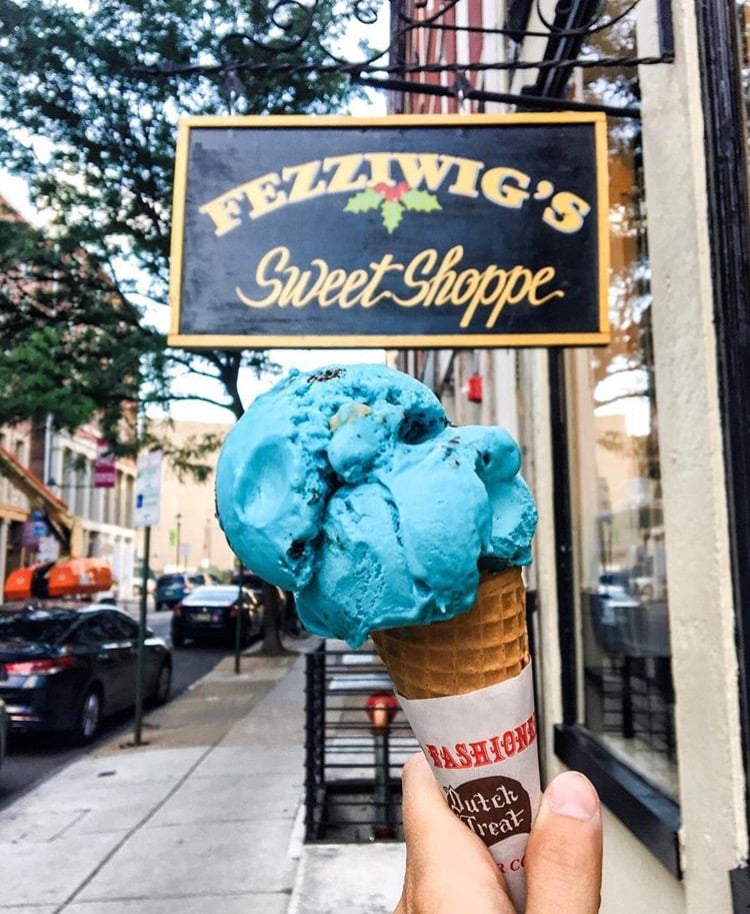 Fezziwig's is the kind of place I like to go to because of the people. Kindness matters! Both being new to the neighborhood, Fezziwig's has quickly become one of our favorites. Originally starting up with handcrafted Kettle Korn in which Fezziwig's has become famous for, the shop now sells Ice Cream to Burgers.
Tips for visiting Fezziwig's
Order a waffle cone with the COOKIE MONSTER. The Cookie Monster flavor includes BOTH cookie dough and cookies and cream ice cream in a bright blue shade of fun. So good.
They offer indoor and outdoor seating, perfect place for those extra hot days to grab a bite.
Be sure to grab a bag of Rainbow Kettle Korn to the go. The perfect snack for exploring the city.
The Lil' Pop Shop at The Christ Church Farmer's Market – Only on Wednesday's!
Church Street
Definitely a highlight during our week is the Christ Church Farmer's Market located on Church Street on Wednesdays from 2-7pm. We love walking a block over for fresh fruits, veggies and flowers. Weekly at the market is the Lil' Pop Shop Truck where Bailey and I get popsicles.
I love the fun and inventive flavors they have to offer which changes weekly. The Lil' Pop Shop offers small batch artisan popsicles. My favorite is Rose Lemonade while Bailey loves Vanilla with Sprinkles. From Tomato Basil to Sweet and Salty Corn, the Lil' Pop Shop uses locally sourced ingredients.
Be sure to visit earlier in the day so they don't run out of your favorite flavor! Bring cash, popsicles this season are $3.25.
For more info about the Christ Church Farmer's Market CLICK HERE.
Tarte's Fine Cakes and Pastries
212 Arch Street
There is nothing dreamier than a little pink bakery with a walk up window where you can order delicious pastries to your heart's content. For the summer, Tarte's took one of their amazing staples and added ice cream. Sandwiched between two freshly baked cookies is creamy ice cream. You can order in an array of cookie and ice cream flavors for $5 each. Cash only.
Learn how to make your own Ice Cream at Home!
For another great family summer vacation destination click here!
Rounded Up for you, your Ice Cream Guide around Connecticut!